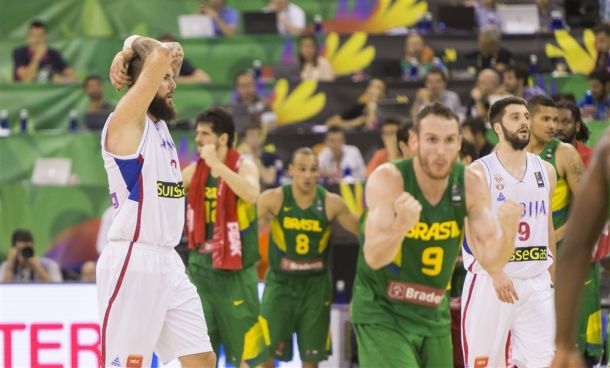 Behind a massive fourth quarter run, Brazil came away victorious by a final score of 81-73 against Serbia in the group stages of the 2014 FIBA World Cup at Palacio Municipal de Deportes de Granada in Granada, Spain.

After Serbia exploded for a 32-12 third quarter advantage to go up 64-60 entering the fourth quarter, Brazil outscored the Serbs 23-9 in the final quarter to escape with an eight point win. Brazil led 48-23 at halftime.
Marcus Vieira led the way for Brazil with 21 points in 25 minutes. Leandro Barbosa, the newest member of the Golden State Warriors, added 16 points. As a team, Brazil shot 51 percent on two-pointers and 47 percent from three-point territory, but just 53 percent from the costless throw line.
For Serbia, Milos Teodosic was their leading scorer with 14 points. Miroslav Raduljica also scored 11 points and pulled down 5 rebounds in 25 minutes. Serbia shot 43 percent from two-point distance and 40 percent from three-point range, but like Brazil, struggled on costless throws shooting just 58 percent.
Brazil, now 3-1, will play their final game in the group stages tomorrow against 0-4 Egypt at 9:30 am ET.
Serbia, 2-2, takes on 4-0 Spain tomorrow at 4:00 pm ET.