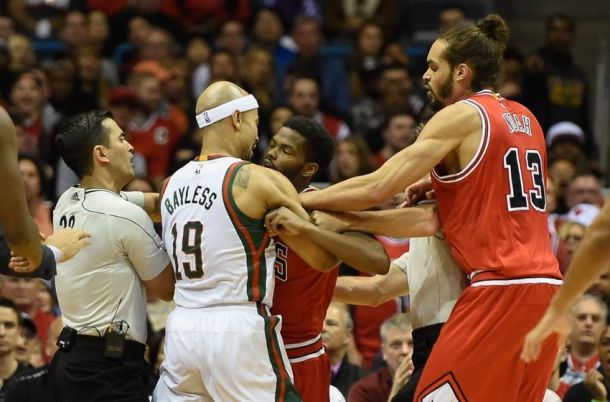 Welcome to the playoffs, Milwaukee!
Coming into this game, the Bucks were hungry. They just lost in double overtime in a game they would have won if Khris Middleton or O.J. Mayo could have made a game-winner. In this game, there was another chance to seal the game and it was not squandered.
Most people expected Derrick Rose to hold for the final shot with the game knotted up at 90-90. Most people didn't expect that Khris Middleton would steal the ball and have Jason Kidd call a timeout with 1.3 left in the game, but it happened.
So with 1.3 seconds left in the game and a chance to get his first playoff win as Milwaukee's head coach, Jason Kidd drew up the perfect play. Dudley was the trigger man with Bayless as his target. A perfect pass placed just right to Bayless under the basket and the game is over. Derrick Rose falling asleep defensively helped but nonetheless, it was a great shot, great pass, great play. It was almost so good that fans forgot about the five stoppages--possibly more--in play for review in the first half.
The Bulls lost but, in no way can the blame be put on Jimmy Butler. Butler had a great season, made his first All-Star game and is in the running for Most Improved Player of the Year. In this game, he put up a whopping 33 points to go along with seven rebounds, three steals, and a block. He even found a way to bank in two straight shots at the end of the first half to knot this game up at 50-50 heading into the break. And that block came defending a two-on-one fast break with the time running out in the first half. It appeared that Antetokounmpo or O.J. Mayo would get an easy layup to finish the first 24 minutes of play, but Butler would not give up as he sent O.J. Mayo's layup attempt in reverse with some emphasis.
Despite ending the first half on a sour note, O.J. Mayo was the unsung hero. In the series preview, this author said that the key to Milwaukee stealing some games was a big boost from Mayo. The player nicknamed "Juice" surely did that and more with 18 points and 4-of-6 shooting from deep. He could've been 5-of-7, but he was just a little too slow with the trigger on a deep three and the shot was waved off. Jason Kidd even opted to play Mayo a lot in the fourth quarter alongside hero Jerryd Bayless.
Now, this is where the stats get a little weird, but they worked for Coach Kidd so this is not complaining. Ersan Ilyasova only played 16 minutes in the whole game. Other than that, no player who saw the court for the Bucks played less than 20 minutes. On the other side, Tom Thibodeau played nine guys for the first 47 minutes of the game but decided Kirk Hinrich would be a good player to sub in for 38 seconds to close out the game. Meanwhile, better scorers Nikola Mirotic, Tony Snell, and Aaron Brooks all watched the final minute from the sideline.
The Chicago Bulls turned the ball over 26 times in this game. Milwaukee had half that many. Chicago had 10 steals in this game. Milwaukee had twice that many. Coming from someone who is not a basketball expert, nor an advanced statistician, that might be the reason why the winner of this game was not the Chicago Bulls.
Not only did the Bucks play stifling defense, they got out and played beautifully in transition--unlike in some of the previous games where they missed layup after layup right under the basket. There was even a point in the game where their ball movement was so good that they look liked someone swapped the Bucks players out with defending champion San Antonio Spurs players. They were that good.
If Game 3 didn't have enough kerfuffles for your viewing pleasure, this game had a minor scrum involving Jerryd Bayless and Aaron Brooks which resulted in technical fouls on both and, earlier in the game, Mike Dunleavy and Michael Carter-Williams each picked up technicals after a colorful exchange on the floor.
Aside from Jimmy Butler, no Bull really exploded statistically. No other player in the game even eclipsed 20 points.
The box score (via nba.com) can be viewed below: