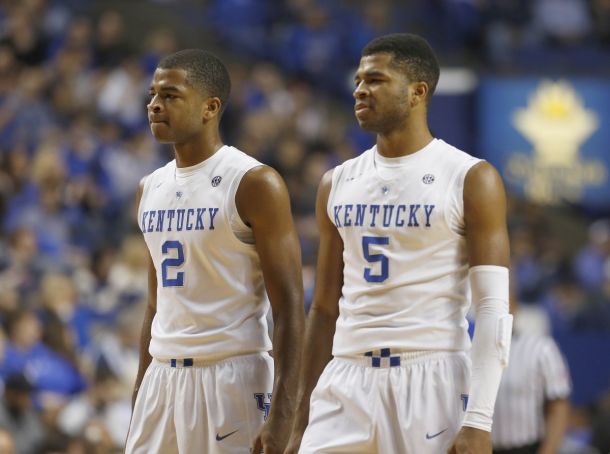 In the upcoming draft, the Philadelphia 76ers have a total of six draft picks, five of which will fall in the second round. While Andrew Harrison is projected to be an early second-round pick, his brother Aaron is projected to be a late second-round pick and some mocks even have him going undrafted. Should the 76ers change that?
Most people have the 76ers using their third overall pick to select either D'Angelo Russell or Emmanuel Mudiay, both are 6'5" guards. If the Sixers do in fact select one of the two, adding the Harrison twins would give them a trio of big, young guards.
If the 76ers would want to pull this scenario off, they would at least have to use an early second rounder to get Andrew. Aaron could still be available for the Sixers to take with at 47, 58, and maybe even 60. If the Sixers want to ensure that they bring in the brother duo, taking both at 35 and 37 would be the only way to make sure another team doesn't grab Aaron between 37 and 47.
Much like the Harrison twins, the Morris twins played together in high school and at the University of Kansas, just to be separated by the draft. While they did end up spending some time apart, on February 21, 2013, the Suns sent a second-round pick to Houston to reunite the Morris twins in Phoenix.
During the high-school recruiting process, the Harrison twins let all recruiters know that they came as a package deal and that they planned on attending the same University. They stayed true to their word and have spent the last two years playing for the Kentucky Wildcats.
If they choose to do so, the 76ers could prevent the Harrison twins from having to endure what the Morris twins did when they were separated by the draft.
Could we possibly see both of the Harrison twins walk the stage to shake the commissioner's hand wearing a 76ers hat?
Let us know what you think in the comments or contact this author via Twitter @Brett_HoopsFan.