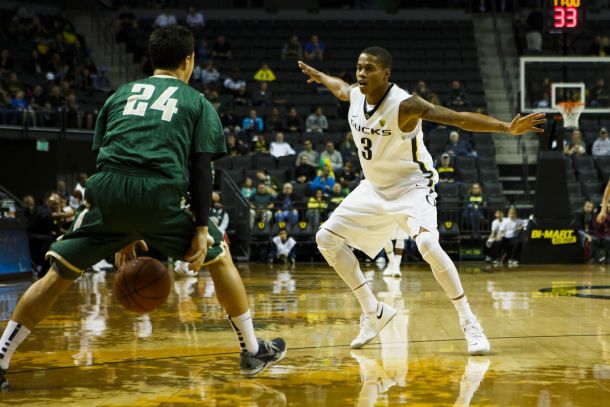 INDIANAPOLIS -- The Indiana Pacers selected Joseph Young out of the University of Oregon with the 43rd overall selection. Of course second-round prospects are never assured a final roster spot, but the Pacers feel very confident in Joseph Young.
The Pacers held a press conference following the 2015 NBA draft, where Larry Bird and Frank Vogel discussed the new prospects. Below are some of the comments that they made regarding Joseph Young. They provided some valuable insight regarding why they selected Young.
Larry Bird discussed how Joseph Young could contribute early in his career:
"He's going to push the ball and make shots," Bird said. "We liked Joe all year. We were pretty surprised he'd be there. Hopefully we can get the ball up and down the court a little faster."
Larry Bird discussed Joseph Young's probability of making the team:
"I like him; I really like him," Bird said. "I think he's got a good opportunity to make our team."
It is no secret that the Pacers want to play smaller and faster. Taking an undersized point guard that thrives in the fast break isn't necessarily a surprise, but it makes plenty of sense for the team's style change.
For those unfamiliar with Joseph Young's skills, Grant Afseth posted an article observing Joseph Young's skill set. It appears that Young will be a good fit for the Pacers now and in the future. With the Pacers' track record of prospect development, Joseph Young could be the next 'hidden gem' for the team.
Link: Grading The Indiana Pacers' Second-Round Selection
Depending on how well Joseph Young does in training camp and in the pre-season, he might be able to earn some minutes next season. Indiana hasn't acquired any other backup point guards, but it is likely that they will re-sign Donald Sloan. With that being said, Joseph Young shouldn't be expected to receive many minutes in his rookie season. He is viewed as more of a potential player that can contribute in two-plus years.
Joseph Young has the offensive skills necessary to be special. Young just needs to improve his explosiveness and lateral quickness to become great on the defensive side of the floor, possibly even elite on the offensive side of the floor. With improved passing ability, Young could become a versatile contributor for the Pacers. It is clear as to why the Pacers selected him. He has the potential to certainly be something special.