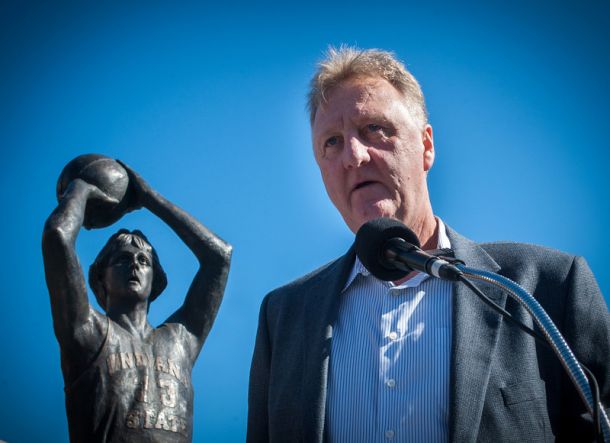 One can speak all day of the greatness of Larry Bird, on his clutch performances, like the steal and assist to Dennis Johnson in the 1987 Eastern Conference Finals.
Or any of the numerous game winners he hit.
The fact is when it came to true grit and determination, few embodied those ideals more than Bird. He acknowledged that he wasn't the most gifted, but he tried his best to make sure he was never outworked. When race was an issue in the NBA, Bird was never one to shy away from addressing the issue honestly.
"As far as playing, I didn't care who guarded me - red, yellow, black. I just didn't want a white guy guarding me, because it's disrespect to my game." Larry Bird
The true greatness of Larry Bird is how he impacted the basketball world, especially in the state of Indiana.
Growing up in a blue-collar town, Bird was never one to shy away from a hard day's work. In fact, the primary reason he was forced to retire was because he shoveled the snow from his mom's driveway. Despite being a star who had made more than enough money, he completed the chore himself. This initial injury would lead to him suffering long lasting effects of back pain that would help usher him into the end of his career. He was an everyday man. He cut his grass, grew a mullet, and had a nasty mustache for a period of time. Don't let the "common man" theme fool you though. Bird endured his fair share of trials. From dealing with the suicide of his father and living in poverty; he encountered numerous setbacks. Yet, he always seemed to overcome them.
"Larry, you only told me one lie. You said there will be another Larry Bird. Larry, there will never, ever be another Larry Bird."
--Magic Johnson, at Larry Bird's retirement party at Boston Garden on February 4, 1993
Despite the darkness surrounding his upbringing, there are numerous stories that show the killer instinct and humorous nature of Bird. Charles Barkley is known for stating that, "Larry Bird drank me under the table." Bird was also known as one of the most incredible trash talkers. For an example, look at Xavier McDaniel when he was in Seattle. Late in a tied game against the Seattle SuperSonics, Bird told McDaniel, who was guarding him, "I'm going to get it [the ball] right here and I am going to shoot it right in your face."
As McDaniel remembers it, he responded by saying, "I know, I'll be waiting." After a timeout, Bird made two baseline cuts, and then posted in the exact spot he had indicated to McDaniel, paused, turned, and made it in his face. He finished up the sequence by telling McDaniel, "I didn't mean to leave two seconds on the clock."
Born and raised as an Indiana boy, Bird embraced his nickname, "The Hick from French Lick". Never ashamed to be himself, he embodied what being a Hoosier is all about. His hard work, dedication, and fiery desire to be the best is something every person can inspire towards. He showcased that no matter the hand you are dealt, that you can make the most out of it. Reggie Miller stirred up some controversy last week when he stated that he would take Bird over LeBron James at age 30. Highly undervalued in today's NBA society, Bird had posted ridiculous statistical feats that season (28.1ppg, 9.2rpg, 7.6apg). Although hypotheticals are dangerous, statistically speaking, Bird had the better year.
In the annals of Indiana basketball lore, Bird will forever sit near the top. Miller also spoke of a story with Larry Bird and how it impacted him. In a late game situation in Indiana with the game on the line, Larry was at the free-throw line. Reggie attempted to distract Bird during his first free throw. After knocking the shot down, Bird turned and looked at him.
Walking over casually Bird said, "You must be out of your damn mind. This is Indiana ground. I was born and bred here. I'm the legend around here." Fact was, Bird was right. He shows loyalty and appreciation of his Indiana roots by now serving in the Indiana Pacers front office as the President of Basketball Operations. His sole dedication is to now bring a title back to his home state. His greatness is understated and his impact will never be forgotten. This "common man" turned out to be something extraordinary. He showed that no matter the circumstance, you can overcome and be bigger and better. Magic Johnson said it best when he said, "There will never be another Larry Bird."