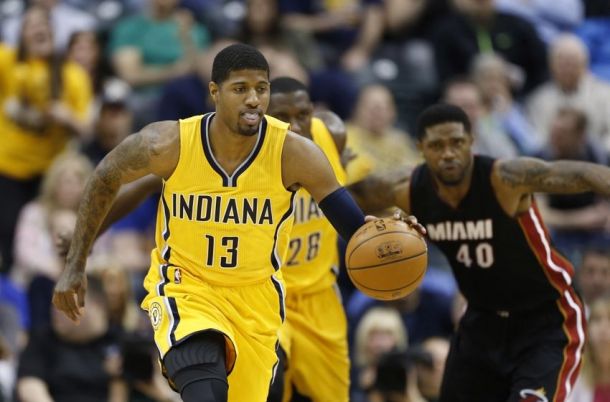 INDIANAPOLIS, IN – The NBA has officially fined Indiana Pacers star Paul George for public comments that criticized the officiating in the team's season opener. George has been fined a total of $14,000 so far this season; $10,000 for the public comments and two separate charges of $2,000 for separate technical fouls. The league fines players $2,000 for technical fouls for their first five technical fouls in a season, but then the fine increases to $3,000 once a player reaches a sixth technical foul.
Paul George's comments that warranted a fine from the league:
"We felt like there were a lot of bad calls. Close games like that, let us play. You've got a guy like (Kyle) Lowry who's down on one end doing what he wants and then on the other end, he gets touched and the whistle's getting blown. We (were) frustrated. We (were) very frustrated."
Paul George's comments were made to the media following the Pacers' 106-99 loss to the Toronto Raptors. The Pacers were called for 30 personal fouls in that game. Also, there were two crucial calls in the final two minutes of that game against the Pacers that the NBA reviewed and determined that they made incorrectly.
Paul George's first technical foul came after he set a screen on Kyle Lowry and Lowry blatantly flopped, and George received a personal foul for the screen. George's second technical foul of the season came in the team's second game of the season. George was running around an off-ball screen to create a clean jump shot, but Tony Allen kept pulling his jersey to slow him down. The referees didn't call a foul on Allen. Instead, they quickly called a technical foul on George.
The NBA is incredibly consistent in their fines regarding comments that criticize officiating. It's quite simple, if you make any sort of public criticism of the referees, you will be fined.