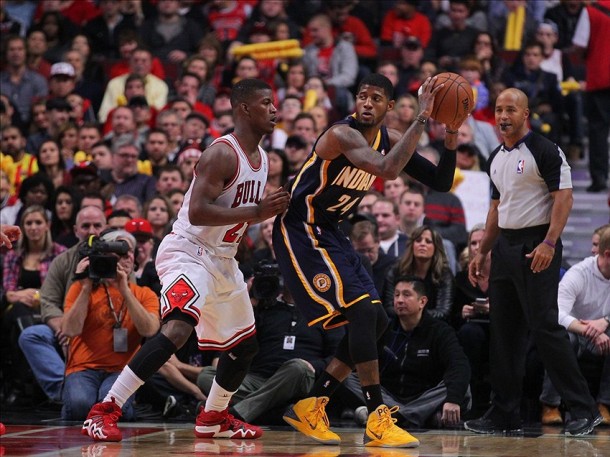 CHICAGO, IL -- The Indiana Pacers are in Chicago to take on the Chicago Bulls on Monday night. The short-handed Pacers are looking to make a statement at the United Center with a win. Indiana currently has a 6-4 record and are sixth in the Eastern Conference. A win tonight would make the Pacers fourth in the East.
The Chicago Bulls currently have a 6-3 record and are third in the Eastern Conference. Chicago would move to second in the East. Both teams will be playing for the second spot in the Central Division. It is an important game for both teams to win, which is especially the case when adding the fact that the winner will hold the tie breaker.
Indiana will be without George Hill (upper respiratory infection), Rodney Stuckey (right ankle sprain), and Myles Turner (chip fracture, left thumb). All of these players are important to the team in their own ways, so they will all be missed. However, the Pacers do have fill-in players that can play an important part in tonight's game.
Monta Ellis will move to the starting point guard position for tonight. Which will likely bring Glenn Robinson into the starting lineup as the starting shooting guard. Paul George will basically be the starting small forward. C.J. Miles will practically serve as the team's power forward. Ian Mahinmi will start at center.
Changes will happen in the bench unit because of the injuries. Joseph Young will be in the rotation tonight as the backup point guard. Solomon Hill will be in the rotation as the backup shooting guard. The rest of the rotation will remain the same; Chase Budinger at small forward, Lavoy Allen at power forward, and Jordan Hill at center.
Chicago is expected to use the starting lineup of Derrick Rose, Jimmy Butler, Doug McDermott, Nikola Mirotic, and Pau Gasol. Their bench will likely be made up of E'Twaun Moore, Joakim Noah, Taj Gibson, Tony Snell, and Aaron Brooks. This is Chicago's spread rotation to improve their offensive production, but it has been a bad defensive unit. The Pacers' projected rotation matches up effectively on-paper against this rotation.
Chicago has some injuries of their own that they are dealing with. Mike Dunleavy is out with back problems, Kirk Hinrich is questionable with a toe injury, and Joakim Noah is questionable with a right knee injury. Noah is expected to play, but it is up in the air for Hinrich.
Paul George has the chance to make franchise history tonight. He needs four steals to tie Travis Best for tenth on the Pacers' all-time steals list. It is possible for George to get that done, but it is unlikely because that is a lot of steals. George is having a fantastic month so far; 27.4 PTS, 9.3 REB, 4.6 AST, 1.4 STL, 0.1 BLK, 45.3% FG%, 44.7% 3P%, 86.5% FT%, 3.9 TO.
Indiana will need a lot of production from their two main offensive options (Paul George and Monta Ellis) with George Hill, Rodney Stuckey, and Myles Turner being out. Their role players will need to be ready to execute, but not force things off of the dribble. Movement without the basketball, floor spacing, and on/off ball screens are great ways for the Pacers to exploit this Bulls defense and create defensive problems. Both Ellis and George are coming off fantastic individual performances. George had 29 points, 9 rebounds, 4 assists, and a steal. Ellis had 24 points, 5 assists, 3 rebounds, 2 steals, and a block.
The problem certainly won't be the defense for the Pacers since their individual players stack up well with Chicago. Indiana has done a very good job on the defensive side of the ball to start the season, it shouldn't change tonight either. There will be players trying to earn minutes in the rotation, it is a rivalry game, and the Pacers have plenty of momentum from recent play, so the defense should continue to be energized.
Tip-off for this game is at 7:00 P.M. Eastern at the United Center in Chicago, Illinois.