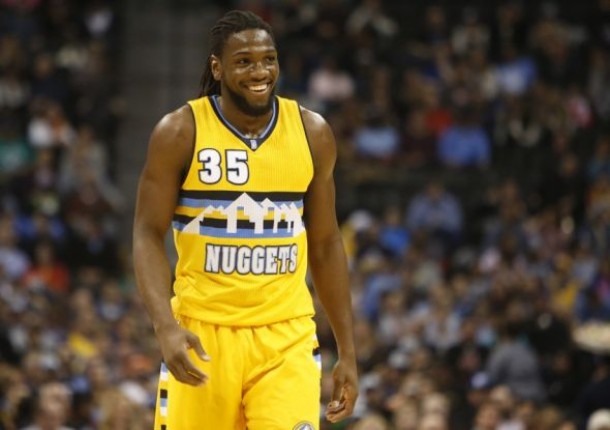 INDIANAPOLIS, IN -- The Indiana Pacers have displayed a need for a better fitting power forward with a skill set worthy of a starting role. Denver Nuggets power forward Kenneth Faried appears to be a quality fit on-paper with this current Pacers team.
The Pacers are in the business of re-tooling to compete now, so they would not want to give up any key players. Meanwhile, the Nuggets are in the business of acquiring expiring contracts and assets to build for the future. Indiana has basically all of their key players under contract for the 2017-18 season with cap space to use on improving their roster, so utilizing the draft isn't going to be very effective for the Pacers. This is even more so the case since the Pacers already have young prospects that they are developing for the future; Myles Turner, Joseph Young, Glenn Robinson, Rakeem Christmas, and C.J. Fair. Therefore, it would not make much sense for the Pacers to waste time using non-impact first round picks and to acquire a quality player that could really help their team.
Hypothetical Trade:
Indiana Receives: Kenneth Faried
Denver Receives: Chase Budinger, Lavoy Allen, and 2016 First Round Pick
This trade cannot happen until January 14th since that is when Lavoy Allen is eligible to be traded. This would be enough time for Myles Turner to be healthy and have hopefully earned the starting center role. Since this is a hypothetical, let's say that Turner did earn that starting role. Budinger has an expiring contract worth $5.00-million and he could help their rotation with Wilson Chandler being out for the year. Allen would be a temporary replacement piece for Faried at the power forward position. The 2016 first round pick would be the reason for the trade, which makes sense since Denver wants assets for the future.
Pacers Rotation Post-Trade:
PG: George Hill, Rodney Stuckey
SG: Monta Ellis, Glenn Robinson
SF: Paul George, C.J. Miles
PF: Kenneth Faried, Jordan Hill
C: Myles Turner, Ian Mahinmi
From an offensive stand-point, the Pacers would have three players (Paul George, George Hill, and Myles Turner) with reputations of being quality shooters in their starting lineup. Kenneth Faried is an interesting case because he has been shooting fantastic percentages so far this season, but his career doesn't have a reputation of having such success. It would be irresponsible to take too much stock into early season success after having a body of work that portrays a different notion. Faried is shooting 58.9% from 0-3 feet, 58.8% from 3-10 feet, and 66.7% from 10-16 feet, which is absolutely fantastic. Faried's career numbers from those ranges are; 66.2% from 0-3 feet, 39.8% from 3-10 feet, and 33.9% from 10-16 feet. Indiana would need Faried's interior efficiency more than his mid-range shooting anyways. This is the case since Myles Turner is an effective mid-range shooter and high post presence, in fact, Turner can even space the floor from the perimeter.
The concern here would be having a power forward that can't shoot from mid-range, but that can be resolved with Myles Turner in the lineup because of his effective shooting from mid-range and the perimeter. But if Faried's sudden improvement to his mid-range shooting isn't a fluke, it would be an extraordinary asset to Indiana's offense, but he would still be a good fit if this wasn't the case. The Pacers simply need another player that can effectively finish in the paint, rebound, and run the floor, which Kenneth Faried fits that description. The Pacers have the play-makers necessary to frequently setup Faried in comfortable situations for him to thrive, so he wouldn't have to create much individually with the ball in his hands. Faried could provide another pick-and-roll option for the offense. Faried can also bring off-ball screening, off-ball motion, and offensive rebounding to the team too. Indiana wants to play faster on offense, but they haven't been able to do that effectively since they don't have big men that consistently run the floor. Faried thrives off of running the floor and would be a quality relief options for the fast break offense to look at whenever an opening is available to exploit. Remember, Faried thrives off of moving without the ball to get his offense, and with Turner able to space the floor, the Pacers would be able to actually utilize his skill-set along with the skill-sets of their other starters. This would be a win-win for both the half-court offense and the fast break offense.
Kenneth Faried's toughness and ability to offensively and defensively rebound the basketball would be a big time addition for the Pacers. Paul George leads the Pacers in rebounding at 8.6 rebounds per game. Then there is Jordan Hill at 8.5 rebounds per game, and then Ian Mahinmi at 6.2 rebounds per game. Faried is currently averaging 9.7 total rebounds per game. The Pacers really only have one quality offensive rebounder and that is Jordan Hill who is averaging 3.5 offensive rebounds per game. Faried is averaging 3.7 offensive rebounds per game and that is among the elite in the entire league. Indiana could really use a top-tier offensive rebounder since they tend to shoot a lot of jump shots, it is especially the case since Indiana hasn't been effective shooting the ball from really any range. So the Pacers will need someone to grab offensive rebounds for those shot attempts. Indiana is 24th (62.3%) in FG% at the rim, 21st (23.9 per game) in attempts at the rim, 10th (41.6%) in FG% from 3-9 feet, 5th (10.8 per game) in attempts from 3-9 feet, 23rd (39.4%) in FG% from 10-16 feet, 15th (6.5 per game) in attempts from 10-16 feet, 25th (35.5%) from 16-23 feet, and 16th (18.1 per game) in attempts from 16-23 feet. This goes to show that the Pacers could really use Faried's interior efficiency and offensive rebounding to help bolster their offense.
Finishing games with Ian Mahinmi on the bench would be a significant improvement. Faried might not be shooting an effective free throw percentage, but it is far better than Mahinmi's. Faried is shooting 60.6% from the free throw line, meanwhile, Mahinmi is shooting 20%. That is a 40.6% difference in percentage, which is a drastic improvement. It is a no-brainer when you factor the defensive side of the ball. Indiana would be able to keep up with the athleticism of almost any opposing offense and not be attacked physically either. There would be a balance in the Pacers defense and that is very important to have when closing games.
Even though the offense would see benefit from Faried as an addition, the defense would arguably see even more overall benefit. Having the ability to run a fast paced style without having to play C.J. Miles at power forward would be fantastic. Faried adds a different element to the defense with his size and athleticism that the Pacers simply don't have. Indiana would no longer have a blaring liability against opposing power forwards, which would help the other four defenders on the team since they wouldn't have to make so many defensive rotations to trap the post out of necessity. Indiana would have a rim protection center (Turner or Mahinmi) and help from perimeter defenders (George, Hill, and Ellis), so that would allow for Faried's defensive weaknesses to be covered up. It isn't even known if Faried has defensive weaknesses in the sense of not being able to do something, it appears that when he's on a losing team he has more of an effort problem. Faried has all of the intangibles to be able to close out on shooters, effectively defend the pick-and-roll, defend off-ball movement, play quality help-defense, and defend the post, so it is highly unlikely that his defensive deficiencies have been because of an inability to defend. Frank Vogel has been able to help many players become committed to the defensive side of the ball and even turn them into an asset. The tools are there for Faried to be no different and the Pacers could take the next step by acquiring him.
Acquiring Kenneth Faried would provide added depth for the Pacers since their roster is so strangely constructed. Jordan Hill is best suited for the power forward position and for the second unit. Both of those things would be possible with Myles Turner being healthy and by acquiring Kenneth Faried. Being able to run a fast paced offense with a power forward that runs the floor would allow for C.J. Miles to come off the bench. Miles is a starting quality player, but he would be in a much better situation by not having to defend big men down low. Indiana would still get the benefits of a fast tempo without any glaring liabilities on both sides of the ball. Since it would be a far better fit to have Myles Turner start alongside Faried, it would allow for Ian Mahinmi to come off the bench in a more comfortable role. This would allow for the Pacers to have far significant late game options to play that aren't free throw shooting liabilities. Faried and Turner would give both offensive and defensive boosts to the team that could help them compete for the Eastern Conference crown.
Remember: This is just a hypothetical situation for the sake of analysis. There is no basis of a rumor involving the Indiana Pacers and Kenneth Faried. These were just a few thoughts stating the benefits for Indiana to acquire Faried.