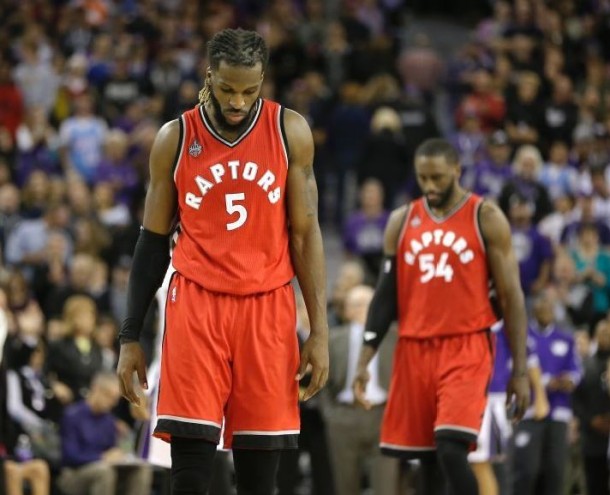 After a quick 5-0 start to the season, the Toronto Raptors are struggling and have now dropped six of their last eight meetings. The Raptors, now 7-6, were playing excellent basketball in all facets of the game in their first five but ever since their big win in Oklahoma City, they have looked like an entirely different ball club.
Last season, the Raptors' offensive potential was never quite met due to poor ball movement and heavily relying on isolation play. Toronto's poor team play and defense were evident, and general manager Masai Ujiri performed a major roster transformation in the offseason. This season, the Raptors defense, when their best defender DeMarre Carroll is healthy, has been magnificent allowing just 96.7 points per game when he has been in the lineup. Clearly defense is not Toronto's problem. The overall offense is not Toronto's issue either as they have a top-ten offensive efficiency rating in the league, scoring a very reasonable 101.6 points per game. The problem is the Raptors ball movement, especially late in games; a problem that has carried over from last season.
In four of Toronto's six losses this season, the Raptors have been either ahead or tied heading into the final frame, but the Raptors inability to close has allowed opponents to win all of these games. The Raptors have been outscored by 6.2 points per fourth quarter in these six losses. As possessions become more and more critical late in games, the Raptor offense appears to resort to isolation play. Possession after possession, the Raptors look very stagnant late in games, and it is very frustrating to watch. When the offense should continue to swing the ball around to get quality looks, the Raptors decide to go away from that, and it has not worked at all.
Running these isolation sets has most often come from DeMar DeRozan. Isolating DeRozan has become very easy to defend for opponents because of how predictable it is. Continually isolating him allows for other teams to double or triple team and force him into making tough plays. Whether feeding DeRozan over and over again is head coach Dwane Casey's strategy or DeRozan's selfishness is unknown, but either way it has cost the Raptors. DeRozan has actually done a very good job distributing the ball, for the most part, this season averaging 4.5 assists per game at shooting guard, but it could be even better if he and the Raptors continued to move the ball late in games.
The Raptors have many other offensive weapons like Kyle Lowry with his aggressive mentality and strong perimeter shooting, Carroll's outstanding cutting ability and three-point shooting, and efficient scorers like Jonas Valanciunas, Luis Scola and Cory Joseph. There is no reason to keep the ball away from these guys when it counts most. While players like Joseph and Valanciunas have field goal percentages approximately 14 percent higher than DeRozan, DeRozan takes more shots than those two combined and there is no good reason for it.
The poor ball distribution has affected no one more than Jonas Valanciunas. Valanciunas' lack of usage was an issue last season and is also carrying over to this season. The seven-foot center has the sixth-highest points per shot in the NBA this year, yet he fails to exceed ten field goal attempts per game. Valanciunas is playing very well this year averaging 13.5 points per game and 9.8 rebounds, but the Lithuanian could be putting up even greater numbers if they went to him more often, especially in fourth quarters. Last season, Valanciunas barely saw the floor in fourth quarters, and while they are at least giving him minutes now, they are not giving him touches. Giving him more touches will improve his scoring numbers but Valanciunas plays harder all-around when he is getting more involved in the offense. Sharing the ball with the big man will not only improve the offense but it will improve the rebounding and defense as well for his Raptors.
The Raptors are very talented, and they proved that both last season and early this season, but talent isn't everything in the NBA. It's all about knowing how to use that talent and for Toronto it means sharing the ball among all of their players; especially down the stretch.