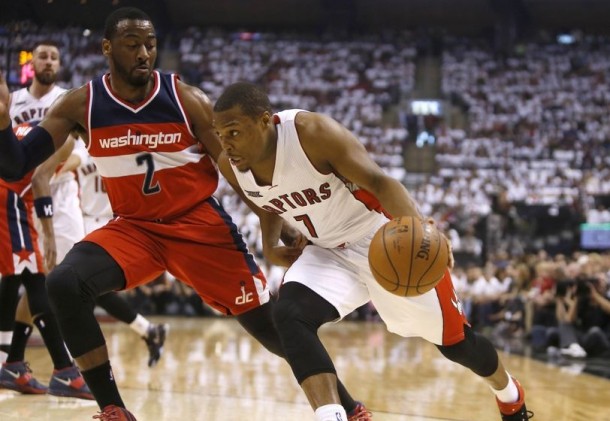 The Toronto Raptors and Washington Wizards will face off at the Verizon Center in Washington D.C. on Saturday evening. This game will be the first time the two teams meet for a regular season game following last year's NBA playoffs that saw the two teams meet in the first round. The lower-seeded Wizards shocked the Raptors in that series as they won all four games, completing the sweep. The Raptors will be looking to prove themselves after last season's playoff disappointment, while the Wizards will try to stand their ground at home.
Record-wise so far this season, Toronto has been the better team. Having won three straight games and coming off a huge 103-99 victory over the Cleveland Cavaliers on Drake Night, the 10-6 Raptors are rolling, and they have something to play for in this matchup. Expect the Raptors to come out of the gate fired up and ready to go.
Washington, on the other hand, has lost three consecutive games and are coming off a 111-78 blowout loss at the hands of the Boston Celtics. Washington comes into this matchup with a disappointing record of 6-7, and the Wizards will be hungry for a win. Both teams will want to take this game badly; expect a good, hard-fought battle.
This contest will consist of an excellent point guard duel. Toronto's Kyle Lowry and Washington's John Wall represented the Eastern Conference in the NBA All-Star Game last season as the team's starting guards. The two ball-handlers, however, play very different styles of play which makes this matchup even more interesting. While Lowry is more of a perimeter scoring guard as well as a gritty defender, Wall is best at using his passing ability and quickness to rack up the assists and get into the paint for easy buckets.
Lowry is having a career year scoring the basketball thus far, averaging 20.6 points per game on 40 percent shooting from distance and is leading the league in steals averaging 2.8 per game. Wall has taken a bit of a step back this season averaging 16.5 points, 7.9 assists, and 3.5 rebounds per game; all of which are lower than last season, most notably 2.1 fewer assists. However, as a star in the league, it is not a matter of if Wall will get back to full form this season, but rather a matter of when. Both Wall and Lowry are proven stars and fans attending this game will have a very exciting matchup to watch.
Staying in the backcourt, this game will include another fantastic matchup between DeMar DeRozan and Bradley Beal at shooting guard. Again, these two players have very different styles of play while both are great players. DeRozan, a former All-Star, is averaging 20.8 points per game this season and is doing a fantastic job drawing fouls; getting to the line 9.1 times per contest. While DeRozan is at his best when he is getting to the free throw line, Beal is more of a three-point threat. Beal is shooting 42 percent on threes this season averaging 19.6 points per game. DeRozan may get the edge in this matchup from his passing ability recording 4.2 assists per game while Beal averages just 2.3. This will be a good matchup to keep an eye on for sure.
While last season's playoffs saw Washington sweep Toronto, in the regular season it was actually the Raptors who won all three matchups.
As two Eastern Conference teams, all matchups between the Wizards and Raptors are big games. While the Raptors' record suggests they are a much better team, the Wizards are undoubtedly better than their record says as it is very early in the season. One may never know what kind of playoff implications each game may have so it is important to take care of business.
Will the Wizards get back to their winning ways against a team they are confident that they can handle, or will the Raptors get the last laugh? Find out at 7:00 pm EST as action gets underway from Washington D.C.