 This current three game skid for the Indiana Pacers started at an unusual place: Bankers Life Fieldhouse, a normally hospitable home for the team. The first two losses, against the Charlotte Hornets and Portland Trailblazers, happened within the Indy confines and were costly defeats in the current Eastern Conference playoff push. After the home defeats, the team began a four game road trip at Cleveland with an untimely 96-100 loss. Indiana was up late in the fourth quarter but LeBron James and company came back and secured a win to stay atop the Eastern Conference. The Pacers, during this three game skid, have moved from a tie at 4th to 7th place in the standings, with the Detroit Pistons and Chicago Bulls close behind.
Bucks Big Winners
The Milwaukee Bucks are coming off a big win at home against the Houston Rockets, a game in which Jabari Parker had a career-high 36 points. Khris Middleton added 30 points and Giannis Antetokounmpo had a double-double in an important moral win for the Bucks. The visiting Pacers offer a challenge to the Bucks to get another win at home during a long home stand in the BMO Harris Bradley Center. The two teams have split their previous games, the first a blowout win for the Pacers at home followed by a 4 point Milwaukee win on their home court.
Victory Through Open Shots and Tough Defense
The keys for the Indiana Pacers to prevail on the road are all geared towards the performance of the offense. Paul George has scored 20 points in 8 straight games, looking like a confident scorer and offense force that has big game potential against any good matchup. The length and versatility of Milwaukee, specifically Giannis who will probably guard Paul, is a tough play for any small forward in the league. That means Paul should look to facilitate and get open looks for Monta Ellis and George Hill, who have both recently been slumping. Monta had an offensive outburst at Cleveland with a strong 28 points, so he should look for open shots early and get the offense running at the start. George Hill will look to get some open 3's and get that shot back in his arsenal. The hot shooting Hill was a good compliment to the offense and Indiana has noticeably suffered without. Myles Turner and Ian Mahimni have been a strong combination as of late, but will be challenged by the offensively minded Jabari and Greg Monroe. Myles should look to beat Jabari in the post while Ian can beat Monroe off the dribble for the easy hook shot.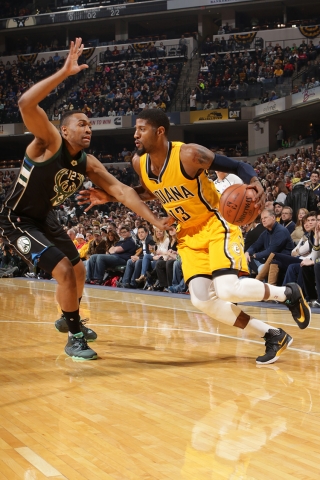 Recoveries of C.J. Miles and Rodney Stuckey
In Pacers injury news, C.J. Miles will be on the bench tonight and might see time after a 5-game absence with a strained left calf injury. While we aren't expecting much from his initial return, once he settles in C.J. can hopefully be a spark that carries the second unit. The formerly injured Rodney Stuckey looks comfortable after two games back from a month-long foot injury, but will still be on restricted minutes for another few games.
Start Fresh and Close Out Strong
Milwaukee has always been a tough matchup for Indiana, having the size and length to match up with our big men and smother Paul George with Antetokounmpo, one of the rangiest defenders in the league. Frank Vogel will look to get the inside game going and get some open threes going for "PG" and George Hill. Monta Ellis should be featured in the pick-and-roll with Turner or Mahimni and maybe Stuckey or even Chase Budinger, who has been playing well as of late, can sustain the second unit. For a prediction, I think the Pacers will get a big win on the Bucks' court. I'm liking the shots Paul George has been taking recently, so Monta Ellis and George Hill need to look for him off curls and as an option on pick-and-roll. The second unit will need to play well but more importantly score, something they've struggled with as a whole in the current losing streak. The defense will be sound as long as Myles Turner can stay out of foul trouble. I like the Pacers to win, score of 112-98.