 The Cleveland Cavaliers got revenge against the Washington Wizards, notching a dominant 108 to 83 victory at home. The Cavaliers maintained a lead nearly wire to wire as they separated themselves from the Wizards early in the game.
These two Eastern Conference competitors faced off last Sunday, in which the Wizards obtained a home victory while LeBron James did not play for the Cavaliers. In today's matchup, Cavaliers big man Kevin Love sat out for rest.
This games marks the fourth and final matchup between these two teams this season. The season series was split at two games a piece, as each team picked up one road win and one home win.
Cleveland, who has advanced to 43-17 on the season, grabbed their second straight victory with this emphatic home win, while Washington, who falls below .500 at 30-31, had a four game winning streak snapped tonight. This loss puts the Wizards one game out of the eight seed in the Eastern Conference behind the Detroit Pistons and the Chicago Bulls. Washington falls on the bottom end of the teams fighting for the last four playoff spots in the East.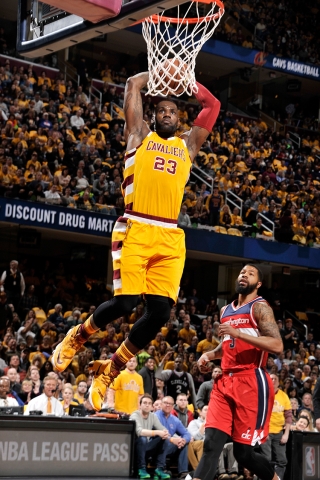 Key Players
The Cavaliers were aided by an extremely balanced scoring effort, as six different players managed to score 10 or more points. The leading scorer for Cleveland was Kyrie Irving who scored 21 points and had eight assists on a team high 32 minutes. James was also big for the Cavaliers, adding 19 points, 13 rebounds, and seven assists. Timofey Mosgov had a great game for Cleveland after struggling for a large portion of this season, adding 14 points off seven for 11 shooting on the night. The other double digit scorers for the Cavaliers included J.R. Smith and Tristan Thompson, who had 10 points each, and Matthew Dellavedova who scored 12 points off of the bench.
Washington was also strengthened by a balanced scoring effort with five players scoring 10 or more points, but they were unable to get a consistent flow to spur a comeback at any point in the game. All Star John Wall led the Wizards, scoring 17 points and adding eight rebounds and seven assists. Newly acquired Markieff Morris added 13 points and Polish big man Marcin Gortat scored 10 points. Backup guards Ramon Sessions and Bradley Beal added 12 and 11 points respectively in the loss.
Shooting Struggles
The Wizards struggled to get any sort of shooting flow at any point through the game. Reliable shooting guard Beal shot four for 12 from the field and starter Garrett Temple was shut out, going zero for five. Washington, as a team, shot less than 40 percent from the field overall, and only shot 15 percent from beyond the three-point arc. The bench as a whole shot 13 for 33, struggling to fight off Cleveland's bench additions from Thompson and Dellavedova.
The Cavaliers and Wizards will both finish back-to-backs tomorrow night. Cleveland will play the Boston Celtics at home, and the Wizards will travel back to our Nation's capital to face off against the Indiana Pacers.