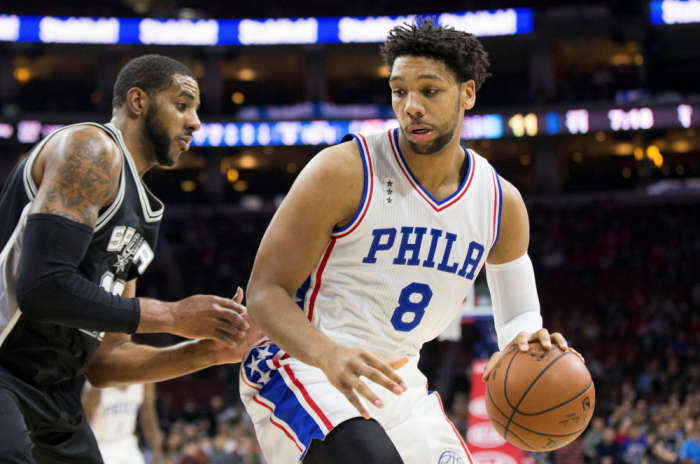 Jahlil Okafor's rookie season is in the books.
Philadelphia 76ers president and general manager Sam Hinkie announced Friday that Okafor, who hasn't played since Feb. 28, will soon undergo an arthroscopic procedure to repair a small meniscus tear in his right knee. The hope is that he will be able to resume full basketball activities in about six weeks.
Shutting Okafor down for the year seemed logical even before a medical prognosis was determined. Considering the team sat forward/center Nerlens Noel (knee) for the entire 2013-14 season and has pushed back the debut of Joel Embiid by at least two seasons due to the Cameroonian big man's slow-healing injured right foot, announcing the end of Okafor's messy but encouraging rookie campaign was par for the course. Other than the one victory it needs to avoid matching the worst record in an 82-game season (9-73) set by the 1972-73 Sixers, the current Sixers squad, at 9-57, has absolutely nothing to play for. And for now, the organization has seen all it needs to see out of Okafor.
Ups and Downs
Given that Embiid and forward Dario Saric, the first-round picks the Sixers added to the mix prior to selecting Okafor with the No. 3 pick in the 2015 NBA Draft, have yet to play in an NBA game, the mere fact that Okafor actually suited up this season was encouraging in and of itself. But Okafor's play also gave the organization and its fans hope amidst a complicated rebuilding process.
In 53 games, Okafor proved worthy of being taken high in the draft. He averaged 17.5 points (on 50.8 percent shooting), seven rebounds and 1.2 blocks per contest. His numbers compare favorably to the other top rookies, including big men Karl-Anthony Towns and Kristaps Porzingis.
However, the infamous brawl with individuals who reportedly were taunting him at a Boston nightclub in November following a tough loss to the Celtics, a reckless driving citation, and other troubling off-the-court incidents marred Okafor's otherwise promising season and raised concerns about the 20-year-old center's maturity level. It got to the point where the organization had to arrange for a security guard to accompany Okafor on social outings. Veteran forward Elton Brand came out of retirement mainly to help his fellow Duke University alum get on the right track. "Despite how he's been portrayed, I know Jahlil. He's a good kid with a good heart. He's not unlike most 20-year-olds you probably know, and he's definitely not at all different than most of his fellow players," Brand said in an essay explaining his decision to unretire, "Hell, if camera phones were around when Brad Miller, Ron Artest, and I were Jahlil's age, we might've been banned from the league altogether, never mind suspended for a few games."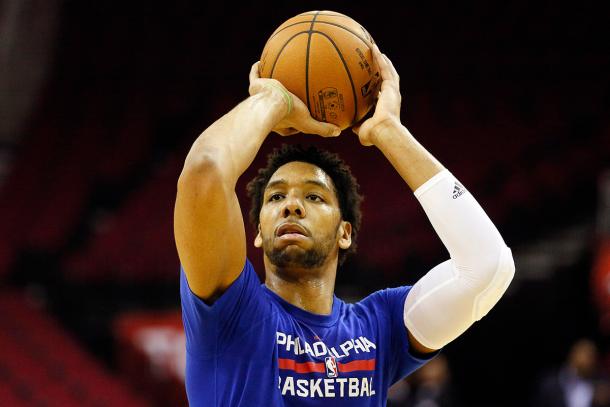 Future Looks Bright
When you take everything into account, one thing is for certain: Of all the players on the 76ers' roster, Okafor has the best chance, by far, to become a special player. He does not need to play in the team's final 16 games to further drive that point home. Noel is good, but the way it looks now he is going to be primarily a defensive specialist, one coaches may even consider bringing off the bench. The organization still does not know what it has in Embiid or Saric. Robert Covington, a capable outside shooter, is the only other 76ers player with any value who comes to mind.
But Okafor is the guy with the most apparent All-Star potential. There are questions that remain. Can Okafor, a gifted scorer, get better defensively? (Players who were defended by Okafor this season shot 47.8 percent from the floor.) Can he and Noel coexist long term? When Embiid and Saric finally do make their long-awaited debuts, how will they affect Okafor's role on the team?
The Sixers won't start finding out the answers to those questions until next season (hopefully). Right now, though, they know Okafor is much more than a trade chip. They know they got it right in last year's draft. Okafor is a talented player, one other talented players may decide to come to Philadelphia to play with in the near future. That, along with the fact that Okafor's injury does not appear to be a major concern, is comforting for the Sixers, who have a ways to go before they become respectable again.
It is disappointing that Okafor won't get to end his first season on a better note. The situations he found himself in when he wasn't on the court also were disappointing. But Okafor's production didn't disappoint. He clearly was the biggest positive in a season that can't end fast enough for Sixers fans.