 INDIANAPOLIS -- The Indiana Pacers are set to face the Toronto Raptors in the opening round of the NBA playoffs. All across the board, experts, fans, and projection software has predicted that the Raptors will win this playoff series. However, there are ways on-paper that the Pacers could beat the Raptors in this series. It will take quality game planning and execution, but the Pacers have what it takes to put together a sufficient performance to win this series.
Limiting Free Throw Attempts
It appears that preventing the Raptors from living at the free throw is the biggest key to victory. Here are Toronto's free throw attempts in this year's match-ups with Indiana: 39 attempts (first meeting), 26 attempts (second meeting), 38 attempts (third meeting), and 38 attempts (fourth meeting). The only time that the Pacers managed to beat the Raptors this season was when they held Toronto to under 30 free throw attempts.
Frank Vogel told the media about defending without fouling when playing the Raptors (via Pacers.com):
"We've got to be disciplined with our hands and with our body position and understand they're going to throw their bodies into us and snap their heads back and swing their arms through and hope the whistle blows. Sometimes it blows and sometimes it doesn't. We've got to earn those no-calls by being disciplined with our body position and by being disciplined with our hands."
"We know how it's going to be called. If we reach in and there's contact on the arms, it's a foul. We've got to get our hands out of there. The league does a great job of understanding how offensive players play and what's a foul and what's not a foul."
"You have to have active hands, but it's mostly in the passing lanes as opposed to trying to strip the ball out of guys' hands."
Frank Vogel made a lot of great points in his comments to the media. It is quite clear that the Raptors thrive when they are getting a ton of free throw attempts, so the best approach would be to do whatever it takes to limit their free throw attempts.
Here are a few keys to limiting the amount of free throw attempts by the Raptors:
Limit body contact when players are creating plays with the ball. There is no reason to body check players when you can move your feet.
Don't fall for shot fakes when players are looking for bail-out calls. DeMar DeRozan has used this strategy a lot in particular.
Make it a point to get in front of players instead of playing on their hips. Playing a step late and out of rotation in help-defense is a big cause for this.
Try to read the offensive player before reaching in. There are times when players are lazy and just swipe to swipe.
Don't engage in pointless contact in off-ball situations that will end up racking up team fouls. Racking up team fouls eventually results in bonus free throw attempts.
Fighting On the Glass
Jonas Valanciunas and Bismack Biyombo require effective boxing out or else they will have a field day on the boards. Indiana does not have physically imposing big men that can rely on sheer strength and size to be effective in rebounding situations. The only real way to combat a situation where you are a smaller player and are battling with a larger player for a rebound is to box them out with proper fundamentals. Preventing Toronto's quality rebounders shouldn't be the only focus, Indiana needs to bring the fight to Toronto in rebounding situations by being the aggressor. Easy baskets are rare in the playoffs, but one great way to get them is by being effective on the offensive glass. It should be a focus to play the offensive boards instead of watching shots hit the rim and standing. Focus, energy, and physicallity will be crucial to being succeful on both the offensive and defensive boards.
Toronto has thrived against the Pacers when they are able to get offensive rebounds for put-backs, easy second shot attempts, and additional offensive possessions. These offensive rebounds have occurred mainly as a result of a lack of focus to boxing out, as well as a lack of effort. Energy should not be a concern with all of the rest that the Pacers have gotten before the start of this series. It's just the reality of the situation, NBA seasons are very long and taxing on the body, it is common for teams to have spurts where they are gassed and look like they are not trying hard. Indiana did not rest player throughout the season like other teams, which is really the only legitimate way to keep players fresh. Again, this shouldn't be an issue in the playoffs since the Pacers were able to rest key players prior to the end of the regular season, also, the playoffs have no back-to-backs. That means that the team will be able to effectively manage fatigue levels inbetween games.
Find Balance Between Speed and Size
Kyle Lowry and DeMar DeRozan are very difficult to defend from an individual stand point, but it is amplified when you factor in the quality floor spacing that the Raptors have. Toronto has perimeter spacing capabilities at power forward with Luis Scola and Patrick Patterson. Having the ability to space the floor at four positions really makes it difficult for the defense to make effective help rotations to stop lane penetration and still be able to recover to defend off-ball players. This is a troubling factor because individual defense is nearly impossible against Lowry and DeRozan without help. It takes a lot of proper decision making in team defensive rotations to cover all of the offensive options when Lowry and DeRozan create with their play-making ability, which is why having extra speed would help the Pacers to be able to effectively cover ground.
A key to being able to effectively defend the Raptors would be to add speed to the defense. If Lavoy Allen struggles to make defensive rotations quickly enough in help defense, or is too slow to close out on jump shots, then it would be a good idea to use Solomon Hill as a small ball power forward. The only concern with a Solomon Hill for Lavoy Allen swap at power forward would be defending the post. Evaluating early on if Hill can effectively defend in the post against Luis Scola and Patrick Patterson is important, because Indiana's best lineup this season consisted of George Hill, Monta Ellis, Paul George, Solomon Hill, and Ian Mahinmi. If Hill doesn't struggle in that situation, then it would be wise to integrate him into the starting lineup at power forward for this series. Perhaps Indiana could even adopt a trapping scheme if they want to use Hill at power foward and Toronto starts to attack him in the post.
Having Solomon Hill at power forward has a good amount of additional defensive advantages beyond help defense. Indiana would have significantly more flexibility when defending screens since they can switch and not have to worry about a miss match. This is important against Toronto since they like to run the pick-and-roll and use off-ball screens to create space. Solomon Hill is arguably Indiana's second best perimeter defender, so getting him switched on to guard a perimeter play-maker would be beneficial for the defense. With his physicallity and high motor, Hill makes it difficult for most perimeter players to beat him with their ball handling ability. Hill has made his fair share of defensive plays against premier perimeter players this season. From Kyle Lowry to James Harden, or even to Kevin Durant, Solomon Hill has managed to be an effective defender on the perimeter against just about every type of dynamic perimeter threat.
It seems that Solomon Hill has a motor unmatched by many. He rarely gives up on a play and he utilizes his energy to make hustle plays for his team. Whether it is by diving on the floor to save a ball from going out of bounds, or making fast defensive rotations until exhaustion, Hill will always give you his maximum effort. This is valuable because it is contagious for other players on his team. There is a noticeable energy difference in Hill's teammates when he takes the floor. Hill is a valuable spark plug and he most certainly leads by example. With the luxury of resting key players prior to the playoffs, Indiana should have the necessary energy and speed to effectively defend the Raptors. Solomon Hill reminds me of Lance Stephenson in the regard that he provides an energy boost to his team. Stephenson did a great job of providing a shot of energy to his team by pushing the ball in the open court and being dedicated to the defensive side of the ball.
The benefits of utilizing Solomon Hill as a small ball power forward aren't restricted to simply the half-court defense. Hill brings a bonus to Indiana's half-court offense and fast break execution in addition to his contributions in their half-court defense. Ever since Hill found his shooting stroke in late March, he has been an effective floor spacer. It is valuable to have four perimeter players on the floor at once that can all knock down catch-and-shoot jump shots. That opens up the floor for the team's play-makers to make plays since the help-defense can't afford to cheat by playing off of players in off-ball situations on the perimeter. It gets more complicated for the defense when you factor in aspects like Ian Mahinmi's interior efficiency, Myles Turner's ability to shoot jump shots as a center, and Turner's efficiency in the interior. All of these offensive options force the help-defense to pay when they cheat, make late rotations, or simply when they make the wrong rotation.
Toronto does not have quick power forwards that can recover from being out of rotation in help-defense. Having a player that can space the floor at power forward almost has the capability to take a whole defender out of the equation when attacking from the weak side. Keeping the defense honest really allows for Paul George, Monta Ellis, Ty Lawson, Rodney Stuckey, and George Hill to effectively make plays with the ball to score and create for their teammates. But the benefits aren't limited to just those main play-makers, the other complimentary pieces are able to attack exploitable holes to take what the defense gives them. Drawing a defender away from the paint makes individual and system offense significantly easier. More space in the inside allows for more options to effectively move without the ball, attack the lane with ball handling, run the pick-and-roll to draw possibly all defenders from the paint, and it allows for quality ball movement to put the defense out of rotation more easily. It is simply easier to pass the ball to a player moving towards the basket when there is one less player to contest that pass.
Consistent Supporting Caste Production
Paul George needs help scoring the ball, similar to the way the team has given him help in the month of April. George is likely going to have his 20+ points per game, but there can't be games where the next leading scorers are at 13 points and then 6 points. The main key is that the Pacers have a consistent and reliable second option so the Raptors can't cheat in their help defense against Paul George.
Paul George told the media that he and Monta Ellis will be key in the playoffs for the Pacers (via IndyStar):
"A lot of it is going to be on Monta's shoulders. A lot of it is going to be on my shoulders. We're two of our top scorers, so I know it's going to be a heightened awareness for the Raptors to kind of get the ball out of our hands and make us be playmakers and spacers. But it's still on us to come prepared to be in attack mode still and put our team on our back to win these games."
This team is structured around Monta Ellis being the second offensive option. With that being said, Ellis's aggressiveness and play-making ability will be much needed. George Hill, Lavoy Allen, and Ian Mahinmi are not play-makers, they are complimentary pieces. This means that Ellis will need to rise to the occasion to provide Paul George with a quality scoring partner in the starting lineup to help the first unit thrive. Ellis has been battling a knee problem throughout the season, which has hurt his lift on his jump shot, his speed to attack the lane, and his overall effectiveness. But the good news is that he will be very well rested for the playoffs, so it shouldn't be nearly as big of a factor.
Monta Ellis's situation kind of draws some parallels to Paul Pierce for the seasons he was on the Washington Wizards and the Brooklyn Nets. Pierce didn't play nearly as well in the regular season as he did even during his final season with the Boston Celtics. But when the playoffs came around, Pierce made paired with Joe Johnson to make an offensive duo sufficient enough to upset the third seeded Toronto Raptors in the playoffs as a sixth seed. Pierce didn't average over 20 points per game in the playoffs and dominate as a franchise player, but he did average around 14 points per game and made big shots in clutch moments. Indiana will need the offensive production to start with Paul George getting at least his 20 points per game and then Monta Ellis getting around 15 points per game.
Indiana has received uncharacteristically good offensive and scoring production from their bench unit lately. Quality production hasn't been coming from the Pacers bench all season, but there are reasons for that. A lot of it has to do with Ty Lawson becoming acclimated to the team and added a new play-making and facilitating dynamic, so this bench success could be here to stay for the Pacers. Lawson has really helped create quality ball movement, individual offense for himself, and open shots for his teammates with his ball handling and speed. It is quite a luxury to have a back-court of Ty Lawson and Rodney Stuckey in a second unit, both are quality play-makers. Often times the bench has produced one of the team's second leading scorers in games during late March and April, sometimes even the top scorer. This has really helped Paul George since he has received sufficient scoring support to win games. Indiana will need this to continue even if Monta Ellis steps up as the team's clear cut second best offensive player.
The Pacers half-court offense has been much improved in the past month, in fact, the increased usage of proper fundamentals to create quality offense is insane. Indiana suffered from an offense with slow ball movement and stagnant off-ball movement where it relied on Paul George to make plays against multiple defenders. It was simply a train wreck, but the past two months the Pacers have shown drastic improvement in their offensive strategy. A lot of that could be that the players have built chemistry and understand each other's tendencies much better, but it appears that much of this is due to philosphical tweaks by the coaching staff. Regardless of why the team is now using proper fundamentals in their half-court offense, it has worked and that should be enough of a reason to hope that it continues.
Those changes to the structure of the half-court offense has really opened up quality shot attempts for not only Indiana's complimentary pieces, but even for Paul George. There has been a diversified approach to the team's off-ball movement and usage of off-ball screens. Which has resulted in better offensive flow and exploitable breakdowns in defensive rotations. The improved floor spacing and off-ball movement has allowed for the team's key players to have quality lanes to attack the defense off the dribble and make plays. The team appears to be using on-ball screens intelligently now and not out of desperation to create quality offense. This balanced and fundamentally proper offensive approach has really helped both of Indiana's units get quality offense and put their team in a good position to win games. A fundamentally sound half-court offense has allowed for complimentary players to step up and fill in the role of the second leading scorer during March and April.
Build On Current Momentum
Outside of their double-digit road loss (98-111) to the Raptors on April 8th, the Pacers have played fantastic basketball in the final month of the season. In fact, the Pacers tied with the Los Angeles Clippers for the best record in the NBA (6-1) during the month of April. This led to Frank Vogel being named the Eastern Conference Coach of the Month. Indiana has found recent success on both sides of the ball and they appear to be playing their best basketball at just the right time. By no means will it be easy, but it appears that with the proper strategic approach from the coaching staff, the Pacers have what it takes to upset the Raptors in this series.
A key component to maintaining momentum is to continue to do the good habits that created the momentum in the first place. Since it's the playoffs and the team is well rested, energy and effort should not be a problem like it was in spurts during the regular season. However, the quality fundamentals of the half-court offense need to be continued in order for the team to keep the defense honest and have consistency. If the approach isn't consistent, then how can the results be? Indiana has used a great offensive approach and strategy in the final portion of the season, so building on that in the playoffs appears to be a great route to go.
The ultimate momentum boost would be for the Pacers to win game one of the series. It's not absolutely vital that the Pacers specifically win the opening game of the series. But the Pacers do need to win at least one of the first two games in order to be in a quality situation to win the series. It would be incredibly difficult to head home with an 0-2 series deficit and expect to overcome that. Whether a win comes in game one or in game two, the Pacers need to split in Toronto if they want a quality situation to work with when they head back home to Indianapolis.
Embrace Underdog Status
Toronto will be looking to make a statement in this series. They have been eliminated very early in the playoffs in the past few season. This year their franchise and fans are counting on advancing beyond the first round. Indiana doesn't have that pressure because everybody believes that the team is going to easily lose the series. The Raptors are looking to prove that they aren't a joke when it comes to playoff basketball. Teams in that situation can be taken out if you set the tone early and bring the fight to them.
Indiana has a golden opportunity to prove to the world that they are a threat. This is because of the fact that the Pacers will be playing in the first NBA playoff game of the season. ESPN will be broadcasting this game, that is important because almost everybody can watch this game, unlike the games broadcasted on NBA-TV. With all eyes on the Pacers, the team will have the perfect opportunity to show the Raptors and the rest of the world that they are the real deal.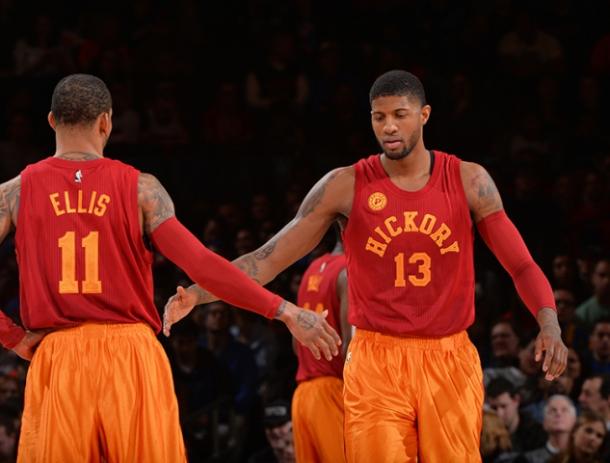 Game one starts at 12:30 P.M. EST at the Air Canada Center in Toronto, Canada. The first game will be broadcasted on ESPN.