 After a long and strenuous search, Sean Marks and the Brooklyn Nets have decided on who they want to replace Tony Brown as coach. Kenny Atkinson has earned the position. Atkinson is currently assistant coach of the Atlanta Hawks and will finish out the playoffs with the team before heading to Brooklyn. Brown was interim coach for the remainder of the season after the firing of Lionel Hollins.
Upon the hiring of Marks, there was much speculation as to who the Nets would assign the role of head coach. Some suggested Ettore Messina due to his connection with Marks through the San Antonio Spurs organization. Others thought Tom Thibodeau or David Blatt would perform well in the position. Expectations were through the roof for the Nets but evidently, the best man available was Atkinson.
New Man in Charge
Atkinson's career began at the University of Richmond where the 6'1 guard led his team to the 1988 Sweet Sixteen. He went undrafted in the 1990 NBA draft and later signed with the Wichita Falls Texans in the CBA league. From 1990 to 2004, Atkinson traveled around the world and played in Italy, France, Germany, Spain, and the Netherlands.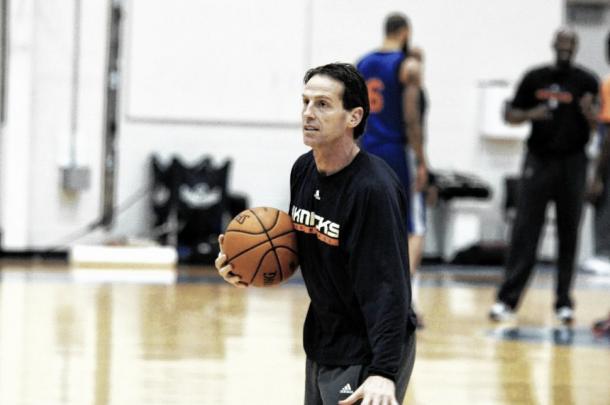 After his playing career, Atkinson joined the New York Knicks coaching staff in 2008. He spent four seasons in his hometown New York before joining the Hawks organization in Atlanta. He helped bring the Hawks to the playoffs several times, including this season. Now, he faces his first ever opportunity at being the head coach of a team.
The Boss of Brooklyn
Sean Marks had previously expressed the sentiment that he wanted a young coach with good potential to be the leader of his Brooklyn Nets. Essentially, the total opposite of previous head coach Lionel Hollins. Marks got just what he wanted in Atkinson. Atkinson, 41-years-old, has plenty of time to grow and learn with the team. It doesn't hurt that he's a native New Yorker either.
It's never easy to be the leader of a failing big-market team but then again, he has already spent time with the Knicks. Atkinson will be coming into Brooklyn as they enter rebuild territory, specifically a rebuild without draft picks. If he can successfully utilize the players and pieces that the Nets have while helping to attract even more, Atkinson will be a fan favorite in no time. The Nets are going through some growing pains themselves and it might be nice to have someone who brings a fresh start to the team.