 Following their big win on Saturday, the Charlotte Hornets managed to grab another crucial win to even the series up against the Miami Heat winning 89-85.
Charlotte, who broke their 14-year playoff victory drought in the previous game, continued to impress in tonight's matchup. The victory was largely due in part to some excellent leadership and scoring from point-guards Kemba Walker and Jeremy Lin. The dynamic duo had been lighting up the court all season and tonight's playoff game was no different.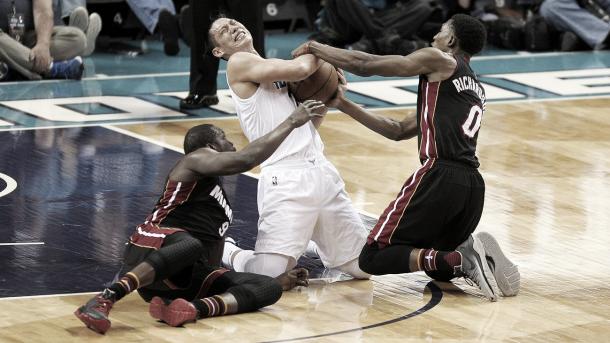 Early in the first, the Hornets clung onto the lead thanks to their defense and ability to lock down the Heat in the paint. Cody Zeller and Frank Kaminsky did a solid job of containing the explosive Hassan Whiteside. Courtney Lee held his own on the wing against the likes of veteran Dwyane Wade and Luol Deng. Miami was held to just 13 points in the second quarter. Coming after a confident first-half, Walker unleashed on Miami and dominated them with his scoring. With the added help of Lin off the bench, Charlotte cruised to their second playoff victory in 14 years.
Hot night for the guards
Both Charlotte and Miami's scoring came mostly from their guards. For the Hornets, Walker had a playoff career-high 34 points and Lin dropped 21 off the bench. Courtney Lee finished with 11 and four rebounds. As for Miami, Joe Johnson lead the team with 16 points and seven rebounds. Wade notched a double-double with 12 points and 10 assists along with seven rebounds, just three boards shy of a triple-double. Goran Dragic had 12 as well, but committed five turnovers on the night.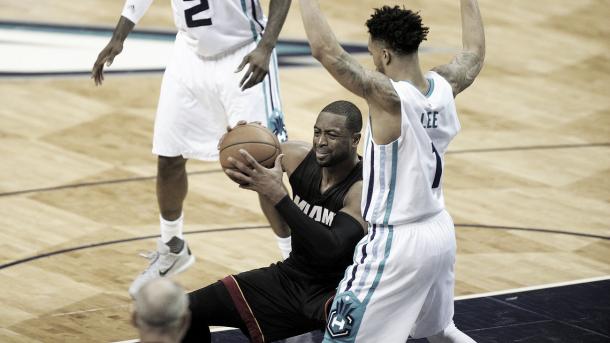 The bigs mostly stayed quiet in this game, but Charlotte utilized their player's defensive capabilities to secure a win. Al Jefferson had nine points and five rebounds. Kaminsky finished with four points and four rebounds but provided great defensive intensity. Marvin Williams was scoreless on the night, shooting 0-5, but did grab seven boards. For the Heat, Whiteside was held to eight points and seven rebounds. Deng had 15 points and seven rebounds on an ugly 4-14 shooting night. Both teams shot relatively poorly in this one. Charlotte was 40% from the field and 23.5% from three partly due to Walker who was 13-28 on the night. Miami was slightly worse, finishing 39.5% from the field but did have the slight advantage at the three with 37.9%.
Battle of the benches
It was a tale of two very different bench lineups for both teams. For Charlotte, Zeller ended the night with eight points and four rebounds. Fellow benchmen Spencer Hawes finished with only two points but eight rebounds. Charlotte only had three players on their bench: Lin, Zeller, and Hawes. Lin, with his 21 points, provided the biggest spark of the three. With only eight active players, tonight's victory was even more impressive.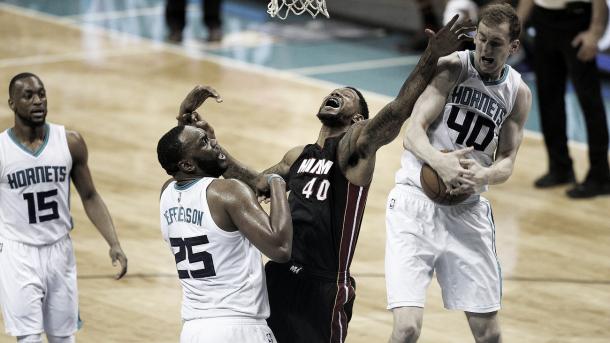 While Miami had double the amount of players on their bench, they stayed very quiet in the game. The leading scorer was Justise Winslow with eight. Amare Stoudemire and Gerald Green both had five points. Heat veteran Udonis Haslem finished with just one point and five rebounds. Jason Richardson had three points and four rebounds. Collectively, they only scored 22 points for the team. An unhelpful bench is always hurtful to a team's chances of winning.
Next game
The Hornets and the Heat face off again on Wednesday in Miami. Both teams will be looking to gain an edge late in the series. This game five will be crucial and one of the most important of the entire series. Charlotte looks to keep the streak going will Miami hopes to extinguish it right away.