After starting the series trailing 1-0, the Toronto Raptors took a 3-2 advantage and will have a chance to end the Miami Heat's season on Friday night.
Raptors start game strong on both ends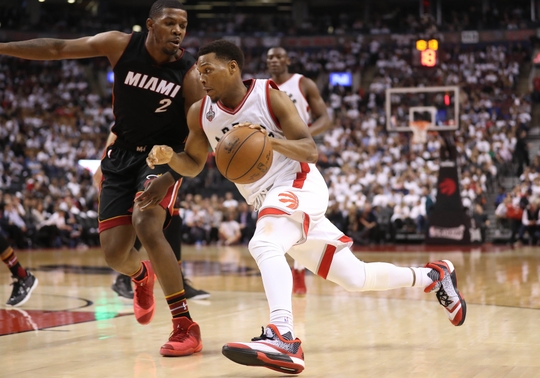 Toronto opened the contest with a 9-0 lead and shot 40 percent from the floor while holding their opponents to 27 percent shooting in the first period. They also had nine steals and lead 28-18. DeMar DeRozan and Kyle Lowry combined for 19 points, the total amount of points they had at the conclusion of game four.
By the 5:29 minute of the second quarter, the Raptors were ahead by 17 points after making eight consecutive shots. Despite the strong offense from Toronto, Miami showed signs of a comeback by ending the period on a 10-0 run to get within 10 points at halftime.
Miami's struggles continue
The Heat had a dismal third quarter going 4-of-20 from the floor and were outscored 20-17 in the period. Toronto was ahead by 13 to start the final 12 minutes of the game but their lead then reduced to a one-point lead with 1:54 remaining in regulation.
DeRozan responded by converting on two free throws and after a Heat turnover, Lowry drained a 3-pointer to increase the lead to six. Although Miami dropped 29 points in the final quarter of the game, Toronto offense turned out to be too much to overcome.
Top performers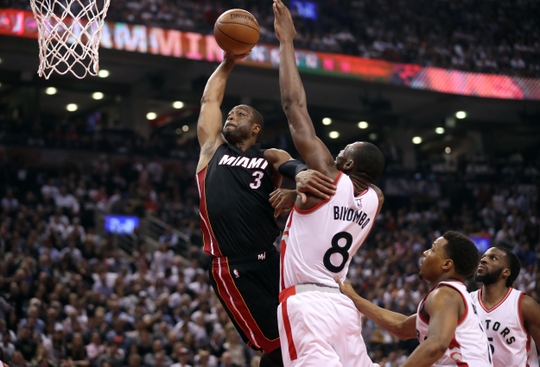 DeRozan matched a playoff high with 34 points while Lowry ended with a double-double of 25 points and 10 boards. Bismack Biyombo, who started for the injury Jonas Valanciunas contributed with 10 points. Dwyane Wade lead the way for Miami with 20 points. Goran Dragic and Josh Richardson had 13 points apiece. Joe Johnson tallied 13 points.
Other things to note
-Toronto notched seven steals and seven blocks.
-The Raptors scored 55 first half points after scoring only 35 first half points in game four.
- Luol Deng left the game midway through the third frame with a wrist injury and did not return.
-DeMarre Carroll also suffered a wrist injury and be forced to head back to the locker room and not return.
-DeRozan jammed his sore right thumb in the fourth period while committing a foul against Tyler Johnson. He was sent to the locker room but did return to action.
Post game quotes
When asked about what to expect for Friday night's game six, Wade commented "Going back home obviously are crowd is going to be excited to get us back on our own floor and were trying to force a game seven. So we're trying to win in our home and try to get back here on Sunday."
DeRozan was asked about his thumb injury and commented "It just felt like a blowtorch on my hand, that's all. But it's something I gotta deal with. It's nothing else I can do about it but just try to play through it [the] best way I can and deal with it later".
Up next
Game Six will be on Friday, May 13th at 8:00 P.M. EST and can be seen on ESPN.