The Miami Heat and Toronto Raptors both came into this game without their starting centers, Hassan Whiteside and Jonas Valanciunas, respectively.
Toronto opted to use its backup center Bismack Biyombo in its starting lineup while Miami Heat coach Erik Spoelstra went an entirely different direction: He simply did not start a center.
The Heat started the 6'7" rookie from Duke, Justise Winslow, at center, essentially coming with a lineup featuring three swingmen, since Luol Deng was already starting at the 4-spot.
The small lineup seemed to give Toronto problems, and the Raptors could hardly capitalize on it with no post players of any consequence on their roster. Instead, the Heat largely got away with playing an ultra-small and athletic lineup, and that is something we are seeing more and more in this era of NBA hoops.
The Heat seized the game in the second quarter, behind an enormous quarter from Goran Dragic. Dragic scored 15 of his team-high and career playoff high 30 points in the third quarter, and Miami had a nine-point lead at the intermission.
Dragic continued his antics in the third quarter, scoring 13 points in the period as the Heat raced out to a 13-point lead before entering the fourth quarter with a decisive 10-point edge.
Let us take a look at what worked so well for the Heat in this game:
1) Goran Dragic was fire breathing dragon
Goran Dragic essentially was able to get wherever he wanted on the court and seemingly wiggled free for quality shots the entire game. He finished the night 12 of 21 from the field for 30 points, to go along with his four assists and seven rebounds. The Heat needed this.
With both Hassan Whiteside and Chris Bosh out of the lineup, Miami was lacking two of its top-three scorers from the regular season. Bosh has missed the entire postseason and is not expected back.
Accordingly, Dragic simply compensated for both of them. His strong play also ensured Dwyane Wade (22 points) would have plenty left in the fourth quarter—and Wade certainly played his role in closing this game out for Miami. He shot 3 of 8 in the period but saved his two biggest buckets for putting away the Raptors in the closing minutes of the game.
2) Miami's Defense was utterly suffocating
Despite having no real rim protector or inside presence, the Toronto Raptors really struggled to get quality looks for long tracts of this game. Look no further than Toronto's five-minute drought in the fourth quarter, as the Raptors failed to get a single field goal and allowed Miami to race back out to a double-digit lead.
Kyle Lowry (38 points) picked up his fifth foul at the 6:56 mark of the quarter and played pretty conservatively the remainder of the way, which hardly worked to the Raptors advantage. He played naturally timid and did not come up with a field goal until an "oh, by the way" triple at the horn.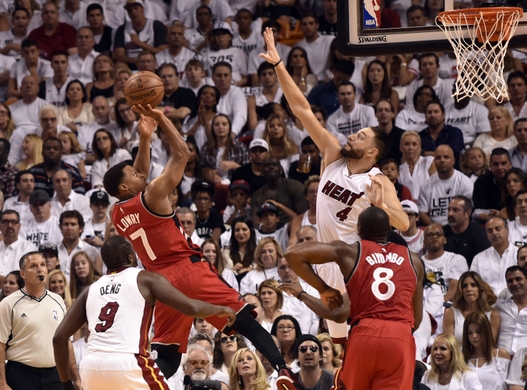 Though Toronto's starting backcourt of DeMar DeRozan and Kyle Lowry outscored the Dragic-Wade tandem 59-52, it would be difficult to find many who would say Toronto's backcourt actually outplayed the Heat's. Moreover, Toronto got almost nothing outside of its backcourt, with the 3/4/5-positions accounting for just 17 points and 15 field goal attempts.
Toronto shot just 5 of 20 in the fourth quarter and missed 13 of its final 15 field goals. It was not simply bad offense. Miami was just not ceding any jumpers or easy looks.
3) The Heat played under control and made smart decisions, for 48 minutes
The Miami Heat finished with just seven turnovers in the game and just a -2 rebound disadvantage despite really only having one "big" on the court (and it was Josh McRoberts). Miami knew coming in that it would have to do a lot of things to near-perfection, and its execution in this game reflected that.
Ideally, the Heat would like more offensive production out of Luol Deng (just two points), but he did more than his fair share on the defensive end and he hit the glass. He is one of those rare guys who can have a lot of value despite doing little offensively.
Miami is not a high scoring club anyway, but when the Heat can get the most out of Deng, Joe Johnson and Justise Winslow, they are a difficult team to take down. That said, if Miami advances past this round, it is most certainly going to need Hassan Whiteside back to contend with LeBron James and the Cleveland Cavaliers. Whiteside will travel with the Heat but is unexpected to play.
Coming up
But, we cannot get ahead of ourselves: This is now a one-game series, a Game 7, and it will be played Sunday afternoon at 3:30 Eastern Daylight time from Toronto's Air Canada Center.