Few expected the Western Conference Finals to go this way, but the Oklahoma City Thunder now possess a 3-1 lead in the Best of Seven after winning Game 4 by a count of 118-94.
The Oklahoma City Thunder will have the unenviable task of trying to close the series out on the road, but the bitter reality for the Golden State Warriors is that it will now take three straight wins to keep its season going.
After winning 73 games in the regular season, perhaps nearly all of us expected this to be an easy run to the Finals for Steve Kerr's club. It has been anything but. The Thunder have come together to look like a very formidable team, and it is hardly a case of Russell Westbrook and Kevin Durant doing everything.
Instrumental in that supporting cast have been Dion Waiters and Enes Kanter, and though the Thunder most certainly do not have a "Big Three," OKC is proving that two top-flight players can wreak just as much havoc.
Golden State, ordinarily the example of team play, has disintegrated and hardly looked like the efficient machine it was throughout the 2015-16 season.
Can the Warriors rally back from this 3-1 deficit? It begins with looking at what went wrong for Golden State in this loss, though boiling it down to just three keys to OKC's win is tricky. The Thunder won for a litany of reasons, some obvious and some not so.
1) OKC's big lineup is too much for Warriors' "small ball"
Steve Kerr had given teams fits with his small ball lineups all season. Teams struggled to find a way to counter Golden State's speed and transition attack. Thunder head coach Billy Donovan simply did not try to. Throughout this series Donovan has done just the opposite, frequently playing his "Twin Towers" lineup featuring Steven Adams and Enes Kanter.
It has worked.
The Thunder held a +16 advantage on the glass, and OKC used its 16 offensive rebounds to utterly demoralize the Warriors in this game. Every starter had an offensive board and Westbrook had five from the 1-spot (Granted he is one of the best rebounding point guards in NBA history). The only thing worse than struggling to cover a team is having to do it again because your bigs did not box out.
OKC also held a commanding edge in paint scoring, outpacing the Warriors 48-38 on points in the paint. Though this stat can be deceiving at times, it was not in this game: The Thunder found ways to penetrate Golden's State defense which has looked especially porous in this series. The Warriors have tried Klay Thompson and Harrison Barnes on Westbrook, and neither has had much success. Andre Iguodala has not either.
There seems to be no answer to Westbrook's penetration.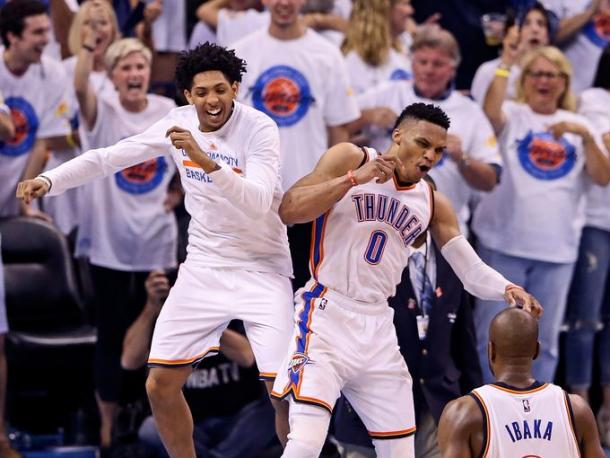 2) Golden State has been erratic offensively.
Golden State is normally a model of how a team should pass and move without the ball. The Warriors put on clinics and during the season Golden State averaged 26.3 assists per game.
In Game 4 the Warriors had just 15 assists on its 33 field goals and turned the ball over 21 times. That is an assist to turnover ratio of 0.71. Comparatively, during the regular season that figure was 1.95. It is hard to wrap one's mind around just how erratic Golden State has been with the ball. It is leading to less quality shots and the Warriors shot just 41.3 percent from the field.
Worse still, the Dubs were 30 percent from three and Curry was 2 of 10 from three-point range. It would be enough if this were "just one game," but OKC thoroughly dominated both Games 3 and 4 at Chesapeake Energy Arena. Even if the Dubs can get their groove back at Oracle, will it matter with Game 6 in OKC? Moreover, the Warriors have already lost one game in Oakland thus far.
Even at the Warriors' best, it was Klay Thompson essentially being a one-man wrecking crew, rather than the symphonic team play we have become accustomed to.
3) Call him "Beastbrook"
Russell Westbrook won last year's scoring title, but his triple-double exploits obviously paint the picture of a guy who can simply do it all. Westbrook finished the game 12 of 27 from the field for 36 points to go with 11 rebounds and 11 assists.
There have been only two players to post multiple 30/10/10 triple-doubles in the playoffs since the year 2000. One of them is LeBron James, who has done it eight times. The other, of course, is Westbrook—who just racked up his third.
Westbrook was dominant and uncontrollable, pushing the Thunder back hard and keeping Golden State from getting any real momentum going. Westbrook helped OKC amass a 16-0 run in the first quarter to pull ahead 22-8 by mid-quarter. While Golden State did make a run to close the gap by early in the second quarter, the Thunder had done something more important by that point: establish a tone.
The Thunder were making defensive plays and it was leading to a lot of transition scoring. Though the Thunder were credited with just 15 true fast break points, Westbrook initiated a lot of quasi-transition by pushing after made baskets.
OKC countered every attempt Golden State made to get back in the game, and the second quarter was huge. Westbrook had 18 points and nine assists by intermission while Curry was a woeful 4 of 14 from the field by the game's mid-point. The Thunder played like a team on its homecourt, coming out aggressively and pouncing hard.
Even if that early lead had to be rebuilt, the Thunder had made its statement by coming out so in control of such a crucial game.
Westbrook finished with a plus-minus of +26 while playing 41 minutes.
Coming up
Game 5 will be in Oakland at Oracle Arena on Thursday at 9 PM Eastern Standard Time on TNT. A Thunder win advances Oklahoma City to the NBA Finals.