Interior defense has been an issue for the Orlando Magic for the past four seasons. None of the three Magic coaches (Jacque Vaughn, James Borrego or Scott Skiles) over that span has been able to adequately address the issues.
And perhaps that is fair, because it does not seem as though the defensive holes can be plugged through strategy changes alone.
The Magic need a rim protector and anchor to its defense, and fortunately for GM Rob Hennigan there will be options to change the roster.
One of these options includes cutting a deal with the Philadelphia 76ers who are said to be shopping Nerlens Noel (and Jahlil Okafor).
Noel was taken No. 6 overall in the 2013 draft. The Magic selected second and chose to go with Victor Oladipo that year.
Oladipo, for his part, has panned out well. He is one of the most attractive trade chips on Orlando's roster, and he may even be required to make a deal for Noel. The Sixers still need a reliable 2-guard, which could make a straight up swap pretty enticing.
Noel sat out his true rookie season due to a horrific leg injury sustained while at Kentucky, but he has made his case as a premier defender in the two seasons in which he has played. Noel averages 3.5 blocks/steals per game over his career, and that turnover-forcing ability is something Orlando covets. Not until a late season injury to starting center Nikola Vucevic did Orlando see how much better its defense could be. Sophomore star Aaron Gordon emerged as a dominant power forward, and backup center Dewayne Dedmon played the best ball of his career.
And seemingly in an instant, the Magic had proven how much better they could be with a defensive-minded big man to anchor the defense. But Dedmon lacks offensive punch, and even though Noel is far from an offensive juggernaut, he is not as bad as Dedmon.
Noel shot 52.1 percent from the field on 8.8 field goal attempts per game, and he averaged 11.1 points to go with his 8.1 rebounds and 1.8 assists per game. He is not a finished product offensively, but he does have a great learning curve and an improving mid-range jumper.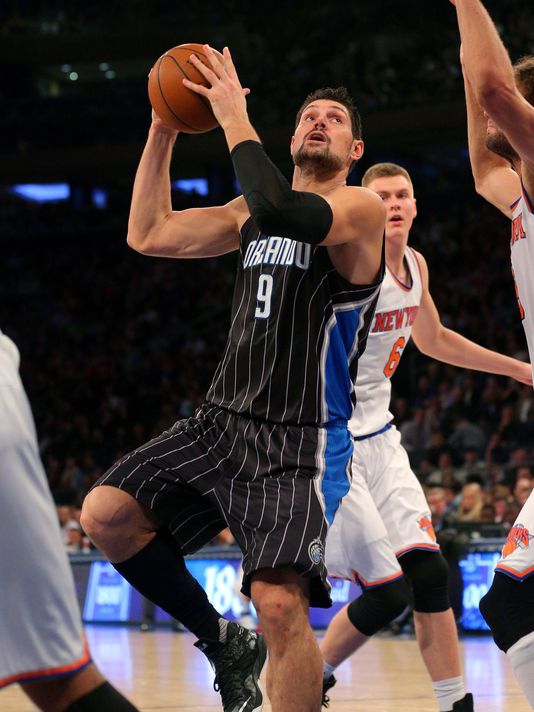 He is the starting big that could allow Orlando to move away from Vucevic and his lackluster defense. Obtaining him is well within reach too, because the Magic have pieces the Sixers could use. Oladipo certainly is "1A" of those options, and the Magic would almost assuredly re-sign Evan Fournier in that scenario to be the starting shooting guard. Fournier played out-of-position at small forward to close the season, but his skill set and talents render him best at the 2-spot.
Would acquiring Noel single-handedly fix the defense? Probably not.
The Magic still need to lock down the perimeter better. But his baseline range would help prevent penetration, and Noel is superb defending pick and rolls.
Noel allowed opponents to shoot 49.4 percent at the rim while allowing just 32.7 percent on contested looks. He saved 1.03 points per-36 and Vucevic was -0.67 in points saved per-36. It is a night and day difference, and the Magic would be markedly improved with an All-NBA caliber defender like Noel.
Of course, if Noel were acquired it would force the Magic's hand in dealing Vucevic. Gordon is locked in at the 4-spot, and the Magic really will likely address their frontcourt issue by first finding a starting center. New head coach Frank Vogel is still high on Vucevic's chances of being a better defensive player, but the real chance to improve the roster with Noel may be too much to pass on.
It would seem counter-productive in some senses to have to part with a talent like Oladipo, but at this point, the Magic are starting to get a clearer idea of what roster changes can produce more wins.
Frontcourt fortification is needed, and the Magic have the luxury of having two good, capable shooting guards with Oladipo and Fournier. Oladipo's rookie contract will expire next season, and the Magic really need to decide if he is to be a fixture in this rebuild. Patience in the front office seems to be wearing thinner, and Hennigan covets strong defensive players. It all makes sense, though that is hardly the only requisite matter for a trade to occur.
It just seems that with Noel available and the Sixers needing backcourt help, that the stage is set all too perfect for a swap.
Oladipo for Noel. It makes perfect sense.