 Rumor has it, the Philadelphia 76ers are interested in trading away one of their talented, young centers in order to secure some veteran experience for their roster. With Joel Embiid expected to be NBA ready by the start of next season and the acquisition of Dario Saric coming to fruition, the front-court is going to be stuffed to the brim, making it difficult for Coach Brett Brown to keep a consistent rotation. With Nerlens Noel or Jahlil Okafor's names circulating in trade rumors, things can only get interesting from here on out.
Embiid or Jahlil?
Okafor was a lottery pick in the 2015 draft and wound up becoming a Rookie of the Year contender. His post game and all around offensive prowess are nothing short of amazing, which makes it tough for the 76ers to consider ditching him for other pieces.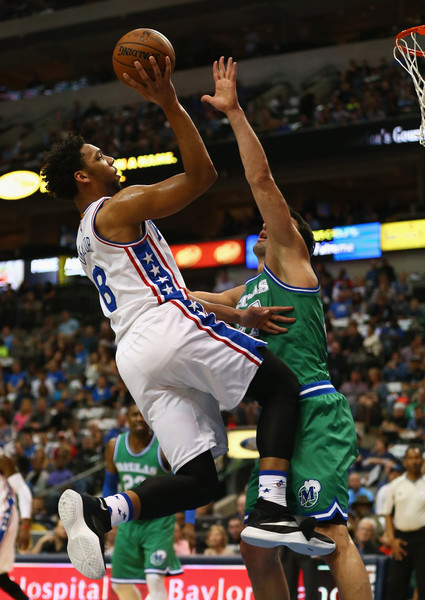 There's no telling whether the 76ers are looking to trade for more future picks, or simply looking to obtain some seasoned players to finally make a push toward some success. Though Jahlil Okafor showed some talent for Philadelphia, he may not be the future center of the organization. That's not to say he can't be a future talent for a different team -- there are quite a few teams that should be scavenging for skilled centers. In this case, though, Embiid is the better fit in Philadelphia.
In his one year at Kansas, Embiid showed that he was capable of both defending the paint at an elite level and scoring from the restricted area out to the top of the key. Embiid's shot blocking abilities are something that Okafor lacks greatly. Though Okafor can score almost just as easily as Embiid, he is not a center that is capable of rim protection. So, giving him up for a couple of role players wouldn't hurt Philadelphia too bad.
Noel has proven his worth
Ironically, Nerlens Noel has outshined Okafor to some extent. He's an intense, defensive minded power-forward/center that is also capable of putting the ball on the floor and finishing hard at the rim. He's not a talented shooter, his free throws aren't anything to write home about and he can't space the floor like Okafor. However, his defensive focus is a deal breaker when comparing the two, young talents.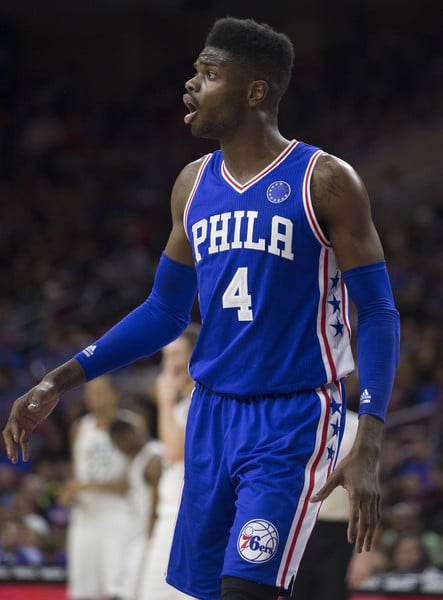 The starting unity for the Philadelphia 76ers would benefit greatly from moving Okafor because of the Embiid/Noel combo. Their defensive presence alone makes the 76ers more intimidating in the paint. In the end, it isn't exactly a total loss if Jahlil Okafor is shipped off. With the welcoming of Saric, the offensive talent for the 76ers is going to get a little boost. Saric is capable of shooting beyond the arc, so his shot spacing would be a huge plus for the bench. His passing game is pretty solid, which is rare in players his size. Saric, 22, is young, but has had a chance to develop his game further in Europe since he was drafted in 2014.
Upcoming draft
Speaking of drafts, with a first overall pick coming up in the 2016 draft the Philadelphia 76ers have a chance to acquire one of the top prospects in Ben Simmons, which makes Philadelphia's situation much more interesting. Simmons had averages of 19.2 points, 11.8 rebounds and 4.8 assists per game to go along with two steals. With a 6'10" frame and a guard-like style of play, Simmons would be able to start for Philadelphia and instantly provide offense at the forward positions. His shooting is limited, but he averages 56 percent from the field and that's a stat that speaks.
Drafting a small forward is the smartest move for the 76ers, since they are pretty limited at the position. Robert Covington has actually become a solid perimeter threat on both ends of the court which boosts his stock, but he'd likely play behind Simmons, limiting his impact on games. Likewise, Jerami Grant erupted this season and showed he is able to defend positions all the way up to the five, as well as provide some decent offense.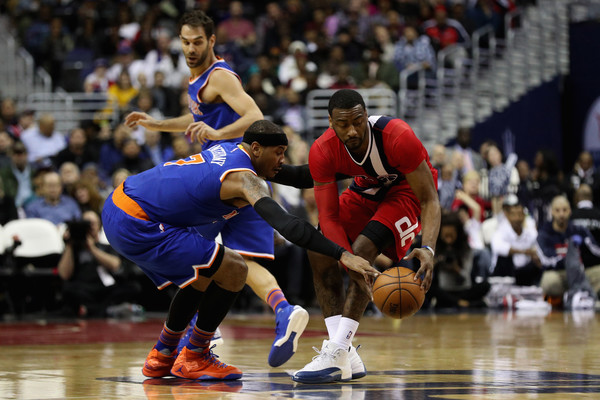 Could the Knicks help the 76ers?
As many NBA fanatics know, the New York Knicks are in the midst of a rebuild, but they took a pretty quick jump following the 2015 draft. With just around seven players left on contract this offseason, the Knicks have to fill up roster space with as many options as possible.
The small forward position is one of the weakest positions on the Knicks roster, and it's been rumored that the Knicks are looking to trade into the second round of the draft this year in order to change up the roster a bit. With the 76ers within arm's reach of Ben Simmons, and Robert Covington readily available as a backup, the 76ers could trade either Covington or Grant along with a second round pick, to New York for the likes of Jose Calderon who could offer some guidance to the younger point guards on the team. He'd also be good for coming off the bench when offense is needed, though with an expiring contract, he might not be appealing to Philadelphia.
Were any of this to go through, Carmelo Anthony would receive a solid backup at the small forward spot, and the 76ers would receive some veteran guidance that they need.
Jahlil Okafor is the most likely asset to be moved, but with so many other talented players, teams will want to propose trades left and right to the 76ers, and that's exactly what this organization has been pushing for recently. Well played, Philadelphia. Well played.