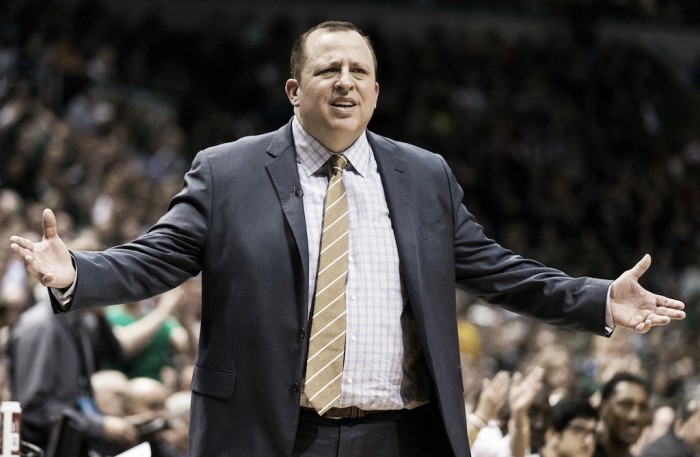 The Minnesota Timberwolves quickly became a top target destination for NBA coaches after fielding one of the most promising NBA rosters. It features arguably two franchise cornerstones, in Andrew Wiggins and Karl-Anthony Towns. The Wolves also have some exciting role players like dunk champ extraordinaire Zach LaVine and starting point guard Spaniard Ricky Rubio.
Former Chicago Bulls coach Tom Thibodeau was the name that the Timberwolves decided on. A better choice likely could not have been made. He brings a defensive philosophy and strategy that worked brilliantly for most of his tenure in Chicago.
Minnesota was also smart enough to keep a couple veterans around on its roster last season, starting both Tayshaun Prince and Kevin Garnett (only Garnett is even on the books and only through next season), relative relics in comparison to the rest of its youthful roster.
With some simple tweaks and the addition of first-year coach Thibodeau, the Wolves appear ready to make a major leap in the Western Conference hierarchy. The playoffs certainly would have to be a goal, even as early as next season potentially.
Wiggins will be in his third season next year, and he has become a lethal scorer whose efficiency is no longer an issue. He is improving rapidly, and he is already an elite defender. The Cleveland Cavaliers no doubt regret dealing him before he ever suited up for an NBA game. It is not as though Kevin Love has appeared to have been worth the gamble.
Perhaps few outside of Cavs fans even thought he would be.
Wiggins passes the eye test to such a degree that there can be no doubting his potential greatness. Love, meanwhile, was a good player putting up great stats on a poor team.
Hindsight, huh?
Beyond Wiggins' sheer brilliance, Karl-Anthony Towns nevertheless posted one of the highest PERs (22.6) of any rookie in recent seasons—and at this point, it is not inaccurate to throw around the label of a "young Tim Duncan." Towns is an elite defender and is mechanically sound in every way. His motor is superb. He takes good shots and can create his own looks.
As to whether the alpha dog is Wiggins or Towns hardly matters right now. This is a team still due for a lot of growth.
But Minnesota does possess the No. 5 overall pick in the 2016 draft, as well, and there will be some great options for improving the team's prospects.
The No. 5 slot is about at the point of the draft where taking the best available player is not always smartest. The Wolves, though still nascent as a core, need to now consider what would make the team improve the most.
The Wolves seem to be in need of a good back to the basket player and some interior scoring, but the team is hardly finished on the perimeter either. Garnett is mostly on the team for leadership, but he does provide a valuable rotation big. The Wolves could add another, but it seems that they would seek to attain more with a high lottery pick.
There are a number of players who will be considered here, ranging even from Providence point guard Kris Dunn to the seven-foot Croatian sensation Dragan Bender. It is still early in the draft process and a lot of teams have not yet held their prospect workouts. The different tiers of talent are becoming clear, but the exact order never fails to surprise even the biggest "draft junkies." Predicting the whims of GMs is the stuff of pure fantasy, but teams also do have to draft by needs which put them on a "range of hands," so to speak.
Other teams still do not release who they work out.
That makes the entire projection of picks rather sketchy, but the T-Wolves' needs are pretty clear really.
Where is Minnesota weakest?
Minnesota struggled badly to find three-point shooting last season, averaging just 5.5 makes per game while shooting 33.8 percent as a team. Only two Wolves averaged more than one make per game, and Zach LaVine led the way with just 1.5 makes per game (shooting 38.9 percent). Even career gunner Kevin Martin averaged just one per game as the other.
LaVine needs to increase his shot volume, but the Wolves also need more shooters. Wiggins is at this point still reliant heavily on athleticism and is not really a big threat from behind the arc where he shoots just 30 percent. Martin does not factor into the long-term plans.
Towns is a good marksman for a big man at 34 percent, but he also attempts only 1.1 per game.
So basically Minnesota's two biggest needs are an offensive big man and a three-point shooter.
If seeking to address the shooting, the most logical guys to zone in on are Buddy Hield of Oklahoma and Kentucky Wildcat Jamal Murray. Both are projected to be high lottery picks, with some mock drafts slotting Hield just behind the lock-top-two picks of Ben Simmons and Brandon Ingram.
Hield did win the Naismith Player of the Year award last season, so it would not be any surprise to see him off the board by the time Minnesota selects. Murray seems to be receiving a lot of positive pre-draft buzz, and he would be the best to suit Minnesota's worst needs, so perhaps it ends up that the Timberwolves do select Murray.
Murray is almost just a younger (and better?) version of Hield, at just 19 years of age. Hield though was a four-year college player, and the argument would be he is more NBA-ready.
Realistically? It may not be until many seasons from now that we definitively know who is better between Hield and Murray.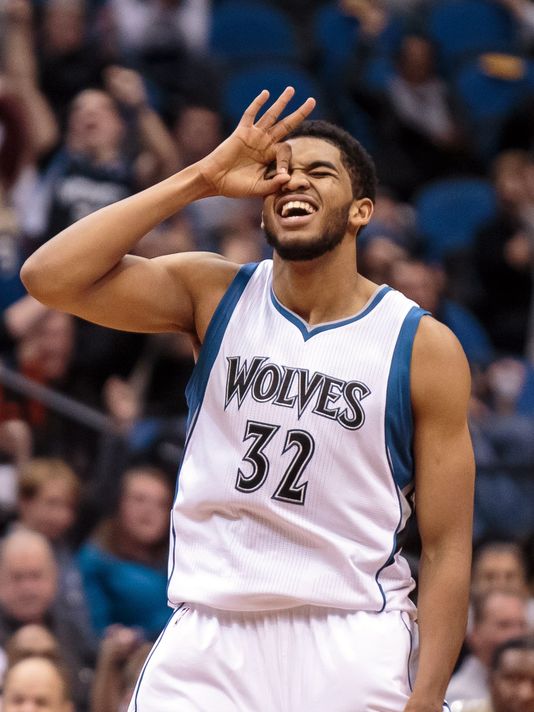 What are the options to improve post play?
Minnesota really does not have a good low post scorer. Center Gorgui Dieng is mostly a defensive cog, and Nikola Pekovic was both injury prone and rapidly declining, proving to be obsolete last season. That could make a post player attractive to Minnesota as it could use a player with a developed post game.
Towns is already a premium specimen, but steering him to the 4-spot may prove to be the best route for his career. His skills and defensive abilities are those of a player who can thrive regardless of position, but given his immense talents both passing and shooting the ball it seems Minnesota will definitely want him to be on the perimeter often.
It is about making the most of a gifted player, not relegating him to a one-dimensional role. And it is tantalizing to think of just how much his versatility improves the overall flexibility of the Wolves' rotation. He can do more damage facing up than playing exclusively on the blocks, and he is too good not to give the freedom to do so.
The continuation of a Duncan theme being operative, it is not difficult to envision Towns functioning often in a high post role. No matter how it is diced, Minnesota could benefit from getting a young full-time 5.
Of course, centers are the highest risk picks, so Minnesota may not really want to develop a player to be so pivotal.
The need for a big could also be addressed through free agency. Rubio (who is under contract through the 2018-19 season) may attract fellow countryman (and former Thibodeau player) Pau Gasol as a free agent, which would be a better answer than anything the 2016 draft could offer. Minnesota is currently only on the books for $63 million next season which means it could easily add a player like Gasol. Its a promising nucleus that could be a draw for other free agents even, and perhaps Al Horford, Hassan Whiteside, and Bismack Biyombo are in play.
There are centers on the market. The Timberwolves will have to keep cap room to afford Wiggins and Towns when due for extensions, but the team has plenty of wiggle room at this juncture.
The Wolves are really in a favorable position with its young talent, cap room, and its high pick.
If the Wolves did aim to select interior scoring instead of a shooter, the names to consider would be Dragan Bender, Domantas Sabonis, Marquese Chriss, Jakob Poeltl and Deyonta Davis.
All of these players are going to be gone before the middle of the first round, but it would be difficult to justify taking any of them No. 5 overall (with the exception of Bender). Bender is also very thin and will take time before he could function as a center if that is even to be his role. Davis is mostly a scoring 4. Poeltl is a true 5, but his offensive skill set is fair at best. Sabonis may be the most interesting because of his dexterity and fluidity, but he is thin and may never evolve into a true center, either.
This is just not the draft for bigs. The really good ones will never be obsolete, but this class seems to offer middling talents at best. There is no one dominant back-to-the-basket 5-man.
Adding to this is the fact that Bender will likely be off the board by the No. 5 pick anyway. After him, none of the other aforementioned options are any better than Murray or Hield.
Would the Timberwolves feel the need to draft a young big over a better option in Hield or Murray?
It seems unlikely.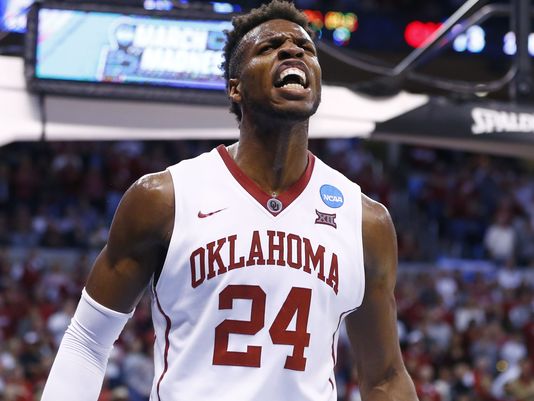 So what is the bottom line?
Minnesota thus becomes reduced to a two-player list, as far as logic dictates. It will be a matter of whether the Timberwolves value Hield's proven abilities or Murray's potentially higher upside.
Murray may be the next Kentucky Wildcat to be a star in the pros—and John Calipari has made Kentucky into an incubating factory of NBA talent.
Hield played well on the big stage of the NCAA tournament, but so did Murray. And, again, it must be remembered that Hield's heroics were shaped by spending four years in the NCAA circuit. It is admirable, but it is not always the best route for elite talents.
The Timberwolves likely will choose between who is left on the board of those two, and if neither are that means that Bender has been gift-wrapped as a sleeper.
So in a real sense, Minnesota has to wait for the teams before it to determine its fate and path.
Hield, Bender, and Murray are a tier above the other options expected to go in the late lottery.
Of course, Minnesota also could surprise everyone and draft Providence Friars' backcourt hawk Kris Dunn, relegating incumbent starting point guard Ricky Rubio to becoming future trade bait. Dunn may be a better fit as Rubio seems to have reached his ceiling as an errant shooting floor general. That seems like a far less likely scenario than the Wolves taking Hield or Murray, but it cannot be counted out.
Rubio improved his jumper a lot, but the Wolves can be patient enough to push the reset button in its backcourt. Slotting LaVine and Dunn next to one another would make the Wolves younger still, but the core may be several seasons away from peaking. So it makes sense on some levels.
LaVine also has shown a great ability to play point guard in stretches of games, though he really still does seem mostly like a 2-guard playing the 1. The natural feel of a point guard is not there with LaVine, but he is an exceptional talent and top athlete. He is a possible star, but already a role player with clear value as a shooter and scorer. He completes a great young core in Minnesota. People rave over LaVine's dunking exploits, but he is clearly a player who can be a career starter, averaging 14 points per game at age 20.
The Wolves got a bargain on LaVine in the late lottery, too (No. 13 overall in the 2014 draft class).
So, what do the Wolves need most with this more favorable No. 5 slot?
The best player, of course.
But more than that, they need the best player for their team.
And that makes Hield or Murray the two names that should be zeroed in on first. They are the best two talents to address what Minnesota lacks the most.