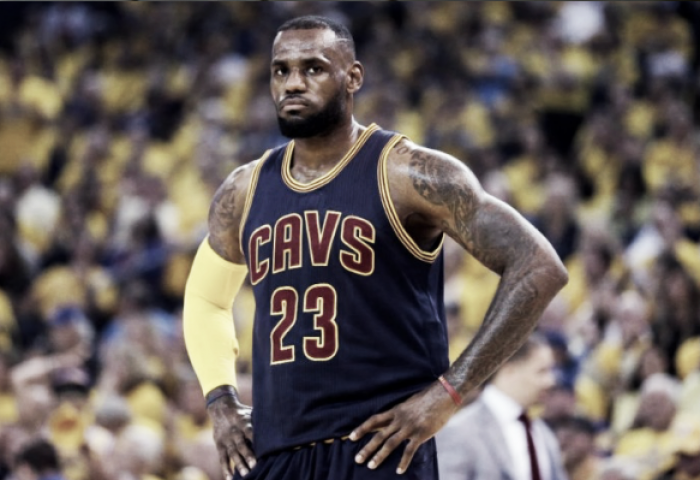 The numbers LeBron James put up in the Cleveland Cavaliers' dispiriting 108-97 loss to the Golden State Warriors in Game 4 of the NBA Finals looked decent enough, thanks in small part to the defending champs allowing him to score some easy baskets late when the game was all but over.
James' apologists are convinced the dubious position the Cavs find themselves in is due to the lack of whistles being blown in James favor, the inconsistent production from the supporting cast, and Kyrie Irving's oft-maddening shoot-first, pass-later approach.
LeBron's passive, largely unspectacular play in this series? No one seems to have a great explanation for that. But give LeBron credit for at least acknowledging there is a problem.
"I haven't been solid with the basketball. A lot of it is making plays not only for myself, but for my teammates. Some of my aggression turnovers I'm ok with … Some of them are attack turnovers, trying to squeeze the ball into tight places, as a quarterback would," James told reporters after Game 4.
There is plenty of blame to go around. The Cavs dug themselves into a 3-1 hole, from which no team in NBA Finals history has escaped, by committee. They will need strong contributions across the board in the coming week to pull off the unlikeliest of upsets. And an extra dose of LeBron.
What the Stats Don't Show
As usual, James' stats have been impressive. He is averaging 24.8 points (on 48.2 percent shooting), 11 rebounds, 8.3 assists, and 1.8 blocks in the finals. But really, aside from Game 3, by far his best game of the series, he hasn't been making the Warriors feel his presence. He isn't taking over ballgames or sparking tide-changing runs. He has the Warriors' attention; he just hasn't been causing them sleepless nights.
One of the things that has been most disappointing about this Finals rematch is James has not been playing like a man hell-bent on reinstituting himself as the face of the NBA, avoiding a third straight Finals series loss, and ending the Land's prolonged title drought. It's not about James' numbers. It's about his lack of killer instinct, which was apparent in the most pivotal game of the series.
Coming into Game 4, James knew Stephen Curry and Klay Thompson, after being criticized by the media for their own lackluster performances through the first three games, would look to bounce back and put the Cavs on the brink of elimination. It wasn't unreasonable to expect a big game from James in that situation.
But for most of the game, by his standards, James was average. He headed to the locker room at halftime with just 7 points, five assists, five rebounds, and four turnovers. He did finish with 25 points, 13 rebounds, nine assists, two steals, and three blocks. However, with the Warriors holding a 96-88 lead with 1:12 remaining in the game, James had 18 points on 8-of-18 shooting. He made 1-of-2 free-throws after a layup that would've given him a chance to cut Golden State's lead to five rimmed out, then proceeded to make three fairly easy layups with under a minute left and the Warriors only needing free-throws to seal the win.
No-Calls Frustrating James, Cavs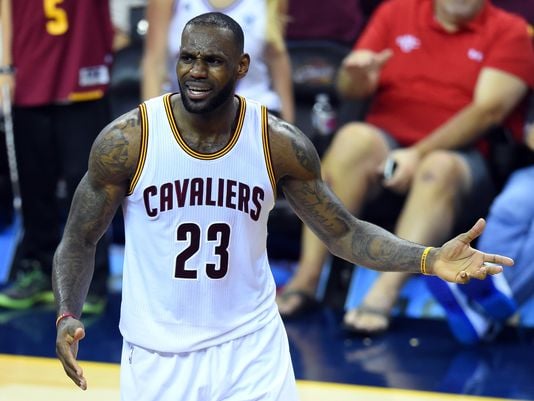 It is unfathomable, and rather absurd, that James is attempting only 4.3 free-throws per game in this series. He should be taking more trips to the line. "He never gets calls. I mean, he attacks. Outside of Russell Westbrook, he is one of the guys who attacks the paint every single play. And he doesn't get a fair whistle all the time because of his strength and because of his power, and guys bounce off of him," Cavaliers head coach Tyronn Lue said after Game 4. "But those are still fouls. We weren't able to get them, but we've got to play through the officiating."
But that isn't the only issue affecting James' game. Aside from the fact that calls have been missed on both sides, the Warriors happen to be defending James very well. They are flustering him with double-teams, and guys like Andre Iguodala and Draymond Green are coming up with huge defensive stops when guarding him one-on-one. James has respectable numbers, but the Warriors are successfully mitigating his impact on the outcome of games, which is a major reason why they are a win away from celebrating back-to-back titles. Irving has a tendency to play selfishly, but he tried to impose his will in games 3 and 4 and was more aggressive than James in the latter game.
Too Many Minutes?
Clearly, James believes that a solid team effort—not the hero-ball style of play the Oklahoma City Thunder reverted to in the Western Conference Finals or the herculean efforts James was forced to give in last year's finals—is the only effective weapon against the Warriors and is intent on getting others involved despite what anyone thinks. And there's nothing wrong with that. But could it be that he has reached the point where he refuses to carry a team? Or is James, who is averaging 40 minutes per game in the finals, just plain tired?
If James is exhausted, Lue thinks he should suck it up. "When it's time to win and you're in the NBA Finals, you've got to play as many minutes as you need to. If you got to play 96 minutes, then you got to play 96 minutes. We're trying to win. We're in the finals," Lue said after Game 4. "[James] could've got tired, and it could've been fatigue. But in the NBA Finals, you got to lay it all on the line. And in nine days, you can rest all summer."
Win or Go Home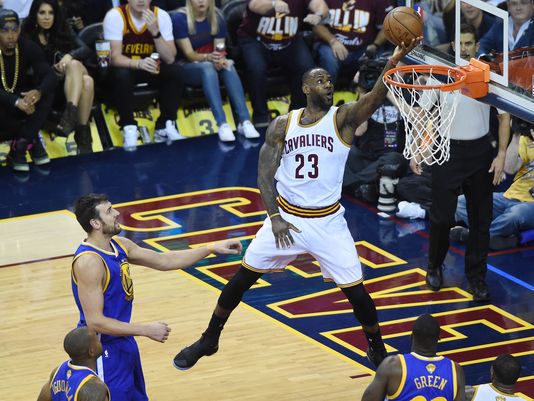 Meanwhile, Curry and Thompson are finding their groove at the right time. Thompson scored 25 points and Curry had 38 points in Game 4, and together they drilled 11 of the Warriors' 17 made three-pointers to key a decisive second-half run. The "Splash Brothers" were motivated to avenge an embarrassing 30-point loss to Cleveland in Game 3, and they'll be even more motivated to close the deal Monday night and claim a championship that can't be discredited.
If Cleveland wants to crash the champagne party, everyone is going to have to be better, especially James. He has to find a way to overcome the double- and triple-teams, the no-calls, and the bickering and make the defense pay, like Curry did in that crucial Game 4. Because that is what superstars do, especially when championships are at stake. James is as elite as it gets. If he comes out in menacing form in Game 5, it may give his team the jolt it needs to make a comeback for the ages.