 In a season of ups and downs, the Orlando Magic were very much in the "up" category on Tuesday night against the Atlanta Hawks. They shot 59 percent from the field and 44 percent from three, making it very difficult for the Hawks to stay within striking distance throughout the game. Atlanta did little to help themselves, turning the ball over 15 times despite getting some decent individual offensive performances. They now slide to a 12-13 record after a hot 9-2 start, while the Magic improve to 11-15 on the campaign.
Career-night for Payton
22-year-old point guard Elfrid Payton showcased his improvements in this game, dropping a career-high 26 points and adding 14 assists for Orlando. There have been questions about his abilities on the offensive end since he entered the league, but he is clearly finding his niche as an impact player. He also made all three of his three-point attempts, an area where he has struggled in the past.
Forward Serge Ibaka was also hot in this one, shooting 4-8 from three on his way to 29 points. The Magic acquired him in the trade that sent Victor Oladipo to the Oklahoma City Thunder, and it is a deal that has received mixed reviews overall. Tonight, Ibaka showed that he can still be a force on both ends and take on a bigger workload than the one he had alongside Russell Westbrook and Kevin Durant.
The Frenchman Evan Fournier chipped in 23 points, and veteran Jodie Meeks also contributed 20. Tonight was more of an outlier when it comes to the Magic's shooting percentages, but it is the talented group of players that could be in for a better remainder of the season than how they started it.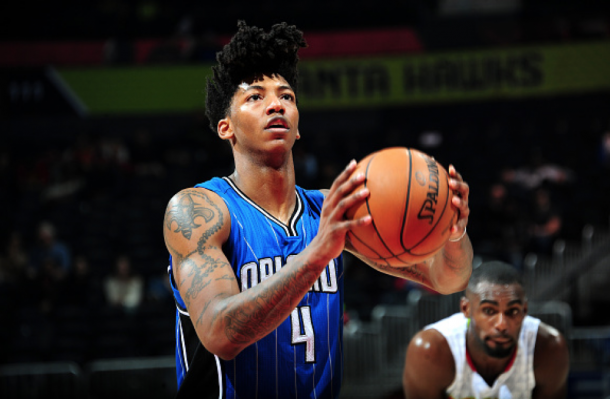 No Revenge for "Superman"
While the Hawks struggled as a whole, former Magic all-star Dwight Howard had a big individual game, scoring 20 points to go along with 16 boards. However, he also turned the ball over five times, and the entire team has had ball security issues during the recent string of losses. Point guard Dennis Schroder had 19 points and 13 assists, but also four turnovers of his own. The Hawks are going to have to be more organized if they hope to get back into the Eastern Conference race, and they must perform on a more consistent basis.
Wing play has been an area of concern for Atlanta this season, and it continued in this game. Kyle Korver shot the ball well, but his move to the bench has made things difficult for the starting unit. The lineup already lacks shooting, and Korver brings the most reliable outside shot on the roster.
Kent Bazemore still can't seem to find a rhythm, and he has been a big difference between the team's success last year and its failures this year.
Next Up
The Magic have a tough turnaround, as they host the Los Angeles Clippers Wednesday night. The Clippers have cooled off quite a bit, but they still bring so much talent to the table and will be an incredibly difficult matchup on the second night of a back-to-back.
The Hawks, meanwhile, won't be back in action until Friday night against the Toronto Raptors. The Raptors earned their biggest margin of victory in franchise history when these two teams met a couple of weeks ago, and the Hawks will be looking to change things up this time around.