 In perhaps the craziest game of this season so far, the Atlanta Hawks were able to come out on top of the New York Knicks after four overtime periods. These two teams played to a single overtime finish in their last matchup, but this one astonishingly went much further than that. There have previously been just ten quadruple-overtime games in league history, and the Hawks were winners in their last one back in 2012 against the Utah Jazz.
It was a true battle in Philips Arena, with some players reaching minute totals as high as 60 by the end. In the end, the Knicks fell to 21-28 and remain out of the playoff picture in the Eastern Conference. The Hawks, on the other hand, improved to 28-20 and continue to get it done against teams with worse records.
An All-Star Performance
While this game was truly a team effort, it was Paul Millsap who shouldered much of the load when the Hawks needed him the most. He played an incredible 60 minutes on the floor, finishing with 37 points, 19 rebounds, and seven assists. This comes after the 31-year-old was named to his fourth All-Star Game on Thursday, beating out rookie sensation Joel Embiid for the final reserve spot. He remains arguably the most underrated player in the league by most fans, and he continues to quietly lead the Hawks night in and night out.
Point guard Dennis Schroder also put in a shift, scoring 23 and assisting on 15 buckets. Derrick Rose was unable to play for the Knicks due to an ankle injury, and Schroder took advantage of Brandon Jennings' less-than-stellar defensive effort. The young German also made several clutch shots after regulation, including the game-tying layup that sent the game to a fourth overtime. He has proven to be confident late in games, and it has helped a Hawks team that has previously struggled in the clutch time.
With Thabo Sefolosha out, former Knick Tim Hardaway Jr. earned the start and logged 57 minutes on the way to 19 points and 8 assists. Dwight Howard fouled out in overtime but still contributed 19 points and 13 boards himself, while Kent Bazemore got hot from beyond the arc and finished with 24 points. It has been encouraging for the Hawks that Bazemore has shot the ball better, and he will be key if they want to continue their success.
Carmelo Comes Up Just Short
Carmelo Anthony has been in the spotlight lately as rumors of a potential trade have been swirling, but he quieted a lot of doubters with his performance in this one. He has always played well against the Hawks but was particularly good tonight, scoring 45 points on 18-36 shooting. There is no denying his offensive abilities, which have led teams like the Los Angeles Clippers and Boston Celtics to be interested. However, his age and salary will make it difficult for the Knicks to get ample value in return.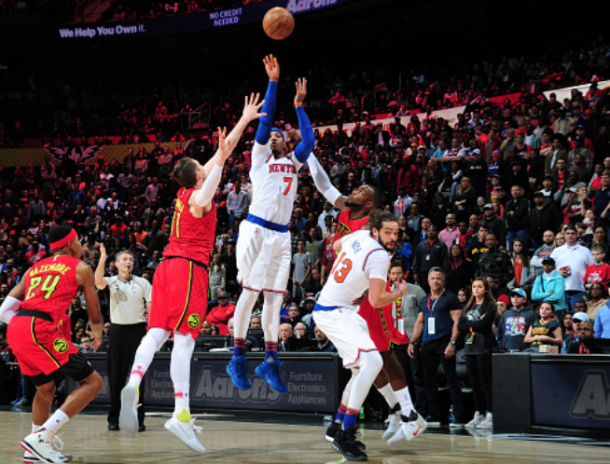 The Knicks' young star Kristaps Porzingis surely would have had more of an effect on the game, but he unfortunately fouled out in the fourth quarter. That meant more playing time for the European rookie Mindaugus Kuzminskas, who shot just 1-7 from three in 36 minutes. Brandon Jennings also received more playing time than usual with the Rose injury, and he posted a double-double of 18 points and 11 assists.
Guard Courtney Lee took some big shots late in the game, including a game-tying three-pointer at the end of the second overtime. However, he also missed two chances to tie at the end of the fourth overtime and finished only 6-16 from the floor overall. Former Hawk Justin Holiday took 13 three-pointers and made five of them en route to 15 points.
Next Up
The Knicks have a much-needed day off before traveling to face John Wall and the Washington Wizards, who have been playing solid basketball as of late.
The Hawks return to action on Wednesday against Hassan Whiteside and the 18-30 Miami Heat.