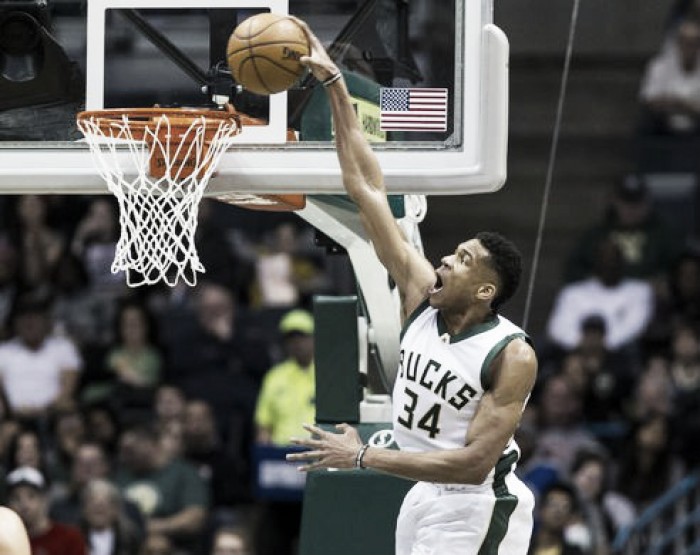 Giannis Antetokounmpo led the Milwaukee bucks to their fourth straight victory. Meanwhile, the New York Knicks have yet to win two straight since Dec. 20 and 22.
Close First Quarter Despite Lots of Knicks Turnovers
Milwaukee started the game with a 11-2 lead due to lots of turnovers New York kept committing. As a team, the Knickerbockers committed five turnovers in their first seven possessions. Antetokounmpo was a major reason New York struggled protecting the ball. He recorded four steals within the first four minutes of the game. The Knicks then got on track and went on a 14-5 run. By the end of the frame, they trailed by two points and tallied seven turnovers.
Willy Hernangomez Led Knicks Offense Load in First-Half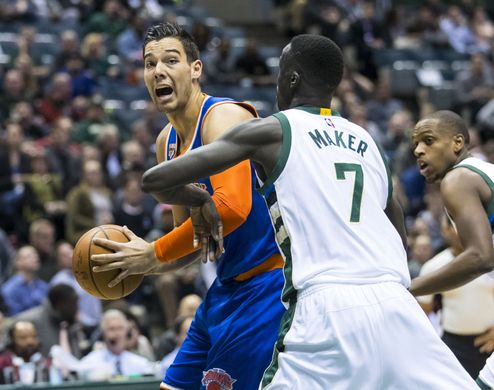 Willy Hernangomez scored 13 points in his first 14 minutes of action. He helped his team outscored the Bucks in the second stanza of the game, 26-23. New York lead 56-55 at halftime and had 15 assists on 23 field goals made; every starter recorded at least one assist.
Bucks Go on a Big Run in the Third
The Knicks started the second-half on 9-2 run before Bucks' head coach Jason Kidd called for a timeout. New York kept their momentum going after the timeout and earned their largest lead of the night, 12. Milwaukee missed 13 of their first 14 shots in the frame. They then turned things around and regain the lead with 36 seconds left. They finished the frame on a 19-4 run and lead 76-73. Derrick Rose scored 10 points while Antetokounmpo went for 11.
Bucks Never Trail in Final Quarter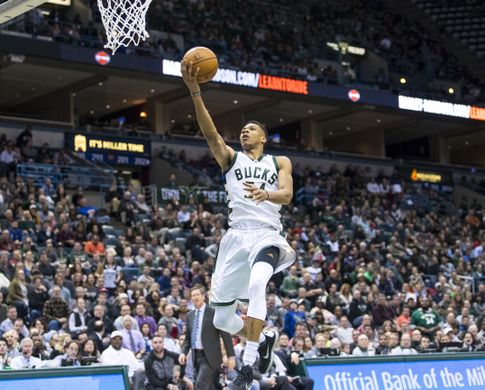 Milwaukee dominated the final 12 minutes with their transition and inside scoring. No one on the Knicks side could find any offense except for Rose. Antetokounmpo and Rose showcased another similar period with 11 and 10 points respectively. The Bucks won the quarter 28-20.
Top Performers
Milwaukee Bucks
Antetokounmpo finished with 32 points, 13 boards, and seven assists. Forward Khris Middleton chipped in 18 points and Greg Monroe contributed with 17 points and eight boards off the bench.
New York Knicks
Rose concluded with 26 points on 13-for-16 shooting to go along with six assists. Carmelo Anthony who returned from his one-game absence recorded 16 points. Kristaps Porzingis had 13 points and Courtney Lee scored 12.
Quotes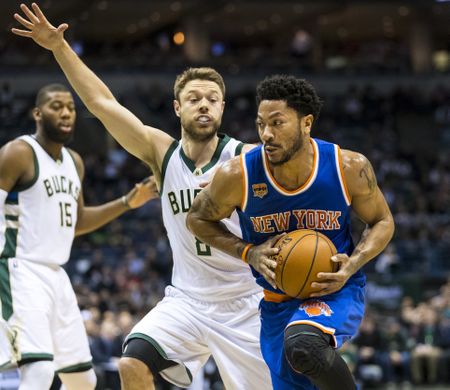 When asked about the turnaround and breakdown in the third quarter, Rose said, "Transition defense, we didn't get back. And when you have someone like Giannis, it makes them hard to stop."
Anthony praised Rose for his performance and said, "He was very aggressive. He saw how they was kinda guarding me. Everytime I touched it, [they] wasn't even letting me looking at the rim, which was expected. He took advantage of that and he was penetrating he was aggressive on the offensive end. That's the Derrick I Love when he is attacking like that."
Other Things To Note
-Forward Michael Beasley missed his fifth straight game due to a hyperextended left knee.
-Forward Terrence Jones has yet to see any action with his new team after signing with the Bucks on Mar. 4.
-The Bucks outscored New York in points in the paint 50-32.
-In the season series, Milwaukee won at Madison Square Garden on Jan. 4 and tonight while New York won at the Bradley Center on Jan. 6.
Up Next
New York will head to the Palace Of Auburn Hills with a meeting against the Detroit Pistons on Sat., Mar. 11, at 5:00 p.m. E.T.
The Bucks will continue their homestand and host the Indiana Pacers on Thur., Mar. 9 at 8:00 p.m. E.T.