 OG Anunoby is a 6-foot-8 SF/PF sophomore from Indiana who was not highly recruited out of high school but has risen tremendously on NBA draft boards. This past season, he averaged 11.1 points, 5.4 rebounds, 1.4 assists, 1.3 steals, and 1.3 blocks over 25.1 minutes per game. This included big-time performances against the eventual national champion North Carolina Tar Heels and the Kansas Jayhawks.
Here is a more in-depth look on what makes Anunoby so intriguing at the NBA level.
Strengths
The 19-year-old's biggest strength has to be his combination of size, strength, and athleticism for his position. These tools allow him to guard multiple positions with ease, and most scouts view him as the prospect with the highest defensive ceiling.
His athleticism also makes him a lob target on offense, and he is effective at running the floor in transition for easy buckets. The forward threw down some monster dunks during his tenure at Indiana thanks to his bounce and physicality.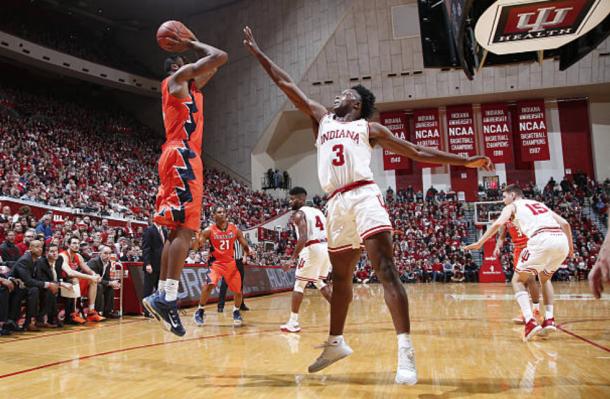 Weaknesses
Despite his readiness on the defensive end, Anunoby has some serious questions on the offensive side of the things. He is not a shot creator at this stage, largely because of his lack of dribbling skill. He is also best at finishing at the rim, but has significantly less success pulling up and shooting from the outside.
Anunoby shot a decent 36.5 percent from three, but he didn't attempt very many of them and will struggle to adjust to the NBA line. Additionally, he shot just 52 percent from the free throw line which is concerning for his mechanics.
Less concerning were his occasional lapses in intensity during his past two seasons, but it is still an area he will have to address if he wants a role in the league. His recovery from an ACL tear will also need to be monitored, and it could be a major reason why he has slipped a bit in mock drafts recently. He may not be ready until the season is underway.
NBA Comparison: F - Luc Richard Mbah a Mouth, Los Angeles Clippers
Anunoby compares favorably to Mbah a Moute because of the defensive potential he has showcased. Mbah a Moute has carved out a solid career in the league because of his ability to defend small forwards and provide a little bit on the offensive end as well. Anunoby has the potential to be a better defender, but it will depend on him smoothing out inconsistencies and utilizing all his tools correctly. Either way, if he can become a starter like Mbah a Moute down the road he would be a solid value for any team picking in the late lottery or afterwards.
Potential Fits
The first organization that seems like a great fit for Anunoby is the Denver Nuggets, who pick at No. 13 in this year's draft. The Nuggets are desperate for a guy like Anunoby who can defend multiple types of players and use his athleticism to generate offense as well. With Danilo Gallinari potentially leaving town through free agency, Anunoby would be a solid player to bring in and develop in his place.
The Portland Trail Blazers have picks No.15 and 20 in the first round, so they could potentially have two chances to select Anunoby if he begins to fall. Evan Turner got paid this past offseason, but he was less than stellar this season and doesn't have a great outlook for the future. Anunoby could be used just like Al-Farouq Aminu is being used now and provide extra defense and energy alongside their offensively powerful backcourt.
Another potential fit is the Atlanta Hawks, who could be losing veteran Thabo Sefolosha this summer in free agency. New GM Travis Schlenk has already stressed taking the best player available, and Anunoby would be squarely in that conversation at pick 19. He could play alongside last year's first round pick Taurean Prince in small-ball lineups and give the Hawks a lot to work with defensively.
NBA Draft Prediction
Ultimately, the Atlanta Hawks could very well select Anunoby with the 19th overall pick if he is still around at that point. While he has begun to slide a little bit due to the knee injury, it would be hard for a team like Atlanta to pass up on the talent unless there are significant red flags regarding his future health. He is a player the Hawks could develop over a season or two and potentially improve his offensive game, which would make him a steal at this point in the draft.