 Standing at 6-foot-3 with a slash line of .450/.390/.822, Malik Monk's attributes come off as pretty impressive or a one-and-done player jumping into the pros. He carried a 19.8 ppg average with those shooting percentages, and much like former Wildcat Devin Booker, he could potentially keep that up on a team built around shooters.
Simply put, Monk is a scorer. His efficiency from beyond the three-point line will have teams foaming at the mouth during the draft, but of course, only one team can claim him. He's a bit undersized for the average shooting guard, but it's his natural position and he plays it well. However, no one's perfect, and Monk definitely has a few setbacks that could hinder his transition into the NBA.
Weaknesses
Through watching his lowlights, Monk brings back memories of Buddy Hield, to an extent. When heading into the pros, both players had shown signs of difficulty creating space for themselves off the dribble. Monk has a tendency of driving to his left and settling for less than adequate jump shots. Incidentally, this highlights the aspect that his dribbling leaves more to be desired.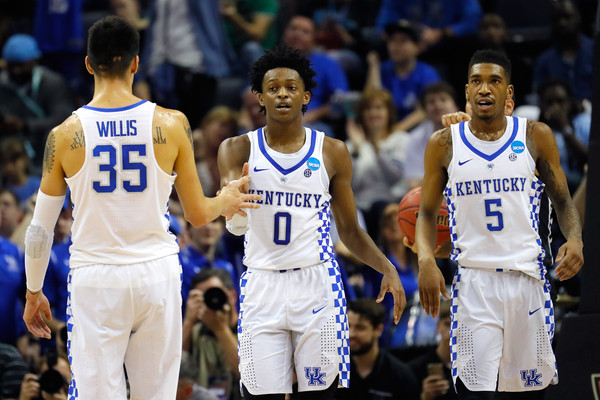 His offensive arsenal consists of basic crossovers followed by contested shots or a pass to reset the offense. On the right NBA team, this doesn't matter. Monk would simply be used in his natural role: a shooter. Screens and slashing schemes would benefit him greatly, turning his average dribbling into easy points in the half court. However, since he'll be encountering towers in the paint, this means his moves off the dribble have to improve.
Monk oftentimes forces the ball too low and hurls up poorly-place layups which, obviously, give possession to the other team. At his weight, it is understandable to be weary of the larger bodies under the basket, so he simply has to adapt to the circumstances until he puts on a few pounds. Another concern to address here is the lack of control when facing pressure in the paint. The wild layup attempts look poorly calculated, so timing and control are a must when it comes to joining the NBA.
Strengths
Shooting. Monk's jump shot is lethal without question, and with the right offensive setup, he would thrive from mid-range and beyond. Giving Monk his shots is the only way he'll transition smoothly into the NBA, a league that has turned into a shooter's paradise.
Again, Hield is a prime example of this path into the pros. He started on a New Orleans Pelicans team that didn't give him the green light on every shot attempt. When he was traded to Sacramento, Hield's performance enhanced tenfold. His shooting got more efficient, his scoring more natural. Hield is now a franchise cornerstone, something Monk could be in the right setting.
Despite Monk's lack in wingspan and standing reach, he could still be a force on defense in the best of circumstances. His speed will help optimize his defensive pressure, and again, with a little more weight, Monk will be tougher to handle off the dribble.
Ideal outcome(s)
In Bleacher Report's most recent mock draft, Monk is projected to be drafted 10th by the Sacramento Kings. Now if we consider the Kings' setup as of right now, Hield is already the cornerstone at shooting guard which would force Monk to play limited minutes. The Kings also have a bad history of drafting shooters in the early portion of the first round, i.e. Ben McLemore, Nik Stauskas. Stauskas had the luck of being traded to the 76ers, where he's made a decent name for himself alongside quality talent. However, McLemore continues to be a disappointment, for the most part, and hasn't done anything to propel the Kings back into relevance.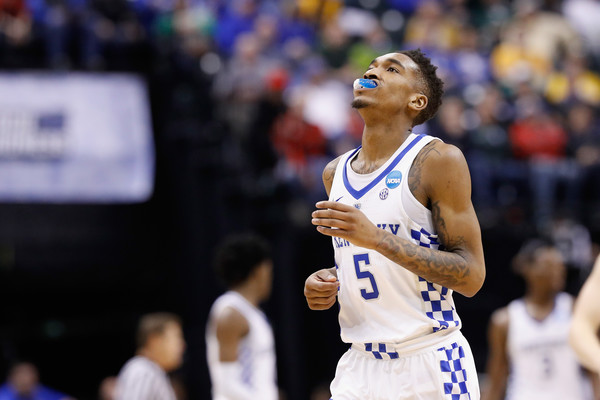 For Monk's sake, the Orlando Magic and Dallas Mavericks should consider taking the rookie before the Kings can get to him. The Kings do have the fifth pick as well, which could mean they decide to take Monk sooner. In that case, the Mavericks and Magic should take the opportunity to offer a trade for the young shooter. The Magic have been in an experimental position for the past few years, and if there's one thing they could use for the future, it's a shooter like Monk. Establishing a package for Monk could help the Magic acquire future first-round picks and continue the restructuring of their roster. Likewise, the Mavericks are in need of some young talent to surround Harrison Barnes and Dirk Nowitzki with.
Of course, the Mavericks would prefer to win sooner than later, but under Rick Carlisle, there's no telling how successful Monk could become.
Hypothetically, Monk could start his career much like Courtney Lee. That's not saying much since Lee is simply a 3-and-D role player who hasn't been a proven winner in the league, but it's not half bad. Monk would provide scoring for any team he winds up with, and if he maximizes his efforts on defense, things can only look good for the rookie.
The NBA Draft will air on June 22 on ESPN, so tune in on what will be a big night for many young stars.