 Semi Ojeleye is a 6-foot-7 junior SF/PF out of SMU who transferred from Duke University after being sparsely used in the 2014-15 season. After sitting out a year, the 22-year-old hit the ground running with his new school and ended up averaging monster numbers on the path to the NCAA Tournament.
The forward was not a serious draft prospect before his junior year when he put up 19.0 points and 6.9 boards per game and shot 42.4 percent from deep. Now he is slated to be picked anywhere outside of the lottery, and he could be a tremendous pickup for a contending team looking for energy and skill off the bench.
Let's dive into Ojeleye's strengths, weaknesses, and potential fits at the next level.
Strengths
Ojeleye's number one asset is his physical frame, which makes him a force at both ends of the floor. He possesses incredible strength and toughness when driving to the basket or guarding other forwards: important attributes considering his below average height and length. His strengths, however, are not limited to physical qualities.
He has quite a bit of offensive skill, which gives him the potential to become an impact player moving forward. His aforementioned three-point percentage was very encouraging, especially considering he attempted around five of them per game. This is a translatable skill that will force other power forwards to guard the perimeter, and he will be able to exploit certain lineups because of it. Additionally, his athleticism suggests that he will be able to play some 3 with the right matchup.
Lastly, Ojeleye's maturity and competitive approach bode well for his development as a player. NBA teams love having guys who are willing to adapt and constantly work on their game, and he is someone who will contribute wherever he is needed right away.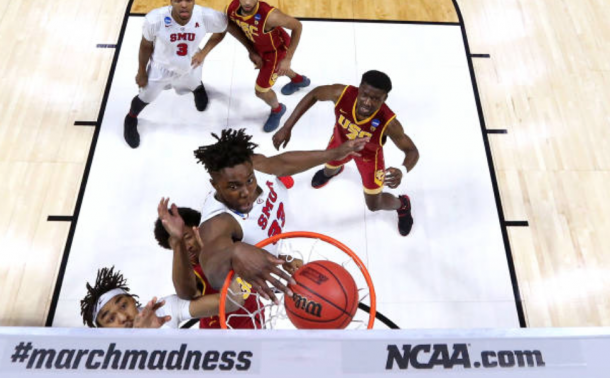 Weaknesses
Despite his strength and agility, Ojeleye's 6-foot-7 height and 6-foot-10 wingspan limit some of his opportunities to defend and finish against other fours. He will have to continue the trend of being a knockdown shooter if he wants to get minutes against taller and longer opposition. This also affects his rebounding numbers, although his motor makes him viable on the offensive glass.
Like most prospects, Ojeleye will need to be more consistently engaged on the defensive end although the tools are there for some success. He didn't record a whole lot of blocks and steals in college, but then again he was forced to play in a zone most of the time.
NBA Comparison: SG - Jimmy Butler, Chicago Bulls
First of all, it would be foolish to project Ojeleye's career to be anywhere near as successful as Butler's has been so far. While he will most likely not reach this level, the two share many tools in the physical-based and skill-based departments. Butler has become an All-star because of his blend of physicality and athleticism on defense and his ability to use those tools to score on the other end. Ojeleye is built very similarly and should look to develop in the same mold that Butler did early in his career. The Marquette product played sparingly early on, but his offensive development gave him a chance at more minutes. Butler is a decent outside shooter, and Ojeleye has the form to be the same. Overall, it would not be surprising for Ojeleye to become a "poor man's" Jimmy Butler if he lands with the right organization.
Potential Fits
The Toronto Raptors are an intriguing landing spot for Ojeleye, and they pick right in his range at No. 23. Veteran 3-and-D specialist P.J. Tucker is an unrestricted free agent this offseason, and DeMarre Carroll has been a disappointment since arriving from the Atlanta Hawks. Meanwhile, Pascal Siakam is the only power forward under contract for next season. Ojeleye would be a solid pickup whether or not the team pushes to compete, and he would have the potential to see playing time right away.
If Gordon Hayward opts to take his talents elsewhere, which is looking pretty likely, the Utah Jazz should pounce on Ojeleye if he is available at picks No. 24 or 30. Even if Hayward returns, it would still be a great value in a position of need for the franchise. Derrick Favors didn't look the same when he returned from injury, leaving Trey Lyles and Boris Diaw to do most of the work at the four. Ojeleye would provide depth and some rotational minutes for a promising roster.
In a section of the draft filled with centers and true big men, the Oklahoma City Thunder might be more inclined to go for a "tweener" like Ojeleye at 21. Andre Roberson is a restricted free agent this July, while both Taj Gibson and Nick Collison are unrestricted. The former SMU Mustang could be a spark plug off the bench for a team that lacked in that area, and they aren't in need of another center for now.
Draft Prediction
If OG Anunoby is off the board by the time they pick, the Thunder may very well select Ojeleye instead. Most of the talent at this point in the draft involves centers, but the Thunder need more help at the forward positions. This would not be a reach at all, and could actually end up being a solid value pick if Ojeleye turns out to be a two-way role player like his tools suggest he can be.