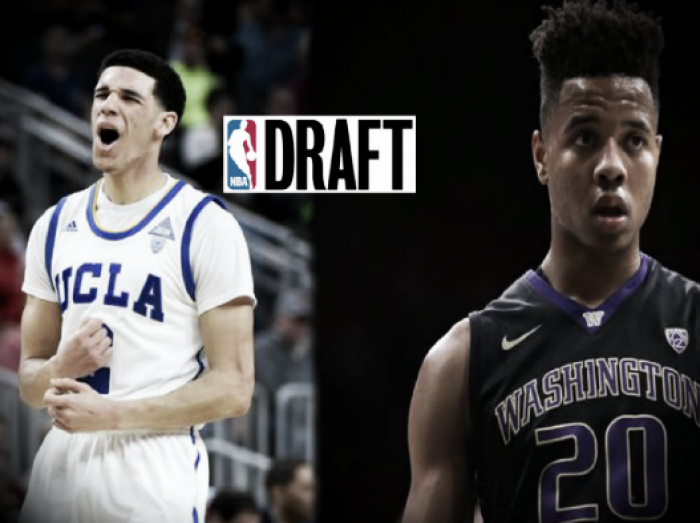 Thanks for joining me on this ride through the NBA Draft. I hope your teams made the right selections!
That's the conclusion of the 2017 NBA Draft. Frankly, I'm a bit shocked there weren't more blockbuster deals tonight, but there's always free agency to consider. An enjoyable draft if I do say so myself.
60. The Atlanta Hawks select Alpha Kaba from France.
Trade: The New Orleans Pelicans trade draft rights of Edmond Sumner to the Indiana Pacers for cash.
59. The San Antonio Spurs select Jaron Blossomgame. Young big man for Gregg Popovich to utilize and develop.
58. The New York Knicks select Ognjen Jaramaz from Serbia. Very young, very athletic point guard. Interesting pick so late in the draft.
57. The Brooklyn Nets select Aleksandar Vezenkov.
56. The Boston Celtics select Jabari Bird.
55. The Utah Jazz select Nigel Williams-Goss.
54. The Phoenix Suns select Alec Peters out of Valparaiso.
Trade: Houston Rockets trade draft rights to Dillon Brooks to Memphis for a future second round pick.
53. The Boston Celtics select Kadeem Allen.
52. The New Orleans Pelicans draft Edmond Sumner
51. The Denver Nuggets pick Monté Morris.
Trade: Hornets receive Dwayne Bacon and Cash considerations for Frank Jackson; Jackson heading to New Orleans
50. The Philadelphia 76ers select Mathias Lessort from France. Very possible he will be stashed.
49. The Denver Nuggets select Vlatko Cancar out of Slovenia. The Nuggets are loaded at small forward; A lot of options to consider.
48. The Milwaukee Bucks Sindarius Thornwell. Huge presence in the NCAA Tournament for the University of South Carolina.
47. The Indiana Pacers select Ike Anigbogu. Another big man on a roster of talented centers. Myles Turner and Al Jefferson will be the role models for this guy. Fell later than anticipated.
46. The Philadelphia 76ers draft Sterling Brown.
45. The Houston Rockets select Dillon Brooks.
44. The New York Knicks select Damyean Dotson. A crafty shooter with potential for good defense at his size.
43. The Houston Rockets select Isaiah Hartenstein from Germany. Good chance at developing into a tall shooter and rim protector.
Trade: Orlando receiving a second round pick for Rabb (Memphis)
42. The Utah Jazz select Thomas Bryant. Another center for a team with an elite center. Good for the bench, however, as Utah lacks talented backups.
Trade: Magic receive 2020 1st round pick (via Thunder) and 2020 2nd round pick from Philadelphia in exchange for Anzejs Pasecnkis
41. The Atlanta Hawks selected Tyler Dorsey. More young perimeter players on their roster, meaning a full restructure is on its way.
40. The New Orleans Pelicans select Dwayne Bacon, a shooting guard. The backcourt, in general, could use a lot of work. This could be the first step in the right direction.
39. The Philadelphia 76ers select Jawun Evans. Jay Bilas had Evans as one of the better options in the first round. Great handle, undersized at the point guard position, however.
38. Chicago selects Jordan Bell; Bell will be going to Golden State
Per Adrian Wojnarowski: Warriors buy 38th pick from Chicago
37. The Boston Celtics pick Semi Ojeleye. Boston now has a trio of small forwards to cycle through next season.
36. The Philadelphia 76ers select Jonah Bolden from Australia. Athletic upside makes him look like a good grab at 36.
35. The Memphis Grizzlies select Ivan Rabb, via Orlando.
34. The Sacramento Kings select Frank Mason III. Another decent point guard to take, even in the second round. Surprised he fell as far as he did. Should be a decent addition to Fox.
33. The Orlando Magic select Wesley Iwundu. Seems to have a decent enough offensive approach to help the Magic develop during a rebuild.
32. The Phoenix Suns select Davon Reed. Bodily attributes could factor into decent defense in the pros.
31. The Charlotte Hornets select Frank Jackson for the first pick in the second round.
Quality first round with some interesting activity.
30. The Los Angeles Lakers select Josh Hart (via Utah)
29. The San Antonio Spurs select Derrick White
28. The Utah Jazz select Tony Bradley via the Lakers
Per Adrian Wojnarowski: Lakers 28th pick traded to Utah for picks 30 and 42
27. The Los Angeles Lakers select Kyle Kuzma at 27 as a result of the trade with the Nets. Has a smooth shooting stroke and could be a decent asset off the bench for LA.
26. The Portland Trailblazers select Caleb Swanigan
25. Via Orlando, Philadelphia drafts Andzejs Pasecnkis
Per Adrian Wojnarowski: Orlando working to move the 25th pick
24. Pick via Utah, the Nuggets select Tyler Lydon
23. The Toronto Raptors select OG Anunoby. Athletic but no definitive offensive skill. Looks like a defensive nightmare. Could be a good late-round snag.
Per Adrian Wojnarowski: Memphis has acquired the 35th pick from Orlando; details pending
22. The Brooklyn Nets select Jarret Allen. Immediately replacing Brook Lopez at the center position. Going young to recalibrate their team.
21. The Oklahoma City Thunder select Terrance Ferguson. Playing overseas gave him some professional experience, should be capable of carrying that performance into the NBA.
20. The Sacramento Kings have picked Harry Giles (via Portland). Weird choice for a team filled with interior players already.
Concerned Harry Giles hasn't been selected yet. I know injuries are a major concern, but he's worth taking a shot on.
19. The Atlanta Hawks select John Collins
18. The Indiana Pacers select TJ Leaf. Teammate of Lonzo going to a team with a questionable future.
17. The Milwaukee Bucks select DJ Wilson
16. The Minnesota Timberwolves select Justin Patton (via Chicago)
15. Sacramento will receive Justin Jackson from Portland at this pick (result of trade earlier in the night)
14. The Miami Heat select Bam Adebayo; More athleticism and interior presence in the paint
13. Via Denver, the Jazz select Donovan Mitchell
Per Adrian Wojnarowski: Utah sending Trey Lyles and pick 24 to the Denver Nuggets in return for the 13th pick
12. The Detroit Pistons pick Luke Kennard. Shooting presence; Leaves some questions to be answered about guys like Kentavious Caldwell-Pope
11. The Charlotte Hornets select Malik Monk. This works out well because they've needed a decent shooting guard to support Kemba Walker and company
10. Portland will receive Zach Collins via Sacramento
Per Adrian Wojnarowski: Sacramento trading pick #10 to Portland; Portland will select Zach Collins; Sacramento will receive picks 15 and 20
9. Dennis Smith Jr. for the Dallas Mavericks. Much-needed player for Dallas; Talented young point guard to take the reigns of the Mavericks' offense
8. The Knicks select Frank Ntilikina; 6-5 point guard with good defensive upside, unsure about his future, however
7. The Chicago Bulls (via Minnesota) select Lauri Markkanen; Only hold his rights at the moment
6. The Orlando Magic go with Jonathan Isaac. Should bring some good versatility to the frontcourt.
5. Excellent pick for Sacramento in De'Aaron Fox. Speedy, tall, and talented.
4. The Phoenix Suns select Josh Jackson. Should bring an excellent presence on the wing for Phoenix.
Per Adrian Wojnarowski: Boston-Indiana engaging in serious talks about Paul George
3. Boston selects Jayson Tatum. Originally projected to select Josh Jackson. Solid pick for Boston.
2. Lakers select Lonzo Ball. LaVar is excited.
Minnesota receives Jimmy Butler and #16; Chicago receives #7, Zach LaVine and Kris Dunn
Per Real GM: Chicago Bulls and Minnesota Timberwolves agree, in principle, on a deal.
1. As expected, we see Markelle Fultz go first to the Philadelphia 76ers.
We'll see soon enough how the cards get dealt.
I think a Timberwolves-Chicago trade could be among us as well, especially since Tom Thibodeau and Jimmy Butler have experience with one another. The chance to see Butler and Towns operate together would be extremely enjoyable as well, though Minnesota would have to surround the two with other quality role players for that system to work out.
As for the LeBron and Kyrie news, the Cavaliers could be in a touchy situation of their own. If James leaves and Kyrie follows through on forcing a trade, Cleveland is toast. They might be able to secure a pick or two out of Irving, but we wouldn't see Cleveland as a force for some time.
The amount of talent in the early portion of this draft is evident and no matter where the first 14 picks go, they should make an impact on their team. The first two picks are pretty much set in stone, but the combinations remaining after that are endless.
Phil Jackson has been doing some talking about being open to trading Kristaps Porzingis, the sophomore forward that looks as though he could have turned the Knicks franchise around. That being said, Porzingis definitely has a lot of value and when the situation with Carmelo Anthony is handled, there might not be anything worth playing for in New York. This means Jackson could be opting to help a contender this summer. For the sake of New York fans, though, he'd better hope he gets a good return. If the Knicks snag another pick and retain the eighth pick, we'll see a clean slate where the Knicks build from the ground up for what feels like the millionth time. Porzingis would round out Boston's roster which would require Boston sending their pick and a player of equal or lesser value, but it'd also be interesting to see him land in Portland. Damian Lillard could use more assistance from his big men, since Jusuf Nurkic can't do it all for them. Of course, Portland doesn't have much to give back, which could ultimately taint Jackson's reputation even more. Nonetheless, the Knicks will find themselves a deal.
For the most part, this draft should play out exactly how the mock drafts have predicted it to, but just like any other year, there's no telling what could happen. With the draft also comes rumors of other blockbuster deals in the making. Brook Lopez was recently dealt to the Lakers who are projected to pick Lonzo Ball with the second pick. As far as other teams are concerned, though, there haven't been any sure-fire deals in progress. Adrian Wojnarowski, of The Vertical, will be on top of this for much of the day.
This draft should be pretty exciting, especially since trades are already being made to accommodate for the draftees this year. Obviously, the biggest blockbuster of the offseason was the swapping of picks between Boston and Philadelphia, and many people are still trying to process why Danny Ainge would do such a thing. It seemed as though Markelle Fultz, the highly anticipated first pick, was within Boston's reach and now they're cooking something else up behind the scenes.
My name's Robert Brunswick and I'll be providing real-time coverage of the NBA Draft for VAVEL USA