 Kyle Korver has agreed to resign with the Cleveland Cavaliers according to Shams Charania of The Vertical. The contract is reported to be a three-year deal worth $22-million for Korver. This news comes soon after the announcement that veteran guard Jose Calderon would be joining Cleveland next season as well.
The renowned three-point shooter was traded to Cleveland last season after playing 32 games with the Atlanta Hawks, where he had been since the 2012-13 season and where he made one all-star appearance in 2015. After joining the Cavaliers, Korver came off of the bench to average 10.7 points per game off 48.7 percent from the field, 48.5 percent from three-point range, and 93.3 percent from the free throw line.
The mid-season Korver trade was pivotal for Cleveland, as he was able to pick up the slack for the injury riddled squad, who had recently lost guard J.R. Smith to a thumb injury which required surgery, resulting in Smith missing 36 games. Korver was additionally important following Smith's return, as he was able to contribute great minutes off the bench as Smith worked his way up to his normal play time.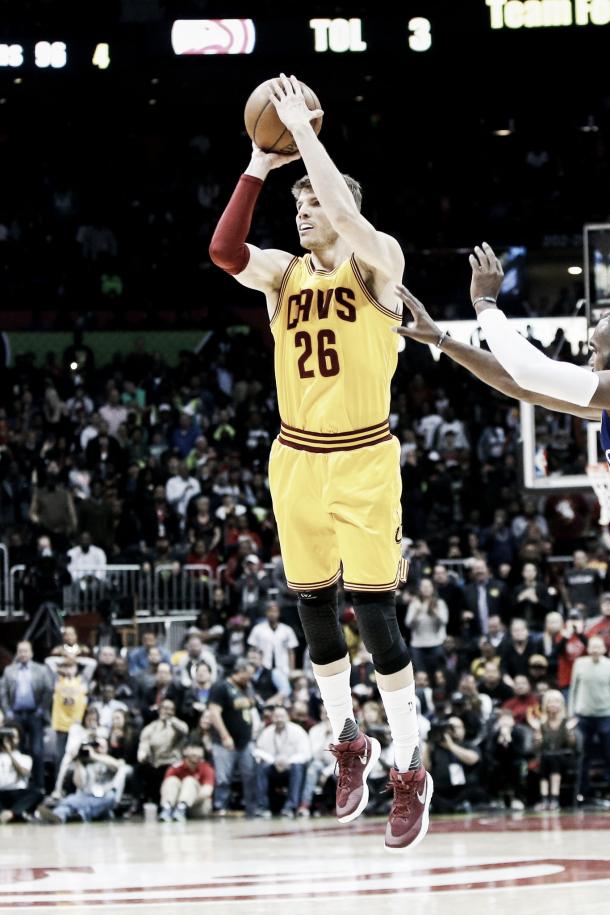 Korver Spacing the Floor
The Korver pickup was also important to the Cavaliers, as it added to their already impressive ability to spread the floor with other great three-point shooters including Kyrie Irving, Kevin Love, Channing Frye, James Jones, and the aforementioned Smith.
Korver, along with Cleveland's other late season signee Deron Williams showed valuable stints in their late season run with the Cavaliers, executing highly successful pick-and-rolls with LeBron James that created space around the court for Cleveland to fully exploit both their attacking and shooting talent, in large part thanks to the offensive threat that Korver provides.
Korver was equally important in his 18-minute averages during the postseason, where he averaged nearly six points a game on the road to his first career Finals performance. Although the statistics may not be all that glamorous on the surface, he proved his worth in multiple games against the Toronto Raptors in the Eastern Conference Semifinals, where he sparked huge Cleveland runs behind lights out three-point shooting that allowed the Cavaliers to prosper in those early rounds of the playoffs.
This deal marks the second backcourt signing for Cleveland this offseason, along with Calderon, and there are hints that the Cleveland backcourt could see some additional changes as Iman Shumpert is reportedly being shopped for possible trades.