 A day after the Atlanta Hawks signed center Dewayne Dedmon, they decided to bring back one of their own from last season. Ersan Ilyasova is returning on a 1-year, $6 million deal, according to Shams Charania of The Vertical.
The Hawks acquired the 30-year-old power forward this past February from the Philadelphia 76ers in exchange for injured center Tiago Splitter and a second round pick. While Ilyasova's contract was expiring at season's end, they believed that his shooting would help the team secure a playoff spot down the stretch. He played relatively well, and will now get the chance for even more minutes with the departure of starter Paul Millsap.
Ilyasova's Fit in Atlanta
The former second-round pick averaged a respectable 10.4 points and 5.8 rebounds per game in 26 contests with the Hawks last season, shooting 34.8 percent from beyond the arc. This ability to stretch the floor is a key reason why he is returning to Atlanta, as center Mike Muscala is the only other big man on the roster who has shown the ability to knock down a consistent jump shot.
Ilyasova made $8.4-million last season and played well, so it is a bit surprising to see his salary dip to $6-million. This seems like a great value as long as he can perform similarly to recent years, and the Hawks undoubtedly needed his shooting. Furthermore, the one-year deal continues the philosophy of flexibility that general manager Travis Schlenk has emphasized since being hired. Even if Ilyasova regresses in a major way, the Hawks will not be tied down with him.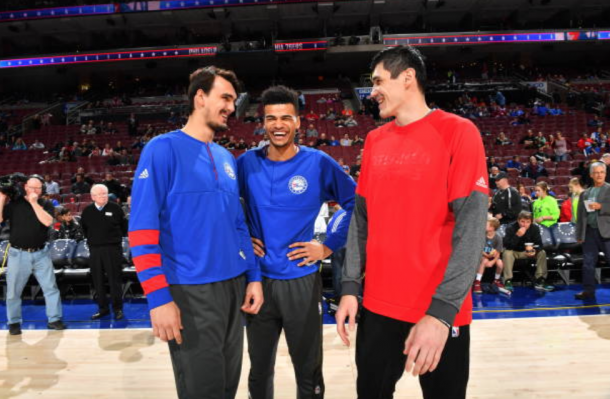 The Power Forward Situation
Mike Budenholzer will have a decision to make on opening night between starting Ilyasova or rookie John Collins, who has been on a tear in the Las Vegas Summer League. It would not be surprising to see either in the starting five, although Collins is still only 19-years-of-age. The Hawks may take a similar path like they did with Taurean Prince and bring him off the bench until later in the season.
Muscala could also play some 4, as well as Prince in small-ball lineups, but the Hawks may elect to sign one more power forward to fill out the frontcourt. Ryan Kelly is a guy they have liked for a while, but technicalities make it very difficult for him to return to Atlanta after they traded him to the Houston Rockets earlier this month. The Hawks may also decide to go forward with this current group, so we will just have to stay tuned to find out.