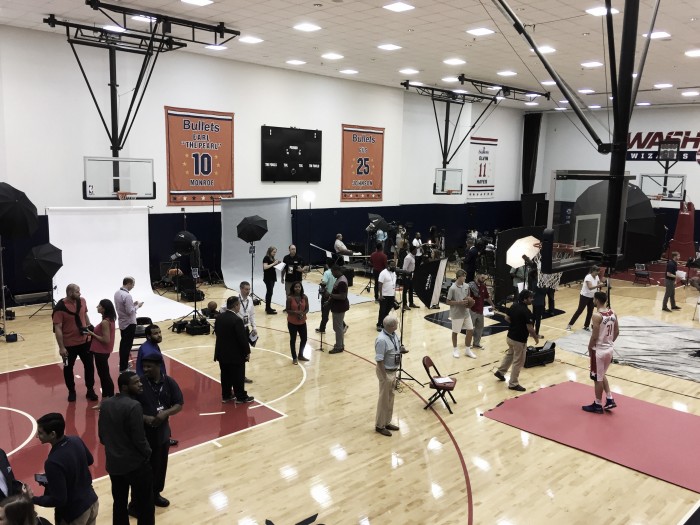 The Washington Wizards kicked off their 2017-18 season Monday morning with media day, inviting press into the newly renamed Capital One Arena (formerly Verizon Center) where the players and coaches opened up about the offseason and what they feel is in store for their organization in the upcoming year. As one would expect, this Wizards team is hungry to get back on track in their hunt for a championship, and that motivation was conveyed by each and every player that stepped up to the podium.
From season expectations, to politics, to summer stress relief, a wide variety of topics were covered at this year's media day, and the optimism of everyone in the organization made for an insightful look at where this Wizards team stands heading into this unpredictable season.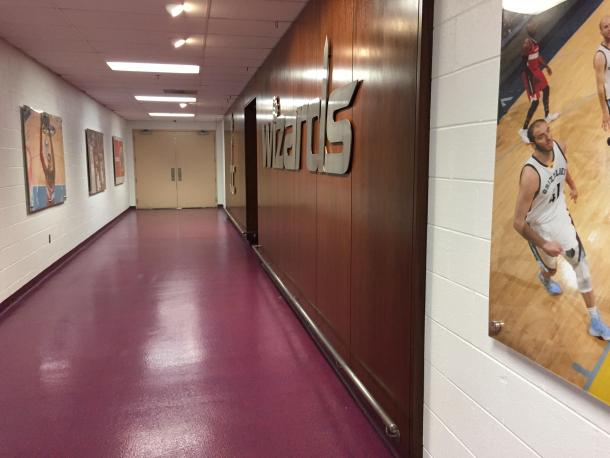 Season Expectations
As emphasized by head coach Scott Brooks in his opening to the morning's press conference, there are 30 teams vying for that championship at the end of the season, and this Wizards team feels as prepared as ever to make a run to be the best team in the league.
This message that Brooks communicated has clearly resonated with each and every one of his players, as every individual that stepped up to the podium after their head coach made an effort to note the organization's hunger to take the next step and reach new heights for this young team.
Four-time All-Star John Wall immediately recognized a goal to get Washington over 50 wins and to the Eastern Conference Finals, a milestone that has eluded the organization for decades now. Wall has always been vocal about his desire to be in a winning situation, and his decision to resign with Washington plus his comments on the Wizards' preparedness to respond and compete with other big names like the Boston Celtics and the Cleveland Cavaliers proves that he is as confident with this team as he's ever been.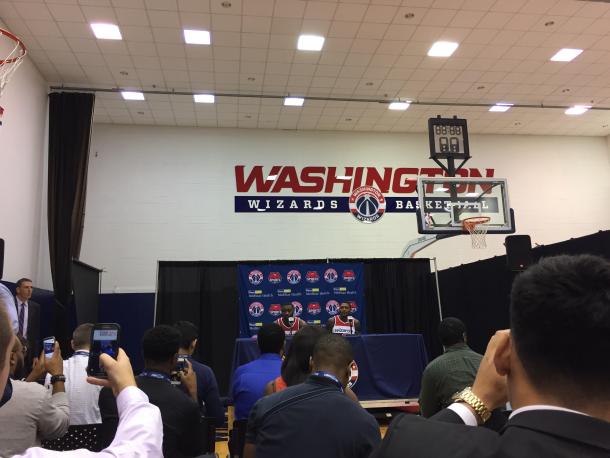 Wall did not shy from his disappointment in coming so close last season before losing to the Celtics in seven games in the Eastern Conference Semifinals. He claimed that by the end of the series, he was simply worn out, which pushed him to work harder this offseason to respond to falling short.
Swingman Bradley Beal, who many have speculated could have a shot at his first All-Star season this year, seconded Wall's sentiments. Beal noted that he too is still hurting, knowing that they came so close to making the conference finals but couldn't cap off the run.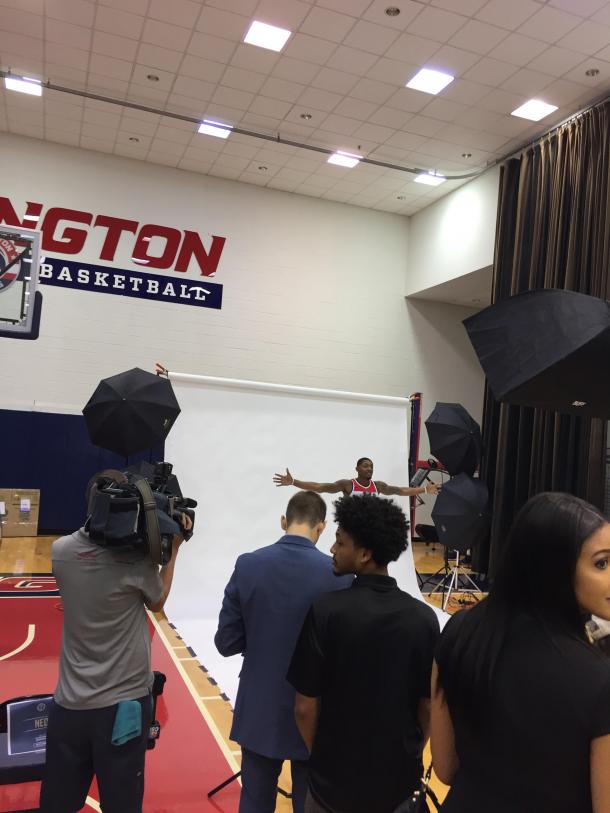 Even newcomers like Jodie Meeks recognize the potential on this Wizards squad. Meeks noted that as a group, they must recognize the expectations put on them, but at the same time, they can't the added pressure of being a more complete team.
Jason Smith, who is entering his second season with the Wizards, best summed up these expectations, simply stating "we're not done yet," highlighting the drive of this team and what they hope to achieve in the 2017-2018 season.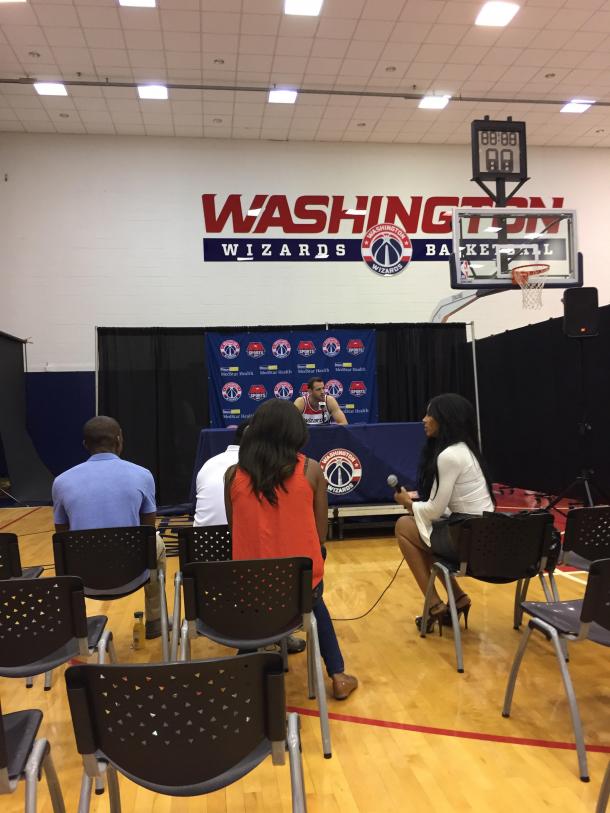 New Contracts
Another point of emphasis for the Wizards was the crucial signings made to help keep the team's core intact. While Beal resigned last summer to a five-year, approximately $128-million contract, resigning free agents Wall and forward Otto Porter were of the utmost importance for Washington this past offseason.
Wall agreed to resign with the Wizards on a four-year, $170-million deal, while the team also matched the Brooklyn Nets' four-year $106-million deal for Porter to retain the restricted free agent.
Beal made clear that it was crucial for this young core group to sign these contracts with Washington because he feels that it helps take stress off the players when they are less worried about their deals, ultimately honing their focus on the game. Beal also noted his love for Washington D.C., and acknowledged the importance of building a relationship with Wall in his six-year career and how that contributes to the Wizards' strong play.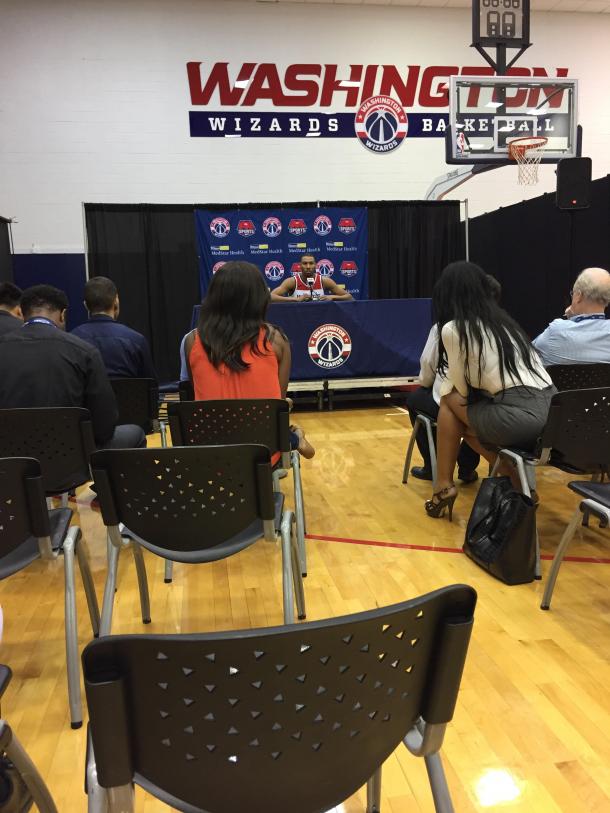 Wall made similar points to Beal, noting that these contracts and Washington's ability to keep their key players around has been pivotal in building chemistry. As a more traditional, pass-first point guard, it is important for Wall to best understand how his teammates play and what they like, and he recognized that these newly signed contracts help to build that comradery.
Porter and Brooks corroborated both Beal's and Wall's statements on the importance of bringing key players back, and this agreement amongst teammates further supports that through line that this team has a unified vision that they hope will lead them to reach their potential.
Adding Guards
While keeping those familiar faces around was a priority for the Wizards in the offseason, the team was sure to make some key signings, particularly in the backcourt, to strengthen their depth.
Two players who were referenced by a majority of those who came to the podium were backup guards Tim Frazier, who is coming over from the New Orleans Pelicans, and Jodie Meeks, who spent last season with the Orlando Magic.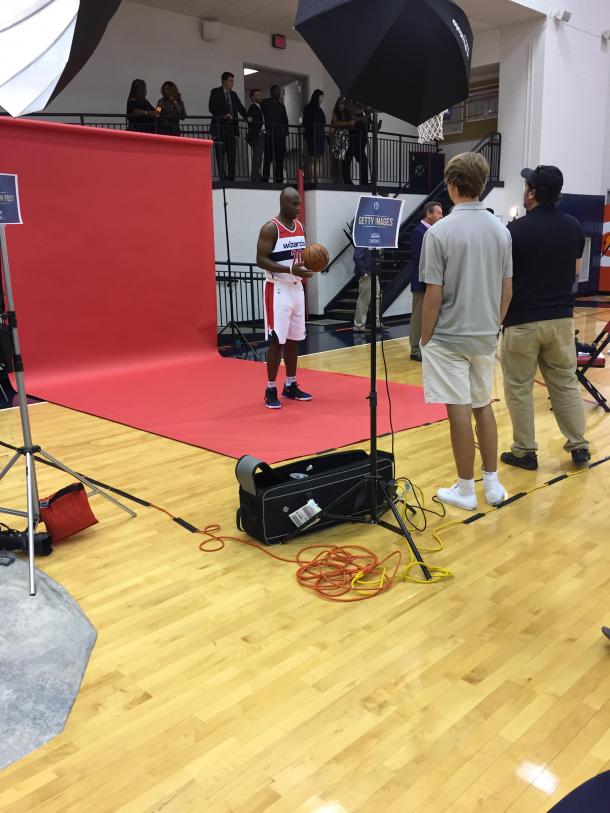 While the two may not be the flashiest names on the market, their presence has clearly been felt in the organization, and their importance for this team has not been overlooked. Whether it be Brooks, from a coaching standpoint, or Wall and Beal, who will share minutes with the backup guards, there is a strong understanding that both Frazier and Meeks will provide crucial minutes behind the starting guards.
In acknowledging the exhaustion that came at the end of last season, both Wall and Beal showed great excitement to have proven role players to fill their roles so that the starters are not expected to handle the full load as the season progresses. The two again noted that they were worn down at the end of last season, and adding Frazier and Meeks were big pickups for this team.
In 65 games with the Pelicans last season, Frazier averaged 7 points per game, 5 assists per game, and nearly 3 rebounds per game while Meeks averaged 9 points per game on 41 percent from beyond the three-point arch in a season where he was recovering from an injury. Additionally, Meeks acknowledged when at the podium that he has played for winning teams like the Los Angeles Lakers with players like Kobe Bryant and Pau Gasol, and he hopes to bring that winning mentality to Washington.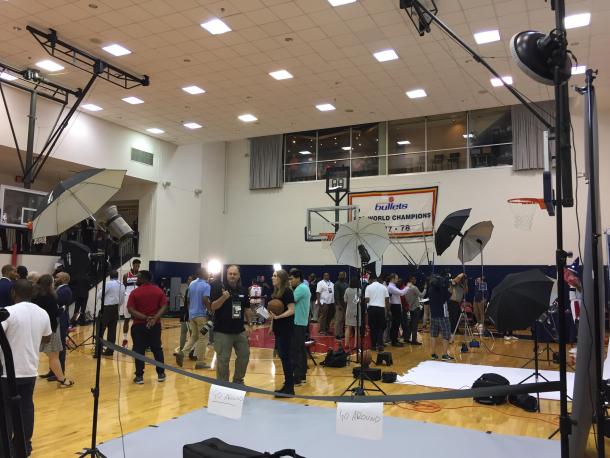 Big Man Rotation
The Wizards, in addition to the shakeups at the guard positions, also recognized some changes that could affect the big man rotation.
On multiple occasions, the hernia injury of Markieff Morris, which will keep the forward out approximately six to eight weeks, was mentioned in reference to how this could impact the lineup. Brooks did mention that Porter could be moved to the power forward position to hold for Morris.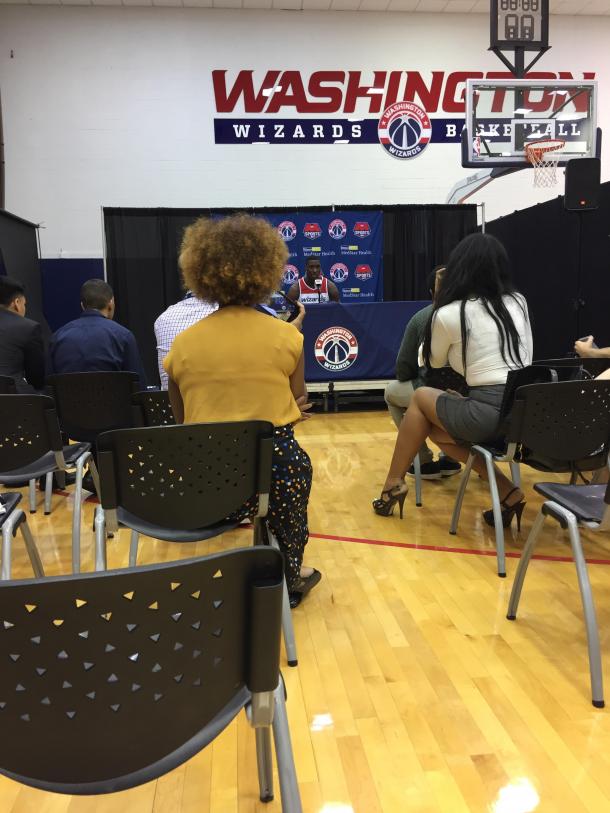 Additionally, Ian Mahinmi, who spent a good portion of last season injured, is set to join this season's rotation. At the press conference, he explained how a change in diet and a strict workout routine has helped him work his body back up to strength.
That said, starting center Marcin Gortat said that he did not expect himself and Mahinmi to play together, but he, along with others like Beal did endorse the idea that everyone will need to step up to fill Morris's shoes. A player who could find his way into that spot is the newly added Mike Scott, according to Gortat.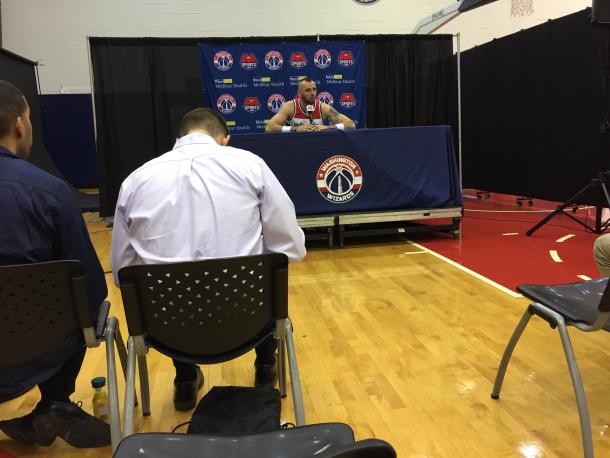 Politics
It comes as little surprise that, in addition to all of the basketball talk, there were a fair share of questions which turned the discussion to politics. This media day occurred after a politically charged weekend between athletes and President Donald Trump, where a disagreement over National Anthem protocol sparked heated debate.
On multiple occasions, players were asked about their viewpoints on Trump's comments and leadership, to which each of the players responded with their own form of frustration.
Beal, who has been vocal on social media on his viewpoints, stated that Trump is not a leader and called his actions and comments unacceptable. He noted that as a professional athlete, he has a voice and he wants to serve as a role model to reach people in a positive way, and that is why he chooses to speak out against Trump online.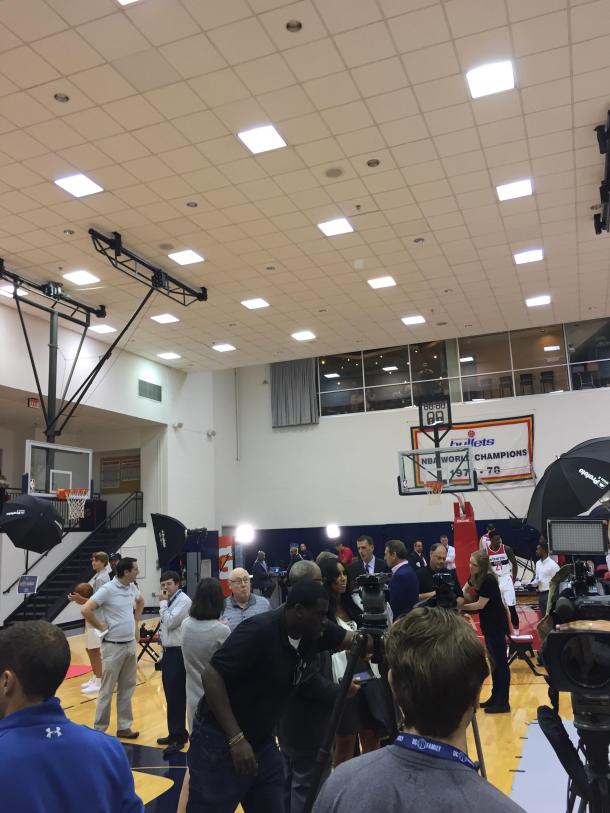 Wall similarly disregarded Trump's comments, noting that he and his teammates have bigger issues to focus on.
Even international players like Mahinmi and Gortat stated that watching what Trump is doing is "tough." Mahinmi noted that while he is not from here, his family lives here and they are therefore impacted by the choices made. Gortat supported Beal's claims, stating that as athletes, they can have an impact and therefore, they should speak up.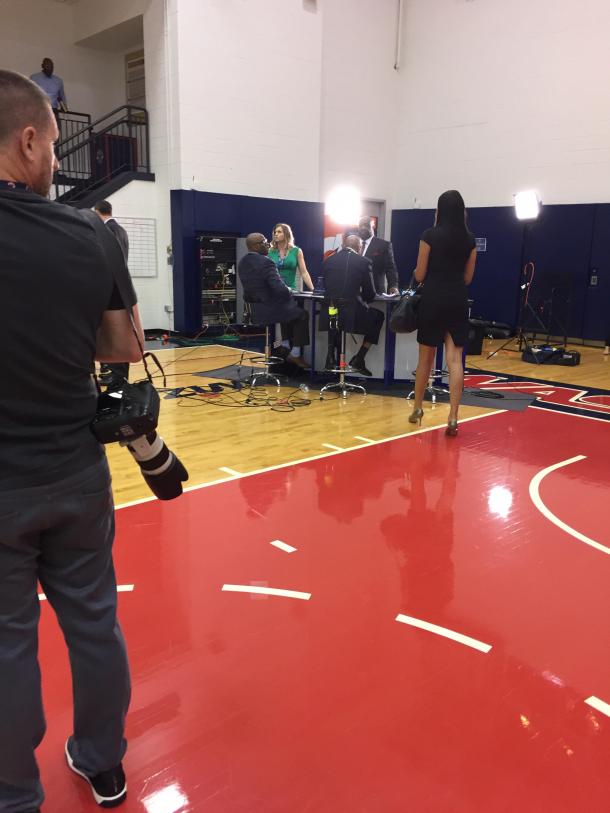 Having fun
At the end of the day, however, even through the more serious basketball and political talk, the entire team seemed in a comfortable place where they were happy to be back together and ready to have fun. This, fortunately, led way to some fun questions and answers to questions that did not directly relate to basketball.
On multiple occasions, Chick-fil-A, a staple snack in the Wizards' home arena, was brought up. Whether it be Brooks joking about his enjoyment of the sandwiches or players humorously responding to a question about a home court tradition where if the opposing team misses two late game free throws in a row, the entire arena wins free Chick-fil-A, there was a levity which further supported the enjoyable atmosphere that this media day evoked.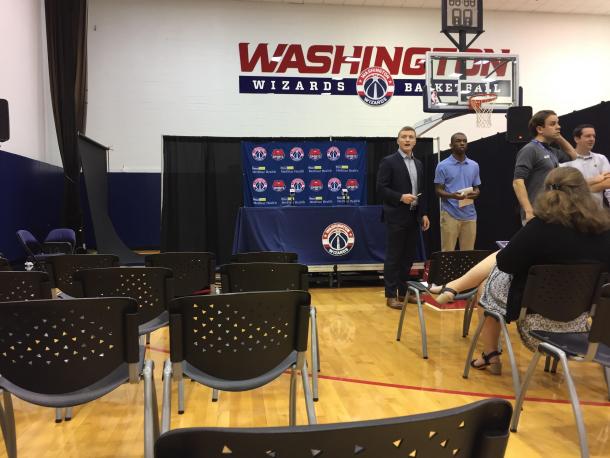 And of course, Gortat, who was sporting a new, spiked mohawk, discussed his decision to change up his hair. He even brought up the possibility of coloring through the season.
All of this, in addition to the thoughtful basketball remarks, simply promotes the excitement that should come with media day as it marks the start of a brand new season for players, coaches, and fans alike. Like many teams, the Washington Wizards have set expectations high as they head into the 2017-2018 season. With a healthy, focused core, fresh new additions, and another year of experience under the leaders' belts, the Wizards made clear at this year's media day that they have main focus that is driving each of their actions, and that is to fight their way to the top.