 The new-look Oklahoma City Thunder had no problem earning their first win of the season with their key acquisitions of Carmelo Anthony and Paul George this past offseason. As for the New York Knicks, they flounder to find offense without their start Kristaps Porzingis on the floor.
George gives his team early lead
George started his Oklahoma City debut with 13 points in the first stanza of the game. Anthony scored the first three points of the game, but afterwards missed his next five shot attempts. Porzingis did not back down from the new look Thunder and dropped eight points of his own. New York outshot their opponents 57 to 36 percent, but George's double-digit scoring helped the Thunder hold an early, 27-24 lead.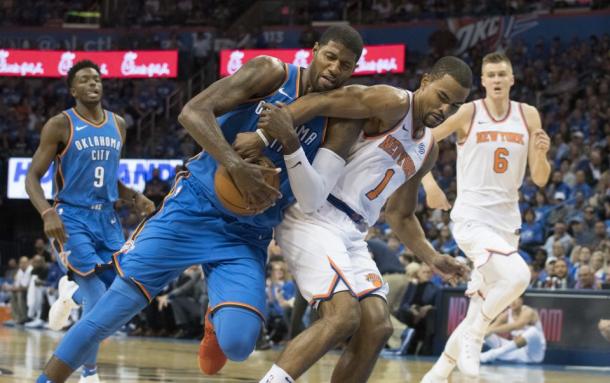 Anthony picks up the offense
After scoring only four points in the first 12 minutes of the game, Anthony followed up with 11 points in the second frame. Meanwhile, Porzingis showed no signs of slowing down and dropped 11 more points of his own. Oklahoma City then closed out the period on a 13-2 run to earn a 53-42 lead by halftime.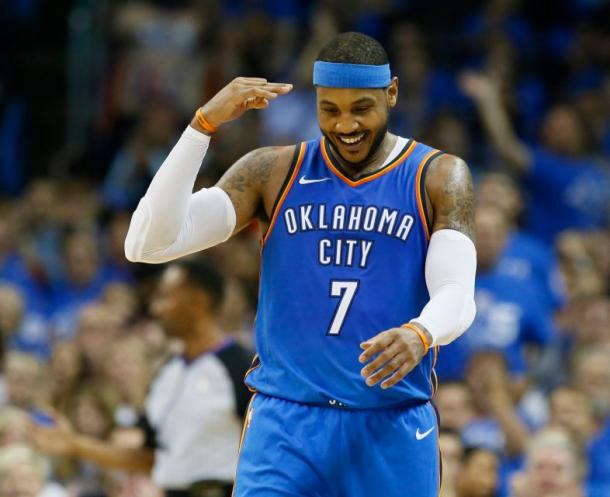 Knicks struggle to put up points
In the third quarter, the Knickerbockers could not hit a single field goal for six minutes and fiftteen seconds. Oklahoma City increased their lead to 20 at the time and outscored them, 26-17.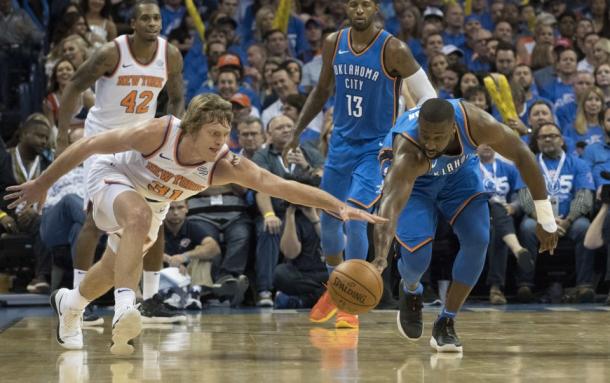 Too much load to overcome
Although New York displayed their highest scoring period with 25 during the fourth, the large OKC lead turned out to be too far from reach. Ten of those final 25 points came from Porzingis.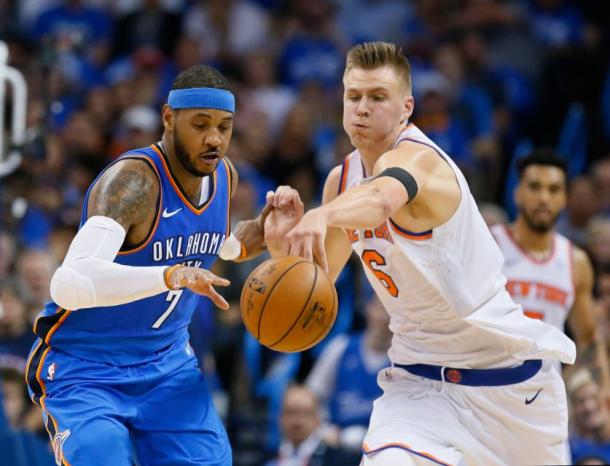 Top Performers
New York Knicks
Porzingis finished with a double-double of 31 points 12 rebounds. Enes Kanter was the only other Knick to reach double-digit scoring with 10 points.
Oklahoma City Thunder
Russell Westbrook notched his 80th career triple-double with 21 points, 16 assists, and 10 boards. George concluded with 28 points while Anthony ended with 22.
Quotes
During the post-game interview, Anthony said: "It felt good to get out here and start this new journey…..close that chapter."
He also went on to comment on Porzingis' 31-point performance and said: "I was happy for him, just to see that he was ready to take on that role."
Other things to note
-During the 3:08 mark of the first quarter, Knicks' Michael Beasley suffered a left ankle injury after logging in 36 seconds. He did not return.
-Former Thunder players Enes Kanter and Doug McDermott received a standing ovation prior to tip-off.
-The Thunder marked their 10th season in Oklahoma City
-Joakim Noah is serving a 12 game suspension for violating the NBA's anti-drug policy.
Up next for the Knicks and Thunder
The Knicks will head back to New York for their home opener against the Detroit Pistons on Sat., Oct. 21 at 8:00 p.m. E.T.
Oklahoma City will have their first road game against the Utah Jazz on Sat., Oct. 21 at 9:00 p.m. E.T.