 Tyronn Lue, head coach of the Cleveland Cavaliers, is stepping away "for the time being" for health-related reasons. Associate head coach, Larry Drew, will fill Lue's position in his absence.
In a joint statement released by the Cavaliers, Lue, and general manager Koby Altman, Lue stated that after ongoing "chest pains and other troubling symptoms, compounded by a loss of sleep," he needed to step away from the team to focus on bettering his health.
Lue's long-standing struggle
Lue left Saturday's game against the Chicago Bulls early with an illness, marking the third time this season that he had to relinquish his spot on the sidelines due to his health.
ESPN's Dave McMenamin reported that Lue has been coughing up blood in addition to his stated symptoms, but as Lue stated in his statement, there has been no conclusion yet as to what is causing the illness.
LeBron James addressed the media Monday following the announcement, and stated that Lue's decision to step away is well overdue.
"Understanding what he's been going through throughout this season, obviously health is the most important with everything," James said
Although Lue's return has no definitive timetable, ESPN's Adrian Wojnarowski states that Lue hopes to return well before the playoffs begin in mid-April.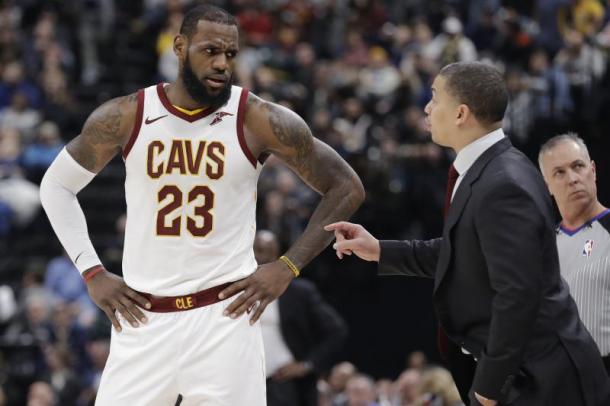 Adding to Cleveland's struggles
Lue's departure is simply the latest in a roller coaster season for the Cavaliers. Although they started off the season hot, a slew of injuries and locker room disputes put Cleveland at the center of a firestorm of stories and reports that tried to make sense of a team that went from Finals favorites to struggling to maintain home court advantage in the Eastern Conference playoff race.
After trading away Kyrie Irving in the offseason to the Boston Celtics, the team struggled to build chemistry both on the court and in the locker room. These issues seemed to extend beyond just the players, as coaches names were thrown around in reports as well.
Although Cleveland looked to be back on the right foot following their trade deadline acquisitions, they still have not shined the way many expected.
That said, while Lue won't be with the team, All-Star forward Kevin Love makes his return tonight against the Milwaukee Bucks. His absence has clearly been felt, and having James' second man back on the floor should help the Cavaliers get back on the right track despite the sad news announced today.