 During the 2016-17 NBA season, we had some very intriguing storylines, most notably, Kevin Durant signing to Golden State Warriors, a team we saw defeat the Cleveland Cavaliers in their third straight match-up to win their second championship in three seasons. While the regular season brought us a very tight MVP race between James Harden and Russell Westbrook, the playoffs were not as exciting, to say the least. The new look Warriors completely dominated the field by finishing with a 16-1 record on their way to a championship, the only loss coming at the hands of Cleveland in Game 4 of the finals.
Following the season, we got one of the most potentially loaded drafts we've seen in recent memory, with three of the top five prospects potentially being star point guards in the future (Markelle Fultz, Lonzo Ball, and De'Aaron Fox). While the draft shaped up how we expected it to, with all the mock drafts being almost spot on, the free agency and trades of the off-season would be what ultimately defined the 2017 season.
Return to Indiana
It was reported that All-Star forward of the Indiana Pacers, Paul George wanted out, and made it clear he had no intention of resigning with the team that drafted him. Insert Sam Presti, the General Manager of the Oklahoma City Thunder, who knew with the loss of Durant in the previous offseason, needed to make a move to protect the long-term Westbrook. That was the year he had came off averaging a triple-double and winning the MVP. Oklahoma City quietly offered shooting guard Victor Oladipo and forward Domantas Sabonis in exchange for George. Indiana accepted the offer and sent George on his way.
Fans around the league saw this as a complete steal for OKC, as Sabonis was coming off a rookie season averaging only 5.4 points per game, and Oladipo who averaged only 16 points per game as the second scoring option. It was clear that Oladipo's style of play did not mesh with Westbrook's style of play, which needs spot-up shooters to be successful, and Oladipo is more of a scorer than a spot-up shooter.
Oladipo was one of the highest tallied prospects in the 2013 draft, which he ended up being drafted second by the Orlando Magic. He did not exactly pan out the way Orlando had envisioned, averaging only 15.9 points per game during his three-year stint with the team, which is why they sent him to OKC in exchange for power forward Serge Ibaka.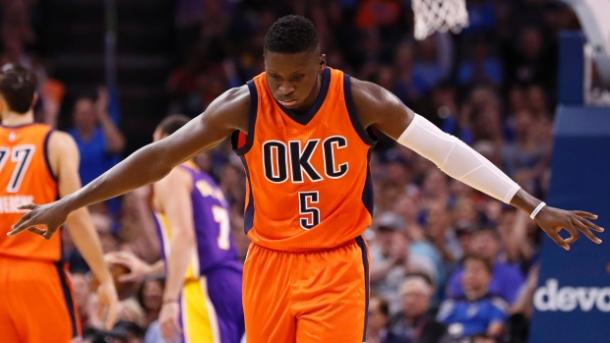 How Oladipo changed his game
Following the trade, Oladipo got to make his return to Indiana, a state in which he had been a star during his years at Indiana University. Oladipo needed a fresh start. During the offseason, he said that he had made a commitment to changing his body and his diet in order to be as successful of a player as he could be.
When sitting down with ESPN's Adrian Wojnarowski, Oladipo said quote "Honestly I want to say it saved my career, it helped me realize the game is 20 percent physical and 80% mental."
Well, whatever Oladipo has been doing, is working, as he was once viewed as an asset in a lob-sided trade, he has worked his way into becoming an All-Star and has Indiana currently sitting at the fourth spot in the Eastern Conference playoff standings. He has raised his scoring average from 15.9 points per game last season to a career-high 23.3 points per game this season. Oladipo is also currently leading the league with 2.3 steals per game, and has set two new career-highs in assists per game with 4.2 and in rebounds in which he averages 5.2 per game.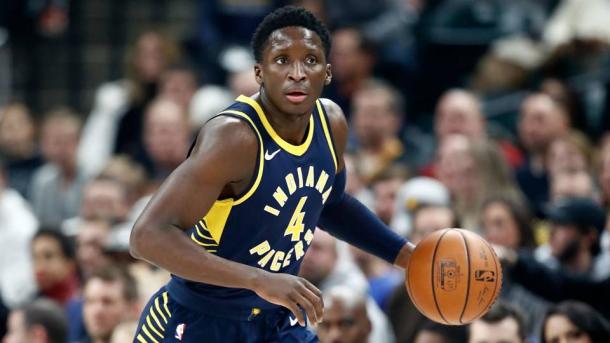 Indiana's Future with Oladipo looks bright
Oladipo not only has increased his stats and improved his overall game, but he has seemed to rub off on the Pacers, who have pretty much the same roster from last year, in which they were an eight seed. People in NBA circles believed that OKC had stolen George from Indiana this offseason, but now it is looking as if Indiana got the better end of the deal as they have increased four spots in the standings from last year and Oklahoma City sits in the seventh spot, which is the same place they had last season with Westbrook and Oladipo.
It is hard to argue with the results of this season, in which we have seen several new faces in several new places. Indiana has now improved their win total from last year, in which they finished (40-42) whereas this season they have already tallied up 41 wins in just 71 games played. Indiana has found their replacement for George, and now looks to build a team around Oladipo to contend in the Eastern Conference for years. With Oladipo having previous experience in Indiana, the fans already love him, and with his youth and energetic spirit, it has spread all throughout the Indiana locker room.
Oladipo currently is in the lead for NBA Most Improved Player and rightfully so, he has transformed his entire game and perception this season. Will his success be able to lead Indiana to a first-round series win? Will he remain the star Indiana expects him to be for the future? We do not have the answers to these questions yet, but we will find out here very soon, and judging by the work ethic displayed by their young star, it is going to be hard to bet against.