 It has been a wild 24-hours for one Julius Randle.
The writing seemed to be on the wall regarding Randle's future with the Los Angeles Lakers once LeBron James agreed to a four-year, $154 million deal with the team.
According to ESPN Senior Writer Ramona Shelburne, Randle requested the team release him.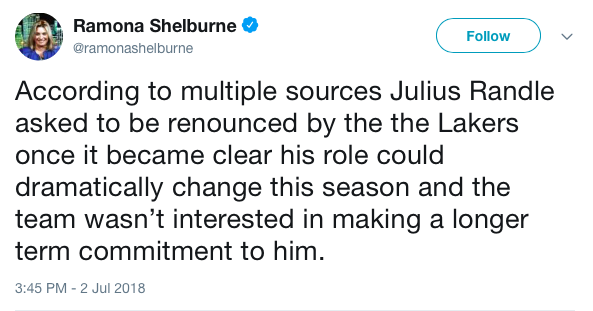 However within the hour, Randle was not out of work for long. Randle agreed to a two-year, $18 million deal to join the New Orleans Pelicans.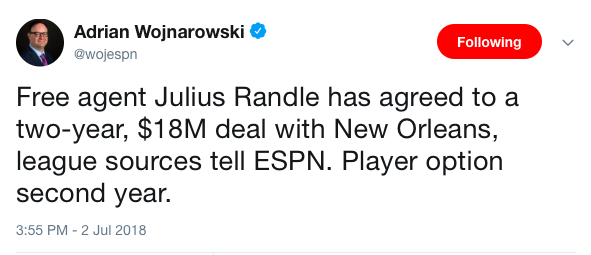 Pelicans star Anthony Davis was a "tenacious" recruiter on New Orleans' behalf.
Assuming that the Pelicans were aware of the situation, the move comes in the midst of the Pelicans losing free agent center DeMarcus Cousins to the Golden State Warriors.
Randle averaged a career-high 16.1 points and shot a career-best 55.8 percent from the field in 2017-18. He remained a solid rebounder as well, averaging 8.0 boards per game.
The 2014 first-round pick made an impact on defense close to the basket. According to NBA.com, he held opponents to 58.5 percent shooting on attempts inside six feet and 53.6 percent on attempts inside 10 feet.
Feeling unwanted in LA
This was the first season where Randle began to approach his ceiling, and he could become an even more effective scorer should he finally develop a three-point shot. He was becoming what the Lakers initially thought he could be and more.
Before asking for his release, Randle met with the Lakers to try and get a deal done. Randle wanted to remain with the organization that drafted him and play beside LeBron.
However, Randle knew that his play time would dramatically be reduced. His role would diminish and that's why he chose to leave.
Randle started the year in a reserve role, but his production improved drastically after getting moved into the starting lineup in late December.
How he fits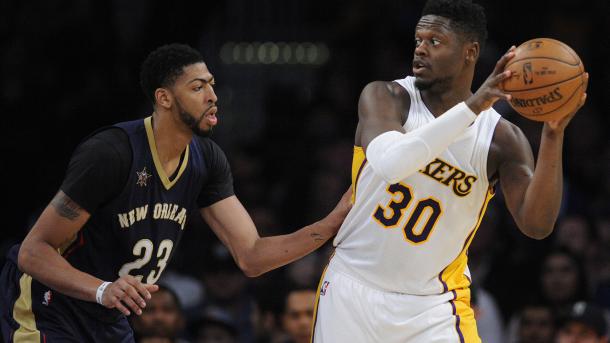 Potential lineup:
PG: Jrue Holiday/Elfrid Payton
SG: E'twaun Moore
SF: Solomon Hill
PF: Julius Randle
C: Anthony Davis
With the addition of Randle, the Pelicans will be a better rebounding team. Even though he is DeMarcus Cousins, Randle will give protection around the rim.
Holiday now has another big that can create space for him or run the pick-and-roll offense.
The Pelicans will be trying to improve off of their playoff run from a year ago. The signing of Randle is a good start.