As first reported by Michael Scotto and Jon Krawczynski of the Athletic, the ​Minnesota Timberwolves and All-Star center Karl-Anthony Towns are discussing a long-term contract extension.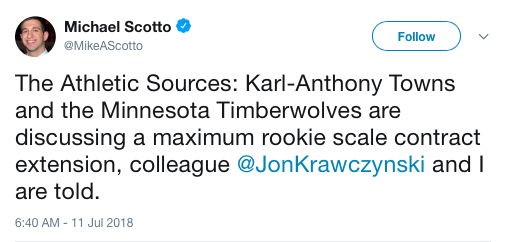 Towns has established himself as one of the NBA's most talented young building blocks across his first three seasons since the T-Wolves selected him with the first overall pick in the 2015 draft. When Minnesota secures the 22-year-old big man, it will go a long way in securing their bright future.
Whatever issues that Towns and the organization had seems to a thing of the past. It was rumored earlier in the summer that Towns wanted out of Minnesota and would ask for a trade.
The former University of Kentucky star averaged 21.3 points, 12.3 rebounds and 1.4 blocks across 82 appearances during the 2017-18 campaign. He hasn't missed a game during his pro career.
Towns is set to earn $7.8 million next season, but he'll become a restricted free agent next summer if no extension is in place
Good friend and former Kentucky teammate Devin Booker singed a long-term contract extension on July 8th.
Just how much can he earn?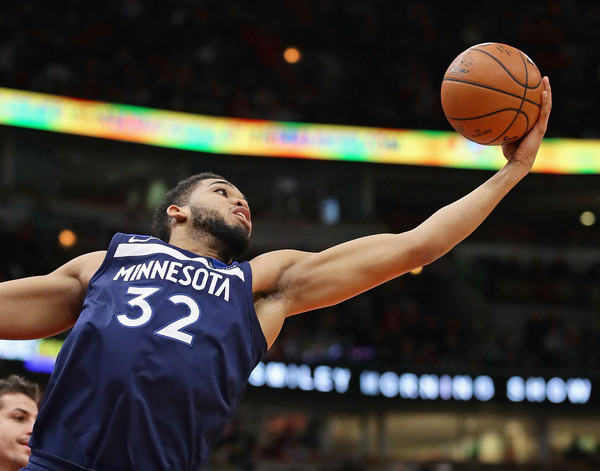 Making the All-Star game and finishing Third team All-NBA in 2018 helped increase the pay day that Towns could have. Also take into consideration that Towns was named 2015-2016 Rookie of the Year and was selected to the 2015-2016 first NBA All-Rookie Team.
With that being said, Towns is eligible for a five-year, $188 million deal from Minnesota.
Last October, the T-Wolves were able to lock up forward Andrew Wiggins long-term. Wiggins signed a five-year, $146.5 million contract extension.
Along with Towns' situation, Minnesota shooting guard Jimmy Butler can use a player option in his contract to become an unrestricted free agent in 2019.