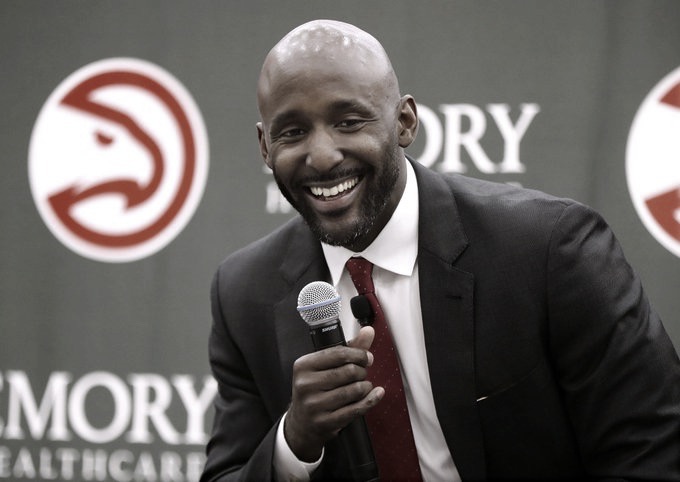 The Atlanta Hawks have fired head coach Lloyd Pierce after three seasons in charge.
Pierce is the second head coach to be fired this season after Ryan Saunders was fired by the Minnesota Timberwolves.
The Hawks season has been disappointing, they are currently 11th in the Eastern Conference. They have won 14 games and lost 20.
Before the season the Hawks were considered to be a team capable of making the playoffs.
They brought in veteran Rajon Rondo, Bogdan Bogdonoavic, and Danilo Gallinari from free agency. Great pickups that you'd assume would elevate the Hawks and help them improve from last season, where they finished with a 20-47 record.
Bogdanovic has only played nine games this season due to a knee injury, so his effect on the Hawks is yet to be experienced to its full extent.
Another good free agency pickup was Kris Dunn. He has also has been affected by an injury. He has not played at all this season as he is recovering from ankle surgery.
Unfortunately for Pierce and the Hawks their season so far hasn't met expectations.
Atlanta Hawks' President of Basketball Operations Travis Schlenk said: "We would like to thank Lloyd for his work and commitment to not only the Hawks organization but the city of Atlanta.
"He and his wife, Melissa, are tremendous people who have made a positive impact throughout the city.
"We have high expectations for our team on the court and we believe by making this change now that we can have a strong second half of the season."
The Hawks also announced that assistant coach Nate McMillian would become the interim head coach.
McMillian is experienced as a head coach in the league. He was the head coach for the Seattle Supersonics, Portland Trail Blazers, and the Indiana Pacers.
He coached the Pacers from 2016-20 and they made playoffs every season.
With his experience, there is a good chance he earns the head coach job permanently, depending on how the rest of the season goes.