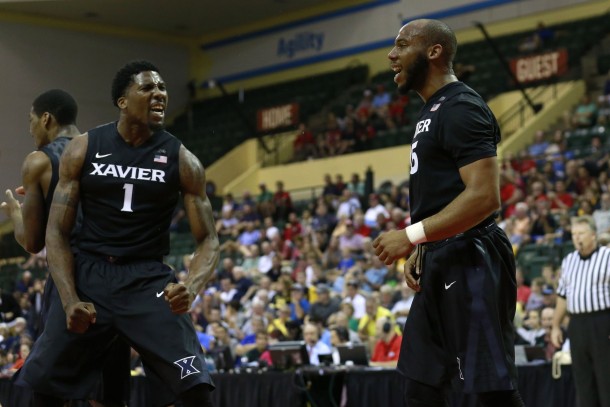 LAKE BUENA VISTA, FLORIDA---In a tournament full of close matchups and upsets, the Advocare Invitational has certainly lived up to the hype surrounding it. Yet, as a spoiler, the matchup between USC Trojans and the 23rd ranked Xavier Musketeers contained neither.
To commence the battle of 5-0 teams, Xavier's Jalen Reynolds made his presence felt by quickly nailing his first jumper and throwing down a monster dunk all before the first TV timeout. Additionally, the junior big man introduced himself to the USC offense with a powerful, "send back to mailer" block that caused the Musketeers' faithful to exploded like Fourth of July fireworks.
Led by an impressive immediate showing by Reynolds and eight points by star Trevon Bluiett, Xavier ran out to a 21-5 lead that ended up molding the remaining 33:50 of game time.
Even though the Trojans were eventually able to get the offensive wheels moving, Chris Mack's group never allowed their lead to become less than twelve before doubling up their opponent 54-27 heading into halftime.
Coming out of the locker room, the Musketeers continued their dominance be extending the lead to 31 (60-29) with 7 of the second half's first 9 points.
While USC's did dwindle the opposition's advantage down to 13 with a Malik Marquetti layup (5:03 remaining), a full timeout by Xavier straightened things out before they waltzed to a 87-77 victory.
Bennie! The Boat Is Going The Wrong Way!
Following the best performance of his collegiate career, USC "fab freshman" Bennie Boatwright fell hard from "Cloud 9." Despite the 6'10" sharp shooter draining his first shot of the day (a three pointer), Xavier's pesky defense kept him off-balance for the duration while ultimately holding him to eight points on two for eight shooting from the floor. The Trojans will face the winner of Day Two's finale, which pits the Monmouth Hawks and Dayton Flyers against each other.
Doing A Little Bit Of It All
While it definitely was not the most glamorous game in the career of Jalen Reynolds, he had a huge impact on today's contest. From immediately seizing momentum for his team to stuffing the stat sheet (9 points, 7 rebounds, 2 assists, 2 blocks, and 1 steal), the junior must be able to bring the same production in the Advocare Invitational Championship (4:30 PM EST/ESPN2).
Friday's Remaining Advocare Invitational Action
7:00 PM EST
3-1 17. Notre Dame - 3-1 Iowa (ESPN3)
***Consolation Semi-Final
Coming In:
Notre Dame: 70-68 Loss - Monmouth
Iowa: 82-77 Loss - Dayton
9:30 PM EST
3-1 Monmouth - 4-0 Dayton (ESPN2)
***Semi-Final
Coming In:
Monmouth: 70-68 Win - 17. Notre Dame
Dayton: 82-77 Win - Iowa
Coverage of tonight's and Sunday's games from the HP Field House in Lake Buena Vista, Florida, can and will be found on VAVEL US.