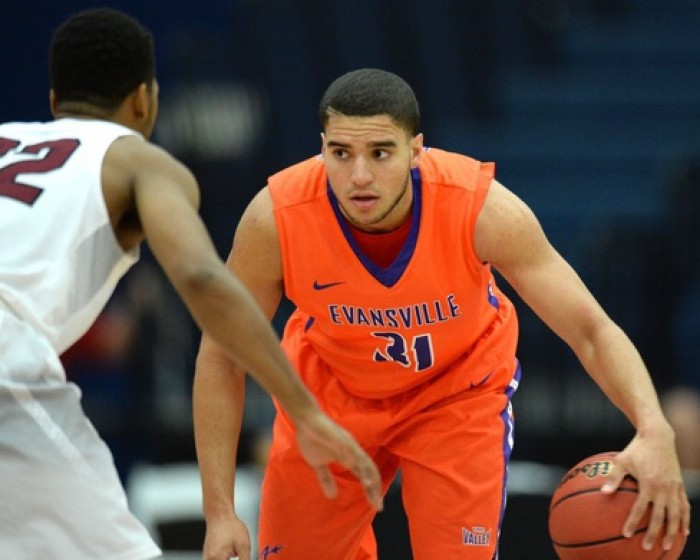 "It's the most wonderful time of the year!"
If you are like me, someone who cannot get enough of college basketball, the beginning of March marks the start of a new season. One of hope, heart-break, and, we cannot forget, MADNESS.
But, before the best conference in all of college basketball, the Missouri Valley Conference, starts its tournament on Thursday, business must be attended to in regard to the specialty awards.
Specialty awards, including but not limited to Defensive MVP, Freshman of the Year, Newcomer of the Year, and Larry Bird MVC Player of the Year, are set to be announced at 3:00 PM EST Tuesday afternoon. And while Defensive MVP will go to Evansville Purple Aces' center and double-double machine Egidijus Mockevicius, Freshman of the Year to Wichita State Shockers' stretch forward Markis McDuffie, and Newcomer of the Year to "Mr. Clutch" Dequon Miller of the Missouri State Bears, Player of the Year will not be such an easy decision.
Or maybe it will be.
Granted, while many firmly believe Wichita State Shockers' guard and 2013-14 Larry Bird Trophy winner Fred VanVleet has the hardware on his mantle already, Evansville "star senior" D.J. Balentine is the more deserving selection because of what he has done for the Purple Aces win-wise, his scoring and passing prowess, and his consistent play from game 1 through game 31.
1. Evansville Rise to Legitimate Mid-Major
Flashing back to late March of 2013, D.J. Balentine was the sixth man of Marty Simmons' Purple Aces while being groomed for the role of dangerous scorer by the university's all-time leader Colt Ryan. Evansville made an improbable run through the CollegeInsider.com Tournament (CIT) that ended in the Final Four to the swords of the East Carolina Pirates. Nonetheless, fans spotted something special in Balentine, and the following season a star was born as he averaged a career-high 22.8 points per game in a very rough and turbulent 2013-14 campaign.
The 6'3" Kokomo, Indiana, native backed up his sophomore season with another twenty plus points per game mark in route to the Purple Aces' 2015 CIT Championship.
However, this season, Balentine has truly out-done himself. Not only has he posted by far the best statline in the Missouri Valley Conference, but he has led the Purple Aces to their most regular seasons win since the 1988-89 campaign (23)! Moreover, he proved to critics that a drop-off season was not in the cards for his senior year.
"Well, Fred VanVleet has led his team to a 16-2 conference mark and 23 wins as well!"
So what! The Shockers have so much depth that newcomers Markis McDuffie, Anton Grady, and Conner Frankamp, who are all coming off the bench, would be starting on 80-90% of mid-major schools! My point is, Wichita State has many weapons and highly-touted talent around their point guard. Balentine has a candidate for Most Improved Team captain in Jaylon Brown, "Iggy," aka Egidijus Mockevicius on the block, and Adam Wing, a former high school quarterback that can drain threes and displays more toughness than anyone in Division I basketball. Not the most well-recognized group of guys am I right?
2. Not Just a Scorer
As a three-time scoring champion in "The Valley," D.J. Balentine often gets pegged as a guard that can shoot the lights out of the gym and that's it.
"Not so fast my friend!"
Helping his backcourt mate Brown adjust to a full-time point-guard role, the soon to be three-time MVC first teamer has played a more active part in facilitation as he enters with a career-high 4.4 assists per contest. Furthermore, he can sneak into the paint and snatch rebounds (3.2 per contest).
What has VanVleet done in contrast?
The 6'0" guard has netted 12.3 points, skied for 3.3 rebounds, facilitated 5.8 assists, and collected 1.7 steals per game. Yes, he has higher assists and steal numbers than Balentine, but the rebounding category is nearly even while the Evansville star is a much, much, much better scorer.
Additionally, D.J. Balentine is the more efficient player! Shocking, right?
No, not really!
Analyzing the two's field goal percentages, Balentine is shooting better by 4.1 percent (44.5% to 40.4%)! Surprisingly, Wichita State's "best finisher in the MVC" is shooting just 39.2% from inside the arc. Last time I check, finishers actually FINISHED their shot attempts, which the new all-time scoring leader in Evansville Purple Aces' history has done at a 49% clip.
3. Mr. Consistent
For the sake of keeping a fair argument, let's void Fred VanVleet's 3-for-10 performance while he was clearly hurting in a loss at Tulsa. Okay, and it still doesn't change the fact that D.J. Balentine has been steady and stable from the start to the end of the regular season. And even when the latter played three games in four days--something VanVleet did not do at the Advocare Invitational as the Shockers fell to defeat in three straight--he dropped 18 points on Providence star and future NBA lottery pick Kris Dunn in addition to 23 and 15 respectively on a combined 14-of-28 shooting.
In fact, Balentine has only been held to single-digits once this season (at UNI) while the Shockers' "star senior" has been contained to under ten in 8...out of 18 conference games! Yes, VanVleet made up for his lack of points in rebounds, which he averaged 4.3 during the aforementioned bouts, and 6.5 assists per. However, shouldn't the Larry Bird Trophy go to the player who is the most valuable to his team?
For instance, last season Northern Iowa Panthers' forward Seth Tuttle claimed the great recognition after having Ben Jacobson's offense ran through him and leading his team in points and rebounds. Balentine leads his squad in points and assists while not having a Ron Baker-like MVC first teamer in the backcourt to take the pressure off.
So my fellow Missouri Valley Conference writers that are blessed with the opportunity to cast a vote for this year's Missouri Valley Conference Player of the Year, please do not get caught up in the Wichita State Shocker hype and hand Fred VanVleet the Larry Bird Trophy for a second year. Look at the previously pointed out facts, and consider D.J. Balentine for the award. I know he will be my MVC Player of the Year no matter what.
Wesner's MVC Awards
Larry Bird Player of the Year
---D.J. Balentine (Evansville)
Newcomer of the Year
---Dequon Miller (Missouri State)
Freshman of the Year
---Markis McDuffie (Wichita State)
Defensive MVP
---Egidijus Mockevicius (Evansville)
Sixth Man of the Year
---Leo Vincent (Southern Illinois)
First Team
D.J. Balentine (Evansville)
Fred VanVleet (Wichita State)
Ron Baker (Wichita State)
Anthony Beane (Southern Illinois)
Egidijus Mockevicius (Evansville
Second Team
DeVaughn Akoon-Purcell (Illinois State)
Wes Washpun (Northern Iowa)
Dequon Miller (Missouri State)
Brenton Scott (Indiana State)
Reed Timmer (Drake)
Honorable Mention Selections
Jaylon Brown (Evansville)
Sean O'Brien (Southern Illinois)
Paris Lee (Illinois State)
Matt Bohannon (Northern Iowa)
Montel James (Loyola-IL)
All-Newcomer Team
Dequon Miller (Missouri State)
Markis McDuffie (Wichita State)
Anton Grady (Wichita State)
Dwayne Lautier-Ogunleye (Bradley)
Leo Vincent (Southern Illinois)
All-Freshman Team
Markis McDuffie (Wichita State)
Dwayne Lautier-Ogunleye (Bradley)
Obediah Church (Missouri State)
Jarred Dixon (Missouri State)
Luuk van Bree (Bradley)
VAVEL USA will have full coverage from the Scottrade Center for this weekend's "Arch Madness." Make sure to return later in the week for Wesner's MVC Tournament Preview and who he thinks will be hoisting the hardware on Sunday afternoon with a trip to the NCAA Tournament on the line.