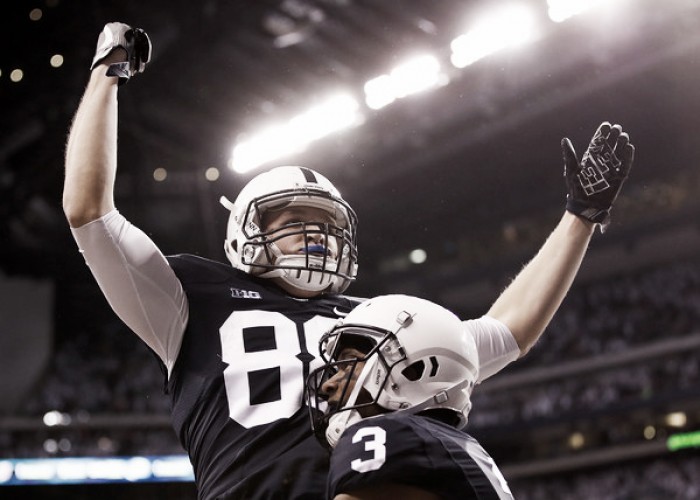 The Penn State Nittany Lions are making things as difficult as possible for the College Football Playoff Committee. With their second win over a top-10 team and a Big 10 championship victory, Penn State has made their resume incredibly impressive, as they wrapped up the Big 10 title with a 21-point comeback and a 38-31 victory over the Wisconsin Badgers.
Sophomore quarterback Trace McSorley led the offensive attack for the Nittany Lions, tossing for 384 yards, a record in the Big 10 Championship. Corey Clement ran for 164 yards for the Badgers, but Wisconsin could not convert a 4th and 1 with a minute remaining in the game, giving Penn State the wild victory.
All Wisconsin early
At first, it looked like it would be the Badgers making a statement to the playoff committee, as they got off to a roaring start, forcing Penn State into two punts and no first downs while notching a pair of touchdowns for an early 14-0 lead. After forcing the first punt, Wisconsin handed the ball to Clement 8 times on a 14-play drive that saw their offense stay on the field for 8 minutes.
Quarterback Bart Houston made third-down conversion passes of 6 and 24 yards. Austin Ramesh punched it in from the one-yard line for a touchdown. Wisconsin used the big play to score their second touchdown, as Clement, following a five-yard run on first down, raced 67 yards for the score on second down, giving the Badgers the 14-0 lead.
The Nittany Lions got something going briefly to end the first quarter, grabbing a touchdown to slice into the Wisconsin lead. Saquan Barkely ran 22 yards on the first play to get the drive off on the right foot. After a couple of small gains on runs up the middle, McSorley completed a pass of 16 yards - to DaeSean Hamilton - and another of 33 yards for a touchdown to Mike Gesicki.
After forcing a punt early in the second quarter, the Nittany Lions seemed ready to wrest the momentum from the Badgers and possibly even the game. Instead, a high snap sailed past McSorley. Wisconsin's Ryan Connelly picked it up and returned it the remaining twelve yards for the 21-7 lead. Penn State failed to convert a fourth-down attempt from their own 42-yard line, giving the Badgers a short field. Houston completed a pass for 14 yards, and Clement ran for 11 more. From there, the Badgers handed off to Dare Ogunbowale twice for the remaining 16 yards and a touchdown.
Penn State grabs momentum with late touchdown
It looked like it would be all Wisconsin in the first half, but the Nittany Lions grabbed some momentum late, thanks of an excellent 2-minute offense led by McSorley. After a series of completions for gains of 12, 7, 18, and 12 yards, McSorley hit Saeed Blacknall in stride for a 40-yard touchdown to cut the deficit to 14 points at halftime.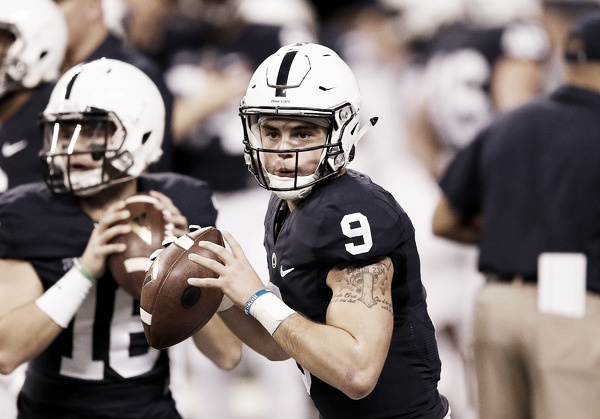 Big third quarter gives Penn State a chance
Wisconsin got the ball with the chance to make a statement to start the half, but, instead, they missed a 48-yard field goal attempt.
Penn State got the ball at their 30-yard line and went for the momentum-changer right away. McSorley hit Blacknall on a 70-yard dime for a touchdown that brought the Nittany Lions within seven points. They would tie it following another Wisconsin punt forced by a suddenly stout defense.
As he did in the first drive, Barkeley broke off a large run, this one for 16 yards, to start the drive. McSorley then completed three passes for a total of 38 yards. With 4:22 to go in the third quarter, Barkely rumbled in from the 1 to knot the score at 28 points apiece.
Wisconsin got the lead back one more time, tacking on their last points of the game late in the third quarter. A 70-yard drive was keyed by a 26-yard completion from Houston to Clement, and a 20-yard rumble from Bradrick Shaw. The Badgers were stopped short of a first down at the five-yard line. They elected to kick the short field goal and see if their defense could hold.
The lead was short-lived, as McSorley flashed his magic on the next drive. He started the 4-play by lofting completions of 38 and 25 yards. After a run that was stuffed, McSorley timed Barkley's route perfectly, hitting him in stride in the end zone for their first lead of the night. Penn State killed some clock, going 58 yards over 4 minutes and 38 seconds, eventually kicking a field goal to extend their lead to a full touchdown with 5:14 to go.
Defensive Stand seals the deal for the Nittany Lions
Wisconsin marked quickly into Penn State territory. Houston completed passes to Jazz Peavy (16 yards) and Ogunbowale (10 yards) to cross midfield. A 13-yard pass to Clement set up a first down at the 33-yard line. But, the Badgers could not make it the next ten yards. Twos short passes left them a yard shy of the first down going into fourth down. The Badgers went to Clement, but their star runner was absolutely stuffed with 61 seconds to go in the game. Wisconsin only had two timeouts left.
Penn State drained the clock to 3 seconds left before snapping the ball on fourth down. MsSorley ran around in the backfield until the clock read 0:00. He then went into a celebratory slide. Barkley ran for 83 yards for the Nittany Lions. Blacknall hauled in a pair of touchdown passes plus 155 yards. Hamiltion caught 8 passes for 118 yards. Gesicki and Chris Godwin chipped in with three receptions each. Houston threw for 174 yards, while Shaw ran for 62 yards on 15 carries. Both teams will get major bowl games. Penn State looks to beat out Pac-12 champ Washington and Michigan for the final playoff spot, but it looks as if they will simply head to a New Year's Six bowl.