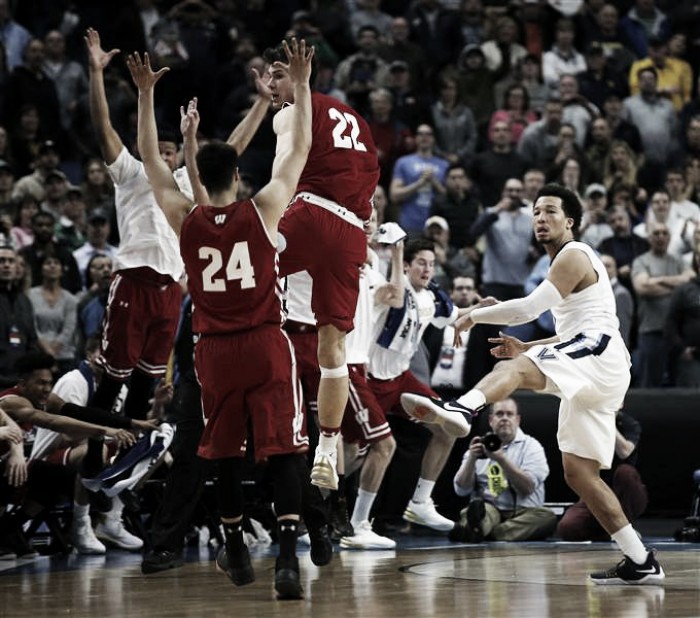 After complaints of a rather dull first round in the normally chaotic March Madness, the action on the court heated up significantly, highlighted by several major upsets, none bigger than eighth-seeded Wisconsin taking down #1 overall seed and the defending champs, the Villanova Wildcats. The Sweet Sixteen will feature numerous Cinderella stories including Wisconsin, #7 Michigan, and #11 Xavier.
However, traditional powerhouses Kansas, UNC, Arizona, Kentucky, join the underdogs, along with an underappreciated one seed in Gonzaga, plus a few fourth seeds like Florida, Butler, and Purdue that are looking to pull some upsets.
Will the traditional powerhouses survive next weekend? Or will one or more Cinderella stories continue into Phoenix for the Final Four? That remains to be seen on the court, but the opening four days of play provided many headlines and generated excitement for the games to come.
What we learned and What to look for
Wisconsin is March-tested, and that's a bad thing for everyone else
Wisconsin was probably the most under-seeded team in the tournament. Villanova can attest to that, having fallen in the Round of 32, 65-62 to the Badgers. Wisconsin was one of the best Big 10 teams all year, staying right with the Purdue Boilermakers atop the conference. Purdue was eliminated in the quarterfinals of the conference tournament. Wisconsin earned big wins over Indiana and March Madness newbie Northwestern before dropping the title game to Michigan. Purdue got a four-seed in the tournament. Wisconsin got the eighth seed?
Wisconsin also boasted the same record as Minnesota, whom they beat twice, but the Golden Gophers got a 5-seed - and they were eliminated in the first round. Not only are the Badgers under-seeded, but they are seasoned March warriors, and that spelled doom for both Virginia Tech and Villanova in the opening weekend.
Two years removed from a national championship appearance, the Badgers pulled a major upset in the Round of 32 yet again to qualify for the Sweet 16 for a fourth straight year. Last year, the Badgers were a seventh-seed, and they took down #2 Xavier to reach the Sweet 16. This year, they victimized the Wildcats.
Led by Nigel Hayes, Bronson Koenig, and Ethan Happ, the Badgers boast an experienced core that is flourishing in the March spotlight. Nobody could take them down in the opening weekend - will Florida have better luck in the Sweet 16?
Florida's suffocating defense could spark a deep run
While we just pointed out all the upsides of Wisconsin, they have a heck of a challenge coming up in the Sweet Sixteen from the fourth-seeded Gators. Florida started off slow in this tournament - garnering just a one-point halftime advantage against thirteenth-seeded Eastern Tennessee State.
However, the Gators bounced back by outscoring the Buccaneers by fourteen points in the second half, and they followed it up with a suffocating defensive performance in a 65-39 win over Virginia. It was a great performance from a Florida defense that has sparkled all season. After giving up 83 and 84 points respectively in consecutive games back in December, Florida's defense has allowed more than 73 points in a regulation game just twice.
One of those was a loss to Kentucky - the other was a game in which they scored 114 points. Their defense could be a nightmare matchup for a lot of teams - especially the Badgers who struggle offensively at times. Florida's defense can win them a lot of games - but they will have to score more than 65 points most of the time. A wildly inconsistent offense that has scored as many as 114 points and as few as 53 could doom them, but Florida's defense alone could carry them through next weekend.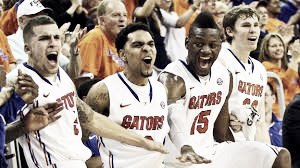 Who will challenge Kansas?
One of the few teams that didn't survive a scare in the opening weekend, the Jayhawks had an absolute cakewalk in their region, trouncing #16 UC Davis 100-62, and they followed it up with a 90-70 beating of #9 Michigan State.
The Michigan State game was close for a while, but Kansas had too much depth, and they survived. So the question has to be asked: Who can stop Kansas? Is it possible they just had an easy opening weekend? Yes. But the Jayhawks may have received a wake-up call when they were eliminated by TCU in the Big 12 quarterfinals.
They are quite happy not to have to face Iowa State, who handed the Jayhawks one of their four losses on the year. They will instead face the battle-tested Purdue squad who survived upset bids from Vermont and Iowa State. Will Kansas's dominance continue, or will their lack of a test on the opening weekend take off their edge?
Gritty, less-than-flashy Purdue squad flying under the radar
March Madness is filled with headlines of top seeds trying to fulfill expectations and miraculous Cinderella stories trying to shock the world. But sometimes, gritty, consistent, if not flashy, teams fly completely under the radar. The fourth-seeded Purdue Boilermakers were discounted from serious contention after a loss in the Big 10 quarterfinals to Michigan.
But Purdue has opened the tournament with two extremely gritty wins that have their consistent squad in the Sweet 16 with an upcoming date versus Kansas. After two dominant wins, the Jayhawks are the favorites, but Purdue is an interesting underdog. The Boilermakers averaged 80 points a game over the course of the season, a point total they matched in each of their first two games of the tournament.
They spread their scoring well, with five starters averaging at least ten points a game. Their rebounding is great (38 per game). They take good shots, resulting in great shooting percentages, especially from beyond the arc. They have a deep bench, with nine players getting over twelve minutes a game. This matches up with Kansas well.
The Boilermakers are also red-hot from the free throw line, making it extremely difficult for late-game comebacks. Iowa State can attest to that. In their Round of 32 matchup, the Cyclones overcame a 19-point deficit, only to see those gritty Boilermakers lock them down defensively and drain a few critical buckets to secure the win.
Against Vermont, Purdue didn't wilt under the pressure of losing to a 13-seed - rather they overcame an early deficit and won with relative ease. They are not flashy...but they just might be a team that survives the next weekend.
Can Baylor sustain their come-from-behind style?
In both tournament games so far, the third-seeded Bears, now the favorite to come out of the East Region, have come from behind to avoid major upsets. Against #14 New Mexico State, the Bears trailed at halftime before dominating after the break for a 91-73 win.
Against #11 USC, the Bears played the comeback game again, staying close to the Trojans but trailing until five minutes to go. Baylor finally seized control to earn the win, 80-76, but can they sustain these comebacks as the stakes get larger. Baylor has yet to face an opponent that they were supposed to face.
Many picked them to lose to SMU in the round of 32, but USC shocked SMU. Almost nobody had them advancing past Duke - only 5% of brackets have Baylor going to the Elite Eight. But, thankfully, the Bears benefited from another upset and get to play South Carolina - the seventh seed. But even still, this caliber of play is going to be extremely difficult to sustain for the Bears.
If they are thinking about a serious run, they need to start taking early leads and getting in the driver's seat, rather than scrambling in the final minutes to seize control.
Can anyone stop South Carolina in the second half?
South Carolina was one of the least likely teams to make the Sweet 16. By percentages, they had the fewest brackets select them to make it this far. With a shaky offense and a difficult first-round matchup versus Marquette, the seventh-seeded Gamecocks were a popular upset selection.
However, South Carolina, after trailing at the half versus the Golden Eagles, turned it up a notch to win by 22 points. Two days later, the Gamecocks stunned the world with a 65-point second half to recover from a 30-23 halftime deficit against second-seeded Duke.
The 65 points was a mark that South Carolina failed to eclipse in an entire game a whopping ten times this season. So, is any lead safe against South Carolina? Baylor better hope to dominate that first half, because South Carolina has outscored their opponents by 23 and 14 points in the second half, respectively. A dominant first half is a key to eliminating the surprising Gamecocks.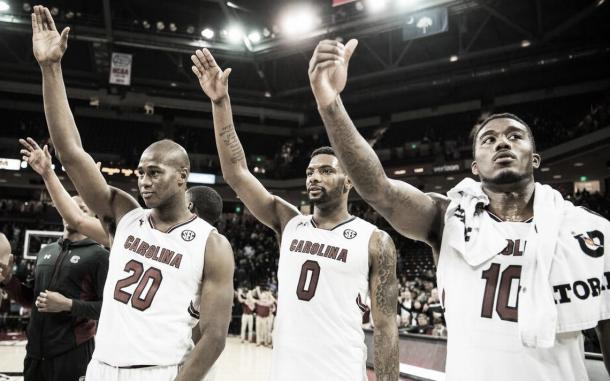 Can Oregon deal with an extremely tough region
Oregon has a tough draw this weekend - they have to start by taking on the streaking Michigan Wolverines, who are fresh off an upset of #2 Louisville. If they win, they get the pleasure of a matchup versus Kansas or Purdue. They'd rather play Purdue, but neither game is an easy matchup. Oregon has kind of flown under the radar all season, especially after an ugly early season loss to Georgetown, a team that went 5-13 in Big East play.
Oregon hasn't had to face a single-digit seed yet this tournament, and Michigan is a killer draw. Oregon topped #14 Iona 93-77 and #11 Rhode Island 75-72 to survive their region. Neither team will present the challenge that Michigan will give. Oregon not only has to be the team to end the Wolverines' streak, but they also have to leave enough in the tank to take on a very tough opponent in the Elite Eight, should they win.
Will Michigan stay red-hot through this weekend?
Michigan is one of four major Cinderella stories that the nation will be watching in the Sweet 16. The Wolverines, fresh off a sprint through the Big 10 tournament, are 2-0 so far in the NCAA tournament and are one of four teams seeded seventh or lower to survive the opening weekend. Michigan cemented the fact that they are for real by topping Louisville 73-69 in the Round of 32.
They haven't run away with either of their games, following a 92-91 nailbiter against Oklahoma State, but the Wolverines haven't been toppled in a long time. And, hey, any team that can win in their practice jerseys can definitely make a run in March Madness (Citing a very unreal statistic on that one).
Gonzaga's consistency versus Press Virginia
This is an extremely appealing matchup. Gonzaga has just one loss on their record, and they boast one of the most complete teams in the country with the sixth ranking defense and the sixth ranking offense in the nation. The Bulldogs cruised in the first round, 66-46 over South Dakota State, before staving off a comeback from Northwestern in the Round of 32.
They'll deal with their toughest opponent yet in the aggressive West Virginia Mountaineers, nicknamed "Press Virginia" after their famous press. Although their famed full-court press is daunting, it can be broken, as proven by several Big 12 teams this season. However, to a team who hasn't seen it before, it's incredibly tough. Just ask Notre Dame, who fell behind by double digits early and could never find their footing against the press, drawing within three points just once over the course of the game.
For teams unfamiliar with the nation's best pressing team, a large comeback is next to impossible. The Mountaineers are well-coached and their offense is firing on all cylinders. In the Round of 32, on the occasion that the Fighting Irish would break the press and drain a few threes to close the gap, the Mountaineers would answer right back. They've got decent 3-point shooting and excel in the inside game. They will be an incredibly tough matchup and definitely a savvy dark-horse pick in the Sweet 16.
Arizona's dominance versus Xavier's momentum
Arizona cruised through their region in the opening weekend, receiving a brief challenge in the Round of 32 but ultimately putting away both North Dakota and Saint Mary's in the opening two rounds. Arizona rolls into the Sweet 16 where they meet a surging Cinderella squad in Xavier. Xavier is fresh off a stunning 25-point thumping of #3 Florida State.
The Musketeers looked sloppy and downright bad at times during the season, but they've turned things around at the right time. They look like one of the best teams in the country right now, and Arizona will have a tough time stopping them. Plus, Xavier has seen two teams that are better than both of Arizona's opponents thus far, so the Musketeers may be better prepared for this game.
Arizona is an excellent team in its own right, however, and a team that many thought should have been a one-seed. Can they spoil the Cinderella story?
The "Normal Region"
The only region to have its top four seeds survive the opening weekend, the South Region provides some of the best games to watch this weekend. It tips off with UNC and Butler in the 1 v. 4 matchup. UNC survived #8 Arkansas in the Round of 32 and are trying to bear the burden of carrying on the ACC's reputation after the other eight teams from the conference sang their swan song in the opening four days.
Butler has big-game experience and they knocked off #1 overall seed Villanova twice this season - two of the Wildcats' three regular season losses. Butler has looked consistent and very good thus far in the tournament, having very little trouble in dispatching of Winthrop and Middle Tennessee.
However, UNC may have learned their lesson with the scare versus the Razorbacks and enter the Sweet 16 with nothing but dominance on their mind. They have a bitter taste in their mouths from last year, and they want to rid themselves of it with a run to the title game.
In the other game, it's probably the most appealing game of the Sweet 16. Two tradition-filled, offensively-minded programs in #2 Kentucky and #3 UCLA will do battle for a berth in the Elite Eight. Both teams looked rather sloppy in their opening games, as Kentucky survived Northern Kentucky and came back to top #10 Wichita State. UCLA staved off Kent State and rode a second-half comeback to top Cincinnati.
​UCLA has the best offense in the country at 90 points per game, with Kentucky not far behind. Both teams have decent defenses but not great - although Kentucky's probably has a step on UCLA's. The player to watch is undoubtedly Lonzo Ball of UCLA, but the game could go either way. Both were popular national champion picks, but only one will survive the Sweet 16.
The field is set. Three #1 seeds, two #2 seeds, three #3 seeds, four #4 seeds, and four cinderella squads take their talent to the Sweet 16. Who makes it to Phoenix for the final weekend?
Let's find out.