In a critical SEC series, the University of Florida turned to ace Alex Faedo to give them a lift in the opener against the South Carolina Gamecocks. The Gators' ace responded in a big way, hurling 8 2/3 innings of shutout ball, collecting the win in a game decided by the narrowest of margins - a 1-0 victory that gave Florida sole possession of second place in the SEC East. They improved to 9-7, a game ahead of the skidding Gamecocks They need two straight wins to avoid a fourth straight series loss.
Faedo dueled with South Carolina ace Clarke Schmidt, and he needed every shutout inning to preserve Florida's victory. Although Schmidt's outing was cut short by forearm stiffness, the Gamecocks' ace was very strong over 5 1/3 innings of one-run ball. Keenan Bell picked up the game's only RBI to score Florida's lone run.
Faedo bounces back in dominating outing
Faedo has been one of the best pitchers in the country this season, serving as the Florida ace with a sparkling 2.18 ERA. He was listed as VAVEL's #1 player to watch heading into the season. However, Faedo struggled over his last two starts - he gave up twelve hits, seven earned runs (eleven total) in just 11 2/3 innings. However, on Thursday, Faedo bounced back in a big way.
Faedo immediately looked better than in his previous starts, as he fired a perfect first inning to start things off. He followed it with another hitless inning before giving up a leadoff single in the third. It was not an issue for the right-hander, who retired the next three to strand the runner. Faedo added a couple of strikeouts in a perfect fourth inning, bringing his total to six in his evening which, as it turned out, wasn't even halfway over.
Madison Stokes drilled a double off of Faedo to begin the fifth, scorching the ace's offering to right-center. However, once again, Faedo had no problem operating from the stretch, not allowing Stokes to advance as he retired the next three in short order.
After being given a run to work with in the bottom of the fifth, Faedo continued to mow down the South Carolina lineup, maintaining his razor-thin edge. He didn't strike out anyone in the sixth, but he hardly needed to...using just four pitches to retire the side. Carlos Cortes made a loud out on a deep fly ball to the warning track, but a loud out was it all it amounted to.
Faedo faced a rare threat in the seventh, after South Carolina put two on with two out via a walk and an error. Once again, Faedo showed composure, inducing a ground out to second base to end the frame.
With two outs and a man on first, Faedo got a little help from his battery partner, Mark Kolosvary, whose laser of a throw nailed Cortes trying to steal second. Faedo reacted with an emotional shout before heading to the dugout. He returned for the ninth and retired the first two, but a two-out walk ended his spectacular outing. Closer Michael Byrnes finished the game by recording the final out.
Schmidt & 'pen is great, Gators do enough
Schmidt did his best to match Faedo pitch for pitch, but he came up just short. Entering the game with a 1.31 ERA, Schmidt used a plethora of ground outs to work the first few innings. A double play ended the first, and three straight ground balls kept the Gators off the basepaths in the second.
Schmidt had to sweat his way through the third inning, as Bell singled to put runners on first and second with nobody out. A sac bunt followed, putting two runners in scoring position. However, Schmidt escaped after inducing a lineout to third and doubling off the runner. Schmidt followed with a perfect fourth.
Florida would get their only run in the fifth inning, courtesy of a two-out rally. After a double-play killed a leadoff walk, Christian Hicks slapped a double to left, and Bell followed by grounding a single up the midle, easily scoring Hicks. It was all Faedo needed on the mound, as the Florida ace won his third 1-0 decision of the year.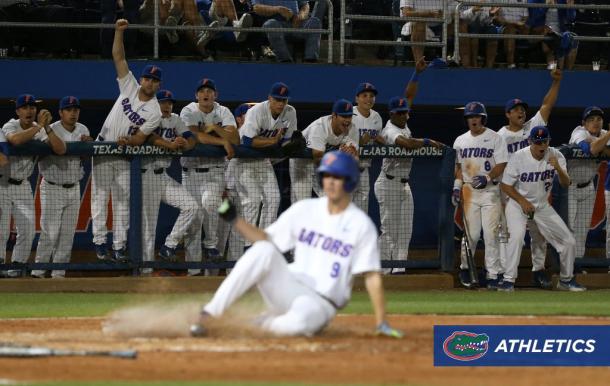 Schmidt exited due to a minor injury in the sixth, and the bullpen kept Florida off the board. However, it didn't matter, because Faedo was on fire. South Carolina, who dropped out of the Top 25 on several polls last week, lost again, and they desperately need to win the last two of this series to stay in the Top 25 on any poll. Florida won their eighth in eleven games and sit 1.5 games back of Kentucky in the SEC East.