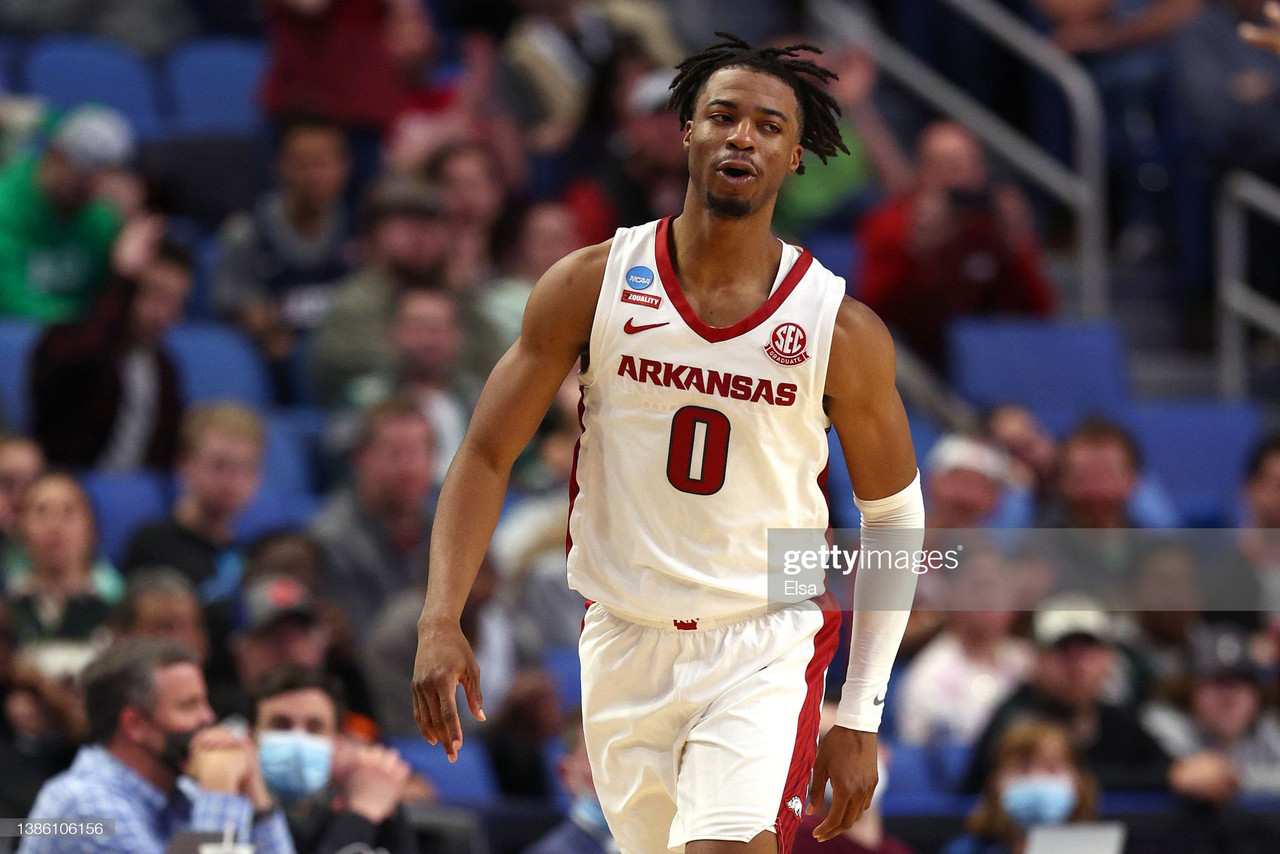 Arkansas survived a major scare in their first-round NCAA Tournament game as the fourth-seeded Razorbacks held off 13th seed Vermont in their first-round game at KeyBank Arena in Buffalo.
Stanley Umude led Arkansas with 21 points and nine rebounds, one of four Razorbacks players in double figures. JD Notae had 17 points, seven rebounds and four assists.
America East Player of the Year Ryan Davis and Ben Shungu led Vermont with 20 points each. The Catamounts have now lost four straight games in the tournament, having last won in 2012.
Story of the game
Vermont jumped out to a 13-8 lead by the first media timeout, with a quick six points from Davis. Davonte Davis knotted the game for Arkansas at 13-13 with 12:37 left in the first half.
The Catamounts retook the lead and stretched it out to four points, but Arkansas took the lead on a Jaylin Williams putback and they stretched it out to a 7-0 run to lead 22-17 with eight minutes to play in the first half.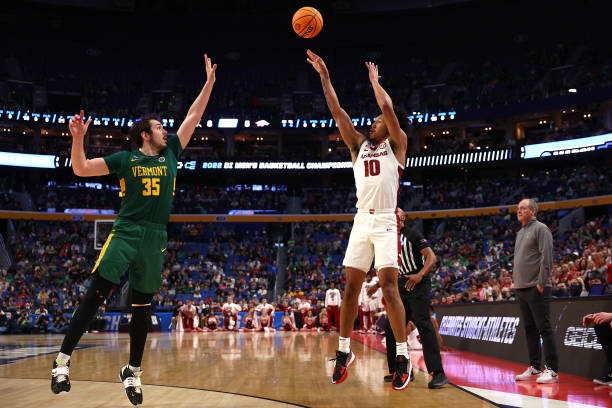 Vermont tied the game as Robin Duncan converted a layup to tie the game at 27-27. Arkansas capped off the first half with a 7-0 run to take a 34-27 lead into halftime.
The America East champions came out of the locker room and put together a 12-2 run to take a 39-36 lead with 15:33 left. Davis fueled the Vermont run with eight points, including a pair of three-pointers.
The Razorbacks would claw back in front, but Duncan would put the Catamounts back in front 51-50 with a three-pointer with 9:47 remaining.
Umude sank two free throws seconds later to put Arkansas back in front. The Razorbacks increased the lead to seven points with 4:15 left, but Vermont pulled within a basket in the final seconds.
Shungu drilled a trey to make the score 73-71 with 12 seconds left in the game. The key moment in the game would come on the next possession.
On the ensuing inbounds play, Finn Sullivan and Isiah Powell pressured Notae into what looked like a turnover as the officials originally gave the Catamounts possession, but overturned the call after video review.