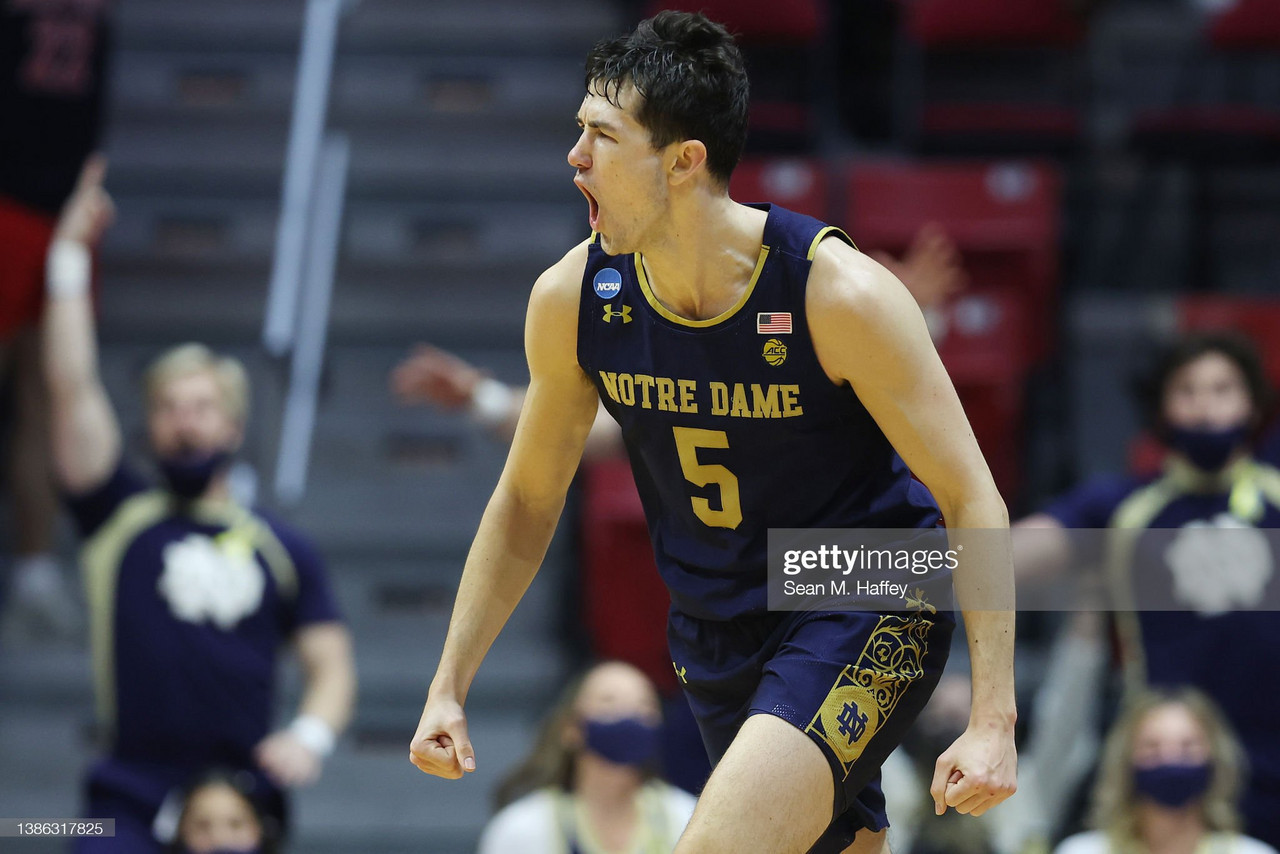 Notre Dame won their second game in the 2022 NCAA Tournament as the 11th seed Fighting Irish defeated sixth seed Alabama 78-64 in West regional action in San Diego.
Cormac Ryan scored a career-high 28 points, including seven three-pointers, to lead Notre Dame (22-12). Blake Wesley added 18 while Paul Atkinson Jr., hero of the double-overtime win against Rutgers, had 13 points and eight rebounds.
Keon Ellis led Alabama (19-14) with 18 points. The Crimson Tide lost in the first round for the first time since 2012.
Story of the game
Both teams started out cold from the field early in the game, combining to miss 11 straight shots over a four-minute stretch and went into the first media timeout with the Irish up 3-2 on a Ryan three-pointer.
They then connected on nine of the next 10 shots from the field. With 11:06 left, the score was tied 13-13 with Ryan accounting for 11 of those points.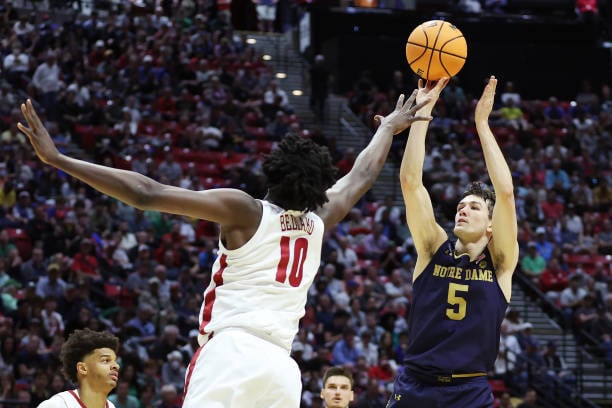 After a triple by the Crimson Tide, they took a one point lead with 7:27 left. They hit another three-pointer to cap an 8-0 run and take a five-point lead.
Notre Dame answered with a 6-0 run of their own to briefly take a 26-25 lead with 4:40 left. Alabama answered with two free throws, then the teams traded three-point field goals on each end, Ryan hitting his fourth on five tries and the teams were tied at 32-32 with 3:07 left.
The Fighting Irish took an eight-point lead as Nate Laszewski canned a three pointer. Prentiss Hubb found Ryan off of a turnover and he hit off the backboard for his 18th point of the first half.
Alabama came right back to hit a three-pointer and cut the lead back to five, which was the margin at halftime with Notre Dame ahead 41-36.
Notre Dame opened the second half with a three-pointer by Laszewski but that was quickly answered by three straight drives from J.D. Davison to cut the lead to two points.
With the shot clock running down, Ryan stepped back and drained his fifth three-pointer of the game to put the Fighting Irish up 47-42 at the first media timeout.
Wesley then took over the game for a three-possession stretch, crossing over and driving for a dunk, then posting back-to-back drives to put Notre Dame ahead 61-47 with 8:18 left.
Alabama forced three straight turnovers and eventually cut the lead to seven with five minutes left, but Ryan beat the shot clock for a three-pointer to go up eight.
On the next possession, Hubb saw his shot blocked into the corner but while Alabama came down the court in transition, Wesley picked off the pass and took it the distance for a dunk to extend the lead back to 10 points with 3:59 left.
Soon after that play, Crimson Tide head coach Nate Oats was called for a technical foul and Ryan hit two free throws and Notre Dame cruised the remainder of the game.