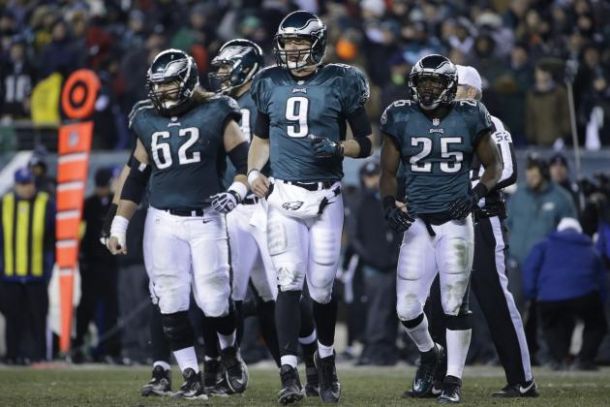 Chip Kelly took over the reigns as head coach of the Philadelphia Eagles in 2013 after Andy Reid's 14-year tenure ended after a disastrous 4-12 season. The number one question about Kelly last year was whether or not his offense would translate to the NFL, and it certainly did. Kelly turned a 4-12 Eagles team into a 10-6 NFC East champion, due to his high-powered offensive scheme that was efficient every time it stepped on the field. The Eagles offense in 2013 accumulated 6,676 yards of total offense, scoring 27.6 points per game. LeSean McCoy had his best year yet, and Nick Foles started to emerge as a potential franchise quarterback in the last half of the season. Entering their second full year under the Chip Kelly system, the Philadelphia Eagles will look to pick up where they left off, and repeat as NFC East champions.
How badly will the loss of DeSean Jackson hurt the Eagles offense?
In any other offense, it would be hard to replace 82 receptions, 1,332 yards, and nine touchdowns, but Chip Kelly will find an answer to find production elsewhere. Kelly will not be able to replace DeSean Jackson's speed and play-making ability, along with his presence on the deep ball, but the numbers themselves can be accumulated among other players. In the 2014 NFL Draft, the Eagles selected Jordan Matthews and Josh Huff to come in and be productive in their rookie seasons. Including Matthews and Huff, Chip Kelly also got Jeremy Maclin back after he missed the entire 2013 season with a torn ACL, and tight ends Brent Celek and Zach Ertz will also look to up their production from last season as well. Riley Cooper will also be a big piece in the Eagles offense this season, as he is coming off a breakout season in 2013 and is going to have to cement himself as a starting NFL wide receiver. Pieces are in place for the Eagles in 2014 for the loss of DeSean Jackson to not hurt the offense one bit in Jordan Matthews, Josh Huff, Jeremy Maclin, Riley Cooper, Brent Celek, and Zach Ertz, but Jackson's presence that he brings to opposing defense cannot be replaced.
Will Nick Foles prove that he is a franchise quarterback in the NFL?
Entering the 2014 season, no one is questioning Nick Foles's ability to play, everyone saw that last year. However, they are questioning his ability to play at a high level on a consistent basis. The spectacular numbers he put up last year were a small sample size for any quarterback, as he only started 10 games and played in 13. His touchdown-to-interception ratio of 27-2, passer rating of 119.2, and completion percentage of 64.0 percent become irrelevant. Nick Foles has to come to play in 2014 and cannot use his 2013 season as a cop-out for when he performs poorly. Obviously, his 27-2 touchdown-to-interception ratio will not be replicated, that was an absurd stat that showed how good Foles was when he became the starter. But, Foles will still prove himself in 2014 as a franchise quarterback in the NFL, and will get paid once the season is over. Do not expect numbers like 27-2 or 119.2, but expect Nick Foles to put up 35 touchdowns and 3,500+ yards, while having less then 10 interceptions, as the 6'6" quarterback from Arizona will throw more interceptions, but will still take excellent care of the football with his smart decision making and consistent accuracy.
What is in store for LeSean McCoy in 2014?
The Philadelphia Eagles offense is centered around the production of LeSean "Shady" McCoy, and he has to have another huge year in 2014 for the Eagles to return to the playoffs. McCoy had his best overall season last year, accumulating over 2,000 yards of total offense along with 11 touchdowns, and there is no doubt he can repeat what he did in 2013, in 2014. Even with the addition of Darren Sproles, McCoy will still see a heavy workload in both the rushing and receiving games. Quite frankly, McCoy has to see a heavy workload. Opposing defenses will look to prevent McCoy from beating this year, which will open up the passing game for Nick Foles in every game. Despite being the highest concern for opposing defenses, McCoy will still have over 1,500 yards rushing and 500 yards receiving because he is too good not to, and so is the Eagles' offensive line.
Will the Eagles see improvement in their defense?
The Eagles' defense is in a unique situation compared to other defenses around the NFL. They do not have to be good for the Eagles to win games, they just have to be average. Many look at the Eagles defense from 2013 and would say they were awful because they gave up 6,304 total yards, but in reality, Bill Davis's defense was close to average, only giving up 23.9 points per game. The signing of Malcolm Jenkins will bring a leadership presence to the Eagles secondary that must create turnovers for opposing offenses and have solid games week in and week out as a group for the Eagles to hold their opposition to 23.9 points per game once again. While the Eagles' secondary has a lot to prove in 2014, the biggest question with the Eagles' defense is surrounding the pass rush. While the Eagles had 46 sacks in 2013, when they were not sacking the quarterback, no pressure was being applied to the quarterback whatsoever. Bill Davis needs to use Vinny Curry and Brandon Graham to help apply that pressure to opposing quarterbacks, along with veterans Connor Barwin, Trent Cole, and Fletcher Cox. If the Eagles' defense gives up 23.9 points per game or less, the Eagles will be in good shape to repeat as NFC East champions in 2014.
Season Prediction
Week 1 - vs. Jacksonville Jaguars: W
Week 2 - @ Indianapolis Colts: L
Week 3 - vs. Washington Redskins: W
Week 4 - @ San Francisco 49ers: L
Week 5 - vs. St. Louis Rams: W
Week 6 - vs. New York Giants: W
Week 7 - Bye
Week 8 - @ Arizona Cardinals: L
Week 9 - @ Houston Texans: W
Week 10 - vs. Carolina Panthers: W
Week 11 - @ Green Bay Packers: L
Week 12 - vs. Tennessee Titans: W
Week 13 - @ Dallas Cowboys: W
Week 14 - vs. Seattle Seahawks: L
Week 15 - vs. Dallas Cowboys: W
Week 16 - @ Washington Redskins: L
Week 17 - @ New York Giants: W
Projected Record: 10-6
Final Thoughts: With so many question marks regarding the other NFC East teams, the Philadelphia Eagles will repeat as division champions with a 10-6 record. Nick Foles will get his paycheck once the season concludes after having another efficient season, and the Eagles will fly into the playoffs due to Shady McCoy, the solid offensive line, and the average defense that will always keep them in games. However, the Eagles are not Super Bowl ready yet, and once they get to the playoffs, it will be tough for them to advance far because of the depth that other NFC playoff teams have. Chip Kelly will lead the Eagles to a playoff win this year, maybe two, but Philadelphia still has some work to do in order to contend for a Super Bowl.