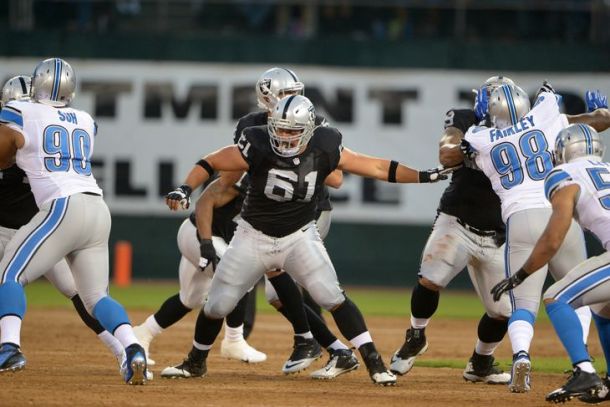 Center Stefen Wisniewski is no longer a free-agent. According to Adam Schefter of ESPN, Wisniewski has agreed to a one-year contract with the Jacksonville Jaguars. The center turned down multiple offers from the team that drafted him, the Oakland Raiders, to pursue a deal on the open market. Wisniewski was a second round pick by Oakland in the 2011 draft. Terms of the salary have not been disclosed, but many sources say that it is a deal worth $2.5 million.
As a rookie, Wisniewski played left guard. He became the Raiders' starting center in 2012 and never looked back. Stefen went on to start 61 of a possible 64 games over the past four years. In 2014, the Raiders offensive line was ranked #3 in the league in pass blocking, in large part due to Wisniewski.
The Jaguars couldn't be more thrilled to have a player of Wisniewski's caliber. GM David Caldwell spoke of his ability and locker room presence:
"He gives us great position flexibility along our offensive line as he has started at both center and guard during his career. He has a familiarity with our offensive system and brings a lot of experience to our offensive line room."
The Jaguars ranked dead last in points per game (15.6) in 2014. They were 31st in yards (289.6) and passing yards (187.6) due in large part to dismal offensive line play and QB Blake Bortles being sacked a league high 55 times.
Wisniewski had no shortage of suitors in line for his services. Among them were the Titans, Patriots, Buccaneers, Seahawks, Bears, and Washington.