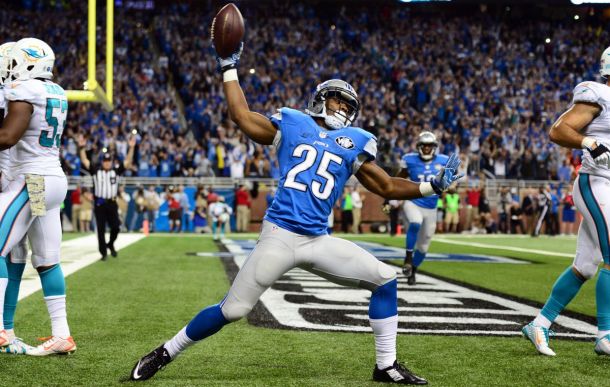 The NFL released regular season schedules on Tuesday. The Lions have six nationally televised games: Week 3 vs. Denver Broncos (Sunday Night), Week 4 @ Seattle (Monday Night), Week [email protected] Kansas City (Game to be played in London, Week 12 vs. Philadelphia (Thanksgiving), Week 13 vs. Green Bay (Thursday Night), and Week 15 @ New Orleans (Monday Night).
The Lions' schedule ranks as the 15th toughest in the league, based off of 2014 records. Their opponents combined for a record of 135-121. The Lions have five games against playoff teams from 2014 : Green Bay (2), Denver, Seattle, and Arizona.
Game times toward the end of the season could change, based upon playoff races and game implications.
Week 1 - Sunday, Sept. 13 - at San Diego Chargers (4:05 p.m., FOX)
Week 2 - Sunday, Sept. 20 - at Minnesota Vikings (1 p.m., FOX)
Week 3 - Sunday, Sept. 27 - vs. Denver Broncos (8:30 p.m., NBC)
Week 4 - Monday, Oct. 5 - at Seattle Seahawks (8:30 p.m., ESPN)
Week 5 - Sunday, Oct. 11 - vs. Arizona Cardinals (4:05 p.m., FOX)
Week 6 - Sunday, Oct. 18 - vs. Chicago Bears (1 p.m., FOX)
Week 7 - Sunday, Oct. 25 - vs. Minnesota Vikings (1 p.m., FOX)
Week 8 - Sunday, Nov. 1 - at Kansas City Chiefs (9:30 a.m., FOX) London, England
Week 9 - BYE
Week 10 - Sunday, Nov. 15 - at Green Bay Packers (1 p.m., FOX)
Week 11 - Sunday, Nov. 22 - vs. Oakland Raiders (1 p.m., CBS)
Week 12 - Thursday, Nov. 26 - vs. Philadelphia Eagles (12:30 p.m., FOX) Thanksgiving
Week 13 - Thursday, Dec. 3 - vs. Green Bay Packers (8:25 p.m., CBS/NFL Network)
Week 14 - Sunday, Dec. 13 - at St. Louis Rams (1 p.m., FOX)
Week 15 - Monday, Dec. 21 - at New Orleans Saints (8:30 p.m., ESPN)
Week 16 - Sunday, Dec. 27 - vs. San Francisco 49ers (1 p.m., FOX)
Week 17 - Sunday, Jan. 3 - at Chicago Bears (1 p.m., FOX)