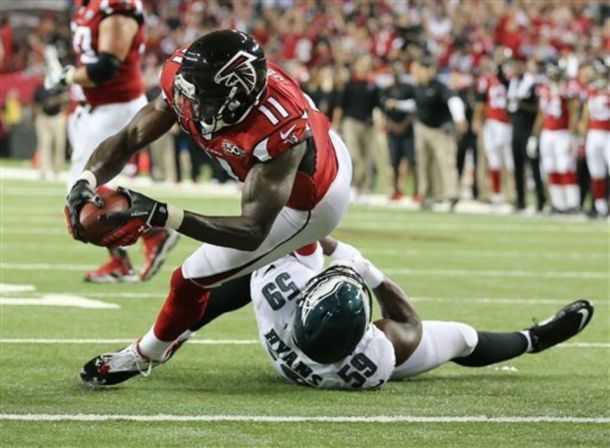 ATLANTA - It seems there are a lot of things different in that Atlanta Falcons' locker room in 2015 and one of those things could be a winning season after going 10-22 the past two years. Behind newly acquired head coach Dan Quinn and offensive coordinator Kyle Shanahan, along with fresh new faces on each side of the ball, the Falcons looked to start the season on the right foot. Matt Ryan and Julio Jones rekindled their magic, rookie third-round draft pick Tevin Coleman rushed for 80 yards, Matt Bryant was 4-4 on field goals, and the Falcons' defense stymied the Eagles' offense just enough to pull out the victory, 26-24.
Things looked great for Atlanta the entire first half, especially on the defensive end. Their defense held the Eagles to only 125 total yards in the first two quarters along with only allowing six first downs. The Eagles seemed unable to move the ball, running or passing, and Sam Bradford, who was 36 of 52 with 336 yards on the night, looked lost playing in his first regular season game since October of 2013.
With under two minutes to go in the second quarter the Falcons had a 13-3 lead thanks largely to two Matt Bryant field goals and a four-yard pass from Ryan to Jones. Philadelphia had possession and were looking for points before halftime until Bradford was pressured up the middle and threw a pass that was intercepted by Falcons' safety William Moore.
Atlanta got the ball inside their own 30 yard line and Ryan once again found Jones on the outside, this time, for a 22-yard touchdown. The Falcons had a commanding 20-3 going into the half and were receiving the ball coming out to start the third quarter.
The second half turned into a different story, though, for the Falcons. On opening drive in the second half, Matt Ryan threw a pass that was intercepted by Walter Thurmond which set up Philadelphia for a DeMarco Murray eight-yard touchdown run that cut the Atlanta lead to just 10. Murray, who was a the leagues leading rusher last year with over 1,800 yards, only accumulated a mere nine yards on Monday night.
Following another offensive series where Atlanta couldn't seem to get any momentum, the Eagles found their up-tempo, offensive groove. Sam Bradford led Philadelphia down the field that was capped off by a five-yard touchdown pass to Murray. Atlanta only led by three points now and the Eagles did not stop there.
After Atlanta finally got some second half points on the board with a Bryant field goal, Bradford once again drove his team down into scoring position. This time Ryan Matthews was able to rush it in from a yard out giving the Eagles their first lead of the game, 24-23, with 8:37 left to play.
Matt Ryan, like he has throughout his entire career, didn't shy away from the comeback performance. He found Julio Jones down the sideline for a big gain that pushed the ball across into Eagles' territory. The Atlanta drive would stall there and Matt Bryant would come on to connect a 47-yard field goal that gave the Falcons back the lead, 26-24, with a little more than six minutes remaining.
Philadelphia once again drove the ball down the field and head coach Chip Kelly made the decision to try and kick the field goal on 4th and 1 instead of going for it. Eagles' kicker Cody Parker came on and, in what seems to be a rushed snap, pushed the field goal wide right.
Philadelphia now needed a big stop on defense and that is what they got. On a 3rd and 1 Malcolm Jenkins stuffed Coleman at the line and forced Atlanta to punt with two minutes remaining.
Bradford now had all the cards in his hands to lead a comeback drive but a pass to a wide open Jordan Matthews slipped in and out of his hands and was deflected to Falcons' safety Ricardo Allen for the interception that ended the game.
Atlanta will look to stay undefeated in the Quinn Era as they face-off against the New York Giants next week, while Philadelphia will lick their wounds and take on the Dallas Cowboys at home in week two.